News > Spokane
California man's hobby is identifying missing people through his drawings
Sun., Feb. 5, 2017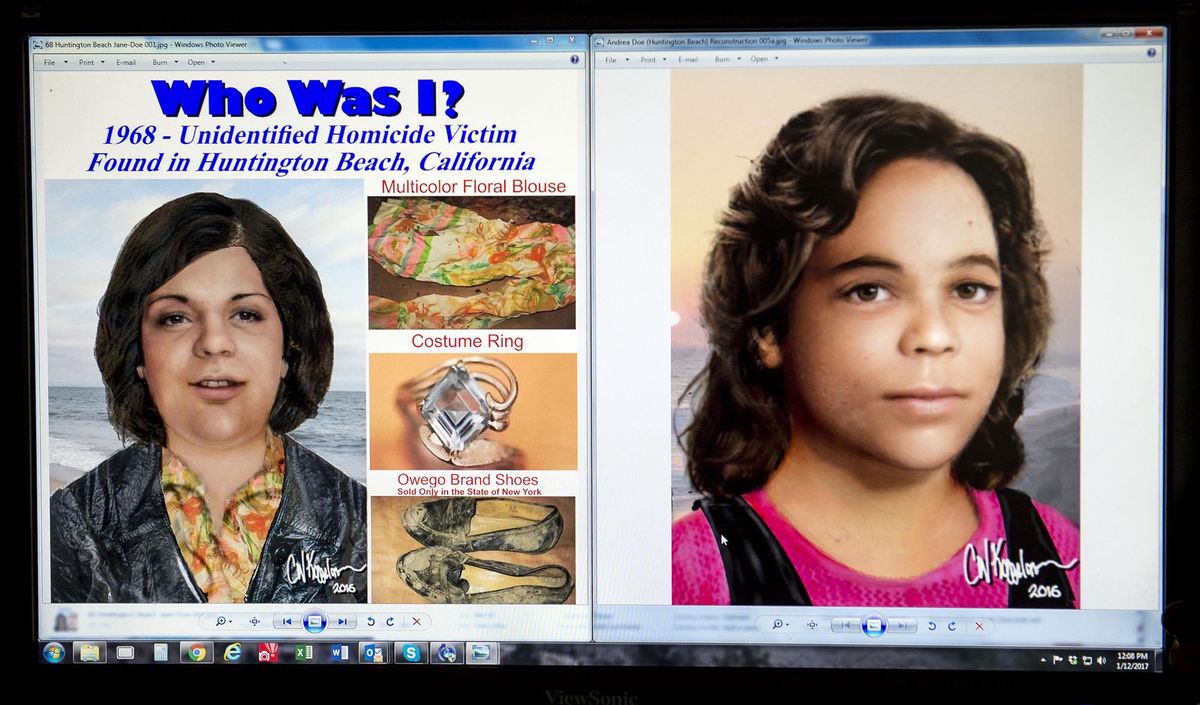 Carl Koppelman's reconstruction and age-progression drawings of two Jane Does found in Huntington Beach, California, displayed at his work space in El Segundo on Jan.12, 2017. Koppelman is an amateur sleuth/forensic artist who helps police around the U.S. solve cold-case mysteries and participates in a Websleuths internet group. (Ed Crisostomo / Orange County Register)
Someone shot a teenager in the forehead and left her in a frigid cornfield in Caledonia, New York.
Her body was found Nov. 10, 1979. She had tan lines suggesting she was from a warmer climate. She wore a red and black windbreaker. Hooked inside a belt loop on her pants was a key chain with a locket that read, "He who holds the key can open my heart." There wasn't much for investigators to chase.
For 36 years, she was known as Caledonia Jane Doe or "Cali Doe." She was buried in Dansville, a neighboring town in Livingston County. Her headstone read, "Lest we forget, unidentified girl."
For 36 years, the Livingston County Sheriff's Department led a national search for not only the killer, but also for the identity of the girl in the cornfield.
In 2015, a guy recently laid off from his accounting job at Disney Studios in Burbank, California, and taking care of his elderly mother in El Segundo, figured out who she was.
Once he found her, the sheriff's department had her name chiseled into what had been the back side of her headstone: Tammy Jo Alexander.
And his name, the sleuth who became an Internet hero? He was Carl Koppelman, which doesn't mean anything to you unless you dabble in the creepy world of unidentified decedents.
Intrigued by evil
Ask Koppelman, 54, about significant memories in his childhood, and he'll tell you about the murders.
He said he began noticing how horrible people can be during the 1972 Olympics when terrorists killed 11 Israeli athletes.
Horror got very close to home in 1977 when his brother's friend, John LaMay, 17, was murdered by serial killer Patrick Kearney, known as the "Trash Bag Killer" for the method in which he disposed of body parts.
In 1979, Lucinda Lynn Schaefer, 16, was killed by Lawrence Bittaker and Roy Norris, known as the "Tool Box Killers," in the nearby city of Redondo Beach. Koppelman didn't know her, but he followed the case in the newspapers.
"I've always been intrigued by the evil that people can do to each other," Koppelman said.
Koppelman worked construction, meat room cleanup at a grocery store and in the aerospace industry. He didn't much like anything he did, so he went to Long Beach State to study accounting.
After college, he worked as an accountant for Princess Cruises, based in Santa Clarita. Then he worked at Disney Studios until his mother's illness made the drive to Burbank impossible.
He began taking care of his mother, now 94, full-time.
His precise bookkeeping skills were about to become very important.
Jaycee Dugard case sparked his interest
On Aug. 26, 2009, longtime kidnapping victim Jaycee Dugard was discovered by a parole officer in Concord, California. She had been held captive since 1991.
Koppelman remembers sitting in his mother's house clicking around the web looking for photos of Dugard. He came across websleuths.com and his life changed. Suddenly, he was on the site so much, especially a forum called "The Unidentified," that he became an unpaid administrator. He started a spreadsheet that now has 17,000 names of unidentified and presumed dead victims.
Today, websleuths.com has almost 115,000 members and more than 12 million posts. The website has matched more than 20 unidentified bodies with missing people – none that got more notoriety than the work Koppelman did on Cali Doe.
"People like Carl are one-in-a-billion," said Tricia Griffith, the owner of websleuths.com. "Carl starting to work for us was a great addition."
In 2009, Koppelman posted as CarlK90245 – a combination of his name and his ZIP code. And the more he looked around at the photos, the more he noticed something … the police sketches of missing and murdered people didn't match what they really looked like if they were ever found.
Koppelman began looking at coroner photos and using a Corel Photo Paint graphics program to make dead and missing people into pictures.
He did a drawing of an unidentified body found in an abandoned Philadelphia hotel.
"I opened his eyes, put an Eagles jersey on him and straightened his mouth," Koppelman said.
A website based in Pennsylvania saw the drawing and asked if they could use it. That was all the feedback Koppelman needed.
He's now done 200 drawings of dead people.
In 2010, one of those drawings was Cali Doe.
'That's Cali'
Koppelman's drawing didn't solve the Cali Doe case immediately. He re-drew it many times over a four-year period.
He worked on it so much that Koppelman believed he would recognize her anywhere.
So he started on an almost maniacal quest going through high school yearbooks from Florida, Arizona and Southern California in 1979. (A pollen expert had examined Cali's clothing and narrowed her search to those three states). But he couldn't find a match. He stopped looking.
Then, in 2014, a woman in Arizona called the Hernando County Sheriff's Office in Florida to say she believed her high school friend Tammy Jo Alexander appeared to be missing. Until that time, Tammy Jo's family believed she had run away from home and started a new life. The sheriff's office, without making the connection to the missing girl in the cornfield in 1979, posted a picture of Tammy Jo Alexander.
"As soon as the case file came up," Koppelman said, "I said, 'That's Cali.' The eyebrows were the same. The teeth were the same."
He put his drawing next to Tammy Jo's picture and posted it on websleuths.com. He sent copies to the Livingston County Sheriff in New York.
"Bingo," Koppelman posted, "I think this is Cali Doe."
Later DNA tests in the Alexander family proved Koppelman was right. In the hit true crime podcast "Finding Tammy Jo," produced by WXXI Radio and the Democrat & Chronicle newspaper in upstate New York, Koppelman is (spoiler alert) one of the surprise twists in the story.
Tammy Jo's name was officially announced Jan. 26, 2015. Koppelman was in the cemetery when Tammy Jo was officially laid to rest.
John York, the retired sheriff who had been working on the case for more than three decades, thanked websleuths.com.
"We are so indebted to them, I can't even tell you," York said. "Carl Koppelman knew, just like I did, when he saw her face who that was … It's hard to imagine somebody could just throw a child away. It's a great day to give her a name."
Koppelman, inspired by the Tammy Jo case, didn't rest. As of today, he has matched five previously unsolved missing persons with dead bodies. He has found two other people who were presumed dead until he found them.
He said he was asked recently to help with drawings of two missing persons cases in Spokane.
"It's still just a hobby," Koppelman said.
His new obsession is Walker County Jane Doe, whose body was found on Halloween night in 1980.
"This is a very similar situation to Tammy Jo," Koppelman said.
Will he find a match?
"It's a 50-50 proposition," he said.
Local journalism is essential.
Give directly to The Spokesman-Review's Northwest Passages community forums series -- which helps to offset the costs of several reporter and editor positions at the newspaper -- by using the easy options below. Gifts processed in this system are not tax deductible, but are predominately used to help meet the local financial requirements needed to receive national matching-grant funds.
Subscribe now to get breaking news alerts in your email inbox
Get breaking news delivered to your inbox as it happens.
---