News > Spokane
100 years ago in Spokane: Two newcomers to Spokane land buscuit company jobs as their money runs out; third man dies in Post Street Bridge collapse
Wed., Feb. 8, 2017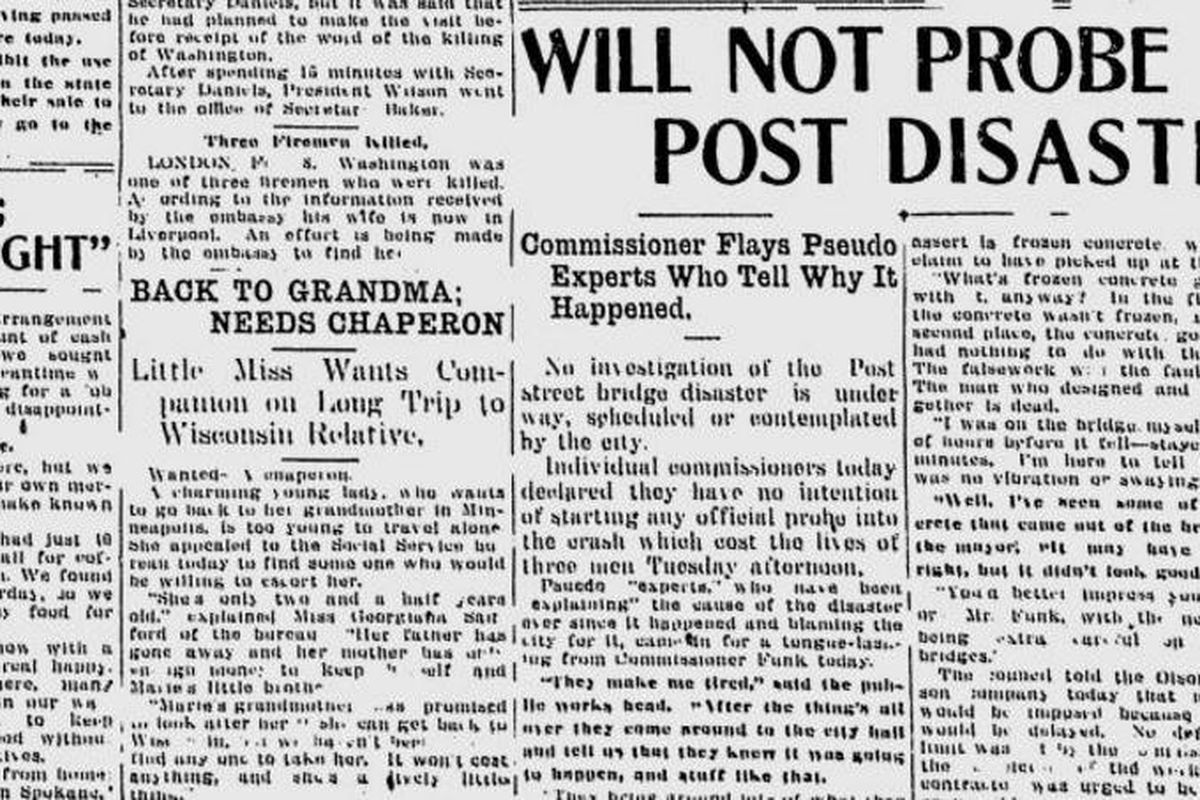 Spokane city officials were not planning to investigate the accident that killed three men working to construct the Post Street Bridge, the Spokane Daily Chronicle reported on Feb. 8, 1917. (Spokesman-Review archives)
The experience of Esther Wisdom, 20 and Addie Towe, 19, illustrated the plight of poor young women looking for work in Spokane.
They arrived in Spokane from Pendleton, Oregon, with exactly $7.50 between them.
"The first night we stopped in a hotel, paying $2.50 for a room," said one of the girls. "This was a bad business arrangement, in view of the small amount of cash on hand. The next day, we sought cheaper quarters. In the meantime, we tramped the streets looking for jobs, only to meet with disappointments. Yes, we had friends here, but we decided to make good on our own merits. We were too proud to make known our plight to friends. On Thursday night, we had just 40 cents left, so we spent it all for coffee, bread, butter and bacon."
Shortly afterward, they both found jobs with a biscuit company, and pronounced themselves "real happy."
"During our first days here, many temptations were thrown in our way, but we were determined to keep straight and to make good without the help of friends or relatives. No, we didn't run away from home. Our parents know we are in Spokane."
From the disaster beat: A Spokane city commissioner said he had no intention of starting an official probe into the Post Street bridge collapse, which claimed the lives of three workmen (a third man recently died in the hospital). The head of public works said he had no patience with the "pseudo-experts" who were spouting various theories about the state of the concrete.
"They make me tired," said the commissioner. "After the thing's all over, they come around to the city hall and tell us they knew it was going to happen, and stuff like that."
He noted that the faulty factor was the falsework – and the man who designed it was dead, in a separate accident a week earlier.
Local journalism is essential.
Give directly to The Spokesman-Review's Northwest Passages community forums series -- which helps to offset the costs of several reporter and editor positions at the newspaper -- by using the easy options below. Gifts processed in this system are not tax deductible, but are predominately used to help meet the local financial requirements needed to receive national matching-grant funds.
Subscribe now to get breaking news alerts in your email inbox
Get breaking news delivered to your inbox as it happens.
---