Then and Now: Upper Falls Power Plant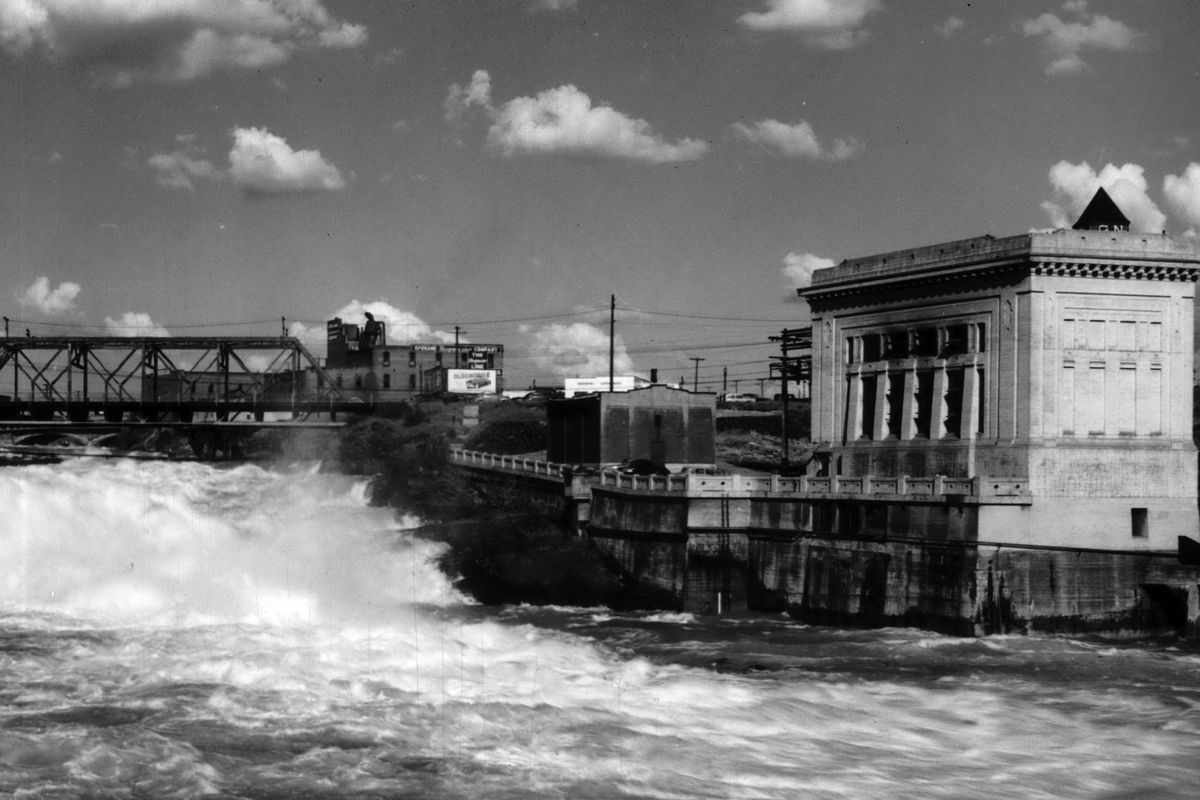 S.R. Scranton and J.J. Downing were the first white settlers to homestead at the Spokane Falls. They arrived in 1871 and used the crashing rapids on the south channel of the river to turn a paddle wheel and drive the first sawmill.
James Glover bought them out and took over in 1873. And, in 1889, prominent Spokane businessmen organized Washington Water Power and built the Monroe Street Project.
There were a handful of rudimentary generating stations on the river, but the W.W.P. engineers wanted Spokane's first modern generating plant to have penstocks, enclosed channels leading to the turbines that would multiply the force of the water. The project's intake is under the W.W.P. Post Street building, and the water runs steeply downhill to the turbine at the bottom of the Monroe Street Bridge.
David Lynde Huntington, born in 1870, arrived in Spokane to take an engineering job with W.W.P. in 1894. Within two years, he was managing the day-to-day operations as well as the company's streetcar system.
Huntington presided over an era of dramatic expansion, including several dams. To add generating capacity, Huntington turned to the channel under the old mill, which the company owned. Penstocks were laid in the channel to feed a single massive generator with a vertical shaft, one of the first of its kind in the region. It opened in 1922.
The Upper Falls Dam, from the tip of Havermale Island to the north bank, forces water to the south channel, through the Upper Falls generator, and then through the Monroe project below. Today, the channel is the center of the park and a gathering place for waterfowl.
Once the penstocks were covered over, Havermale was permanently connected to downtown and, technically, no longer an island.
Huntington served 15 years as the utility's president until he was diagnosed with stomach cancer. He worked almost daily through the two years it took the disease to end his life at age 59. Spokane mourned his passing.
"In the deeply deplorable passing of Huntington, Spokane, the Inland Empire and the entire western country lost a man of exceptional intelligence, sound judgement and bigness of heart. He was a constructive genius and a real friend," hotel man Louis Davenport said.
Washington Water Power became Avista Utilities in 1998.
– Jesse Tinsley
---