Sports
Couch Slouch weighs in on commitment
Mon., Jan. 2, 2017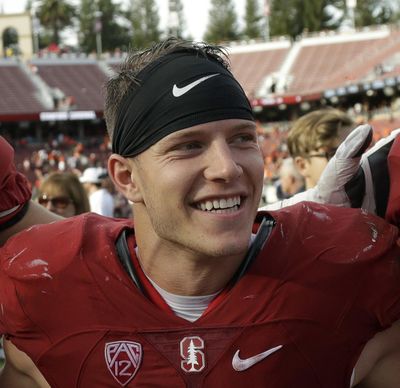 LSU running back Leonard Fournette did not play in the Citrus Bowl last week. On the injury report, he was listed as "OUT – lack of interest."
Stanford running back Christian McCaffrey did not play in the Sun Bowl last week. On the injury report, he was listed as "OUT – lack of interest."
Both players decided to bypass their final college game to avoid injury before the next NFL draft. It was a simple risk/reward resolve: Each of them determined that the potential cost of getting hurt outweighed the potential benefit of getting a touchdown.
There are two basic opinions on this stance across Sports Nation:
1. They were right to skip the games.
2. They were wrong to skip the games.
In somewhat of a statistical and intellectual improbability, Couch Slouch agrees with both sides.
Let's start with the corrupt, oppressive big-time intercollegiate athletics framework that largely abuses the "student-athlete." This feudal system will never stand the test of time – though it's doing pretty darn well so far – as an unexpected, belated age of enlightenment eventually will bury this sporting serfdom in a landfill outside of Indianapolis.
(We currently live in what I might call "the Kanye West world." It's a "put your foot on his neck"/"go for what you know"/"I got mine you better get yours" landscape out there, a sensibility that has defined America throughout our history and either will continue to sustain us or topple us.)
Even if the NCAA were more paternalistic than predatory, who can blame student-athletes for looking out for their professional interests and financial future?
Protecting your prime asset – your body – is a smart business decision by a football player.
Fournette and McCaffrey need look no further than one year ago to witness a cautionary tale:
Notre Dame linebacker Jaylon Smith was projected as a top-five draft pick. In the Fiesta Bowl, he tore knee ligaments and dropped to a second-round selection by the Dallas Cowboys. He went from a likely four-year, $20 million contract to a four-year, $6.4 million deal.
You do the math.
(I'd do the math for you, but due to a rather pedestrian public education culminating in a bachelor's degree from the then-academically challenged, ACC-to-Big-Ten-hopping-soullessly-in-search-of-a-bigger-payday University of Maryland, chances are my numbers would be incorrect.)
Anyhow, why should the players be held accountable when the padrones who recruited them aren't?
Just last month, four head coaches skipped their teams' bowl games when they left for new jobs – Willie Taggart went from South Florida to Oregon, Tom Herman from Houston to Texas, Jeff Brohm from Western Kentucky to Purdue, Matt Rhule from Temple to Baylor.
Maybe they texted a pregame pep speech to their teams from the airport.
(Incidentally – as far as I'm concerned – Lane Kiffin can leave any time he wants, as long as he promises not to come back.)
Still, a faint siren stirs inside of Couch Slouch that something is amiss when student-athletes renege on their part of the covenant.
Granted, you can argue it's a bad, one-sided deal, with the schools exploiting the players. But it's a deal both parties agreed to – the school grants a full athletic scholarship, providing tuition, room and board and the opportunity for the player to attend – or not attend – any classes; in return, the player agrees to participate in team activities.
More simply put: They pay, you play.
And "you play" doesn't mean you decide which games you play. You play. You don't pick and choose the games that suit your needs.
I'm not a big Cosa Nostra fan, but I know how Tony Soprano would've handled one of his foot soldiers taking a day off in self-interest.
Besides, whatever happened to "finish what you start" and "winners never quit and quitters never win"?
Whatever happened to the days of "Father Knows Best" and "your word is your bond"?
Whatever happened to old-fashioned commitment?
By the way, I'm sorry, but shouldn't Joe Mixon have skipped Oklahoma's bowl game?
Ask The Slouch
Q. If you would have used the McCaffrey/Fournette strategy and skipped either of your first two wedding ceremonies to concentrate on preparing for your marriage, do you think the outcomes may have been different? (Jeff Dent; South Charleston, W.Va.)
A. Pay the man, Shirley.
Q. If Roger Goodell attended the musical "Hamilton," and at the end the actors criticized him, would he suspend the cast for four months? (Howard Kramer; Rockville, Md.)
A. Pay the man, Shirley.
Q. Is the NFL's reported commitment to keeping teams in San Diego and Oakland an example of "fake news?" (Roger Strauss; Silver Spring, Md.)
A. Pay the man, Shirley.
Q. So, if the NFL had a booth review of World War II, would the Germans win? (Bill Hardy; Careywood, Idaho)
A. Pay the man, Shirley.
Norman Chad is a syndicated columnist. You can enter the $1.25 Ask The Slouch Cash Giveaway. Just email asktheslouch@aol.com and, if your question is used, you win $1.25 in cash!
Local journalism is essential.
Give directly to The Spokesman-Review's Northwest Passages community forums series -- which helps to offset the costs of several reporter and editor positions at the newspaper -- by using the easy options below. Gifts processed in this system are not tax deductible, but are predominately used to help meet the local financial requirements needed to receive national matching-grant funds.
Subscribe to the sports newsletter
Get the day's top sports headlines and breaking news delivered to your inbox by subscribing here.
---
Subscribe and log in to the Spokesman-Review to read and comment on this story