News > Spokane
Thousands more than expected join Women's March in Spokane
Jan. 21, 2017 Updated Sat., Jan. 21, 2017 at 11:41 p.m.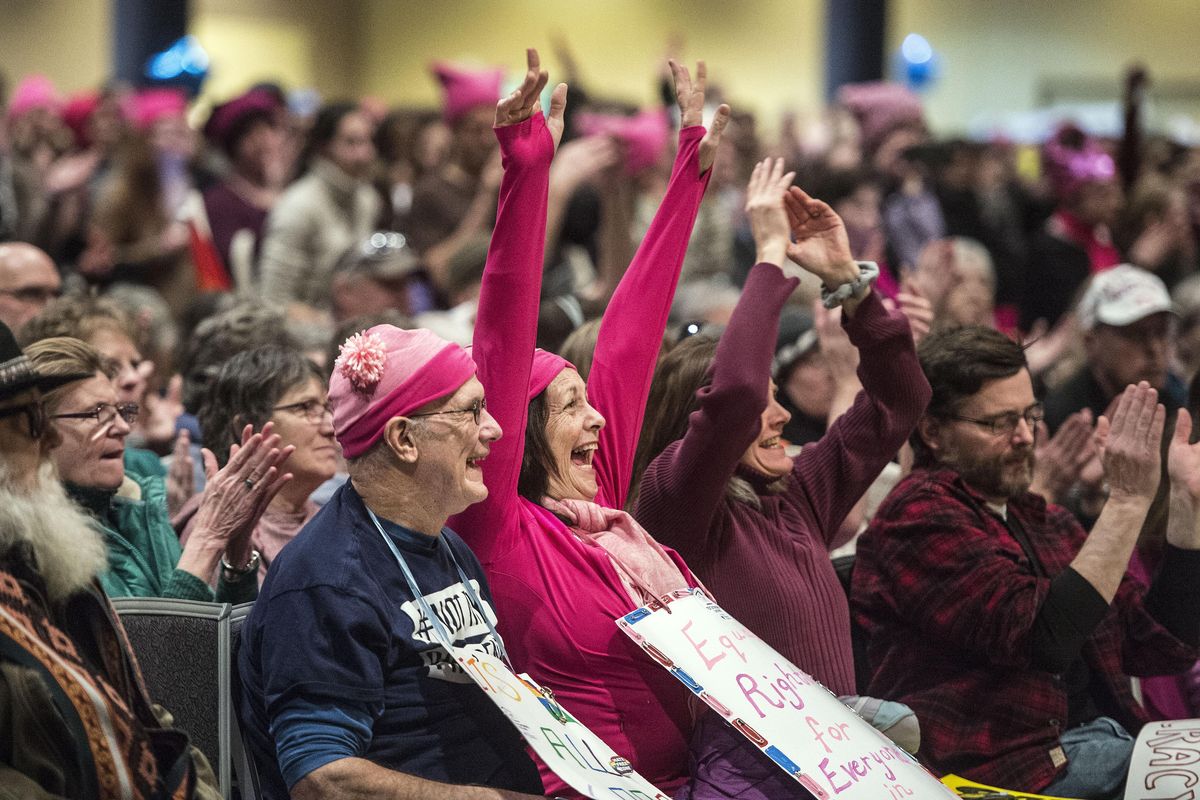 Cheers go up during the rally at the Spokane Convention Center for the Spokane/North Idaho Women's March on Saturday, Jan. 21, 2017. (Dan Pelle / The Spokesman-Review)
After one of the more divisive elections in modern American history, they came by the thousands.
They came for different reasons – some for their daughters, others for the environment. Some came to defend logic and reason. Many came to protest Friday's inauguration of President Donald Trump.
In fact, so many people – women, men and children – turned out for the Spokane/North Idaho Women's March on Saturday at the Spokane Convention Center that police postponed the start of the event to bring in more officers. Police said the crowds were cooperative and there were no issues.
Organizers for the event said they expected between 150 and 200 people. The turnout was a "pleasant surprise," event spokeswoman Maria Garcia-Bachman said. The unexpected numbers meant some of the scheduled speakers were unable to speak. There were no counterprotests, nor any reports of harassment.
Jean Pond and her husband, Finn Pond, were just two of an estimated 8,000 people who attended the rally and march, one of dozens that took place across the nation and internationally to protest Friday's inauguration.
The Ponds brought a large sign that read, "Make America Think Again."
"My husband and I are biologists, and we are concerned that all sorts of issues … are not being decided on the basis of logic."
Both teach at Whitworth University. She's opposed to ideology of all kinds, and to the "encouragement of hatred and intolerance that has no basis in data."
"All those opinions are irrelevant," she said. "What's relevant are the facts of the matter."
Event coordinator Angie Beem said the event was planned in September, before the election was over. The entire election process was rough, she said.
"I sat quietly while people got hurt and harassed," she said. "Things got so bad this last year. I couldn't just sit anymore."
The goal of the rally and march was to bring people together, Beem said. "The first thing we need to do is start talking," she said.
Speakers came from all across the state to fire up the crowd attending the rally inside the convention center, where the doors were closed after the gathering hit its 6,200-person maximum, leaving thousands more outside.
"We come together not in despair, but in solidarity," community activist Dannetta Garcia said. "We are marching just as those who have gone before us. We must believe we can make a difference."
Angela Jones, chief of staff at Eastern Washington University, urged people to work together and not take sides.
"Stop freaking out," she said. "We have been here. Yesterday was not Day One of resistance. We have been doing this a long time."
People need to be involved and be active in order to bring about change, Jones said. "Please stay informed. Don't just shout at the television and shout on Facebook. Be active."
Although the rally and march were not billed as an anti-Trump event, many said the rhetoric of the election cycle incited them to attend.
"We are standing up to a bully," Aileen Luppert said. "Our president is a bully."
Luppert was with her 7-year-old daughter, Eva, and her mother, Nan. Eva said she was marching to "fight hate."
While men, women and children milled outside the convention center trying to get inside, a bus from Rockwood Retirement Community pulled up, unloading 17 retirees.
Organized by Marilyn Carpenter, the retirees chartered the bus to attend the rally and march.
"A lot of people want to stand up to the lack of civility in our society," Carpenter said. "Even the old folks."
Roz Luther, another woman from Rockwood, said she was there to support Planned Parenthood.
"I'm absolutely so upset at the thought of Planned Parenthood losing support," she said.
For Jo Franko, Saturday's march was the first she has attended since Martin Luther King Jr. was assassinated.
"I'm here because so much of what's happening in the world seems to be based on hate," she said.
Although the rally was scheduled to start at 11 a.m., it was delayed, as was the march itself. After the convention center was too full to allow any more people to enter, some attendees went across the street to get coffee at the Davenport Grand Hotel.
There, Emily Grizzell and her mother, Peggy Goodner Tan, waited for the march to begin, wearing sparkly unicorn horns, instead of "Pussyhats." Unicorns, they said, are friendly and peaceful, two things they hoped for the march.
"I'm marching for my daughter," Grizzell said. "It frightens me to think that the rights I have taken for granted may not be there for them."
However, Stephanie Cates, chairwoman of the Spokane County Republican Party, questioned the motivation of the marchers when called for her reaction to the event. She said she's supportive of peaceful protests, however.
"I guess I'm curious what rights these people think are going to be taken away from women," she said in a phone interview.
Near Grizzell in the Davenport lobby, Kelsey Kittleson sat with a sign that read, "We are not princesses! We are the leaders of this rebellion," a reference to Princess Leia in "Star Wars."
Kittleson, who was wearing a shirt with an image of Princess Leia on it, said Carrie Fisher's depiction of Princess Leia was a role model for her.
"Although she was a princess, she was not just sitting in a castle," she said.
Attendees started marching just after 1:30 p.m.
Sylvia Oliver held a sign high above her head depicting a woman wearing a hijab. The sign was designed in the same fashion as the classic Barack Obama "Change" posters that became iconic with his run for presidency.
"She represents women," the 65-year-old said, turning the poster to look at its face. "All women."
Oliver has spent much of her adult life in the Spokane area. She remembers protesting during the Vietnam War, and today was nothing like that, she said.
"This is more powerful than that," she said. "By far."
Three-year-old Juniper and her father, Jesse Leiser, came to protest water rights, specifically access to water for those who own property threatened by the Dakota Access Pipeline.
"Water is life," the pair shouted in unison.
Leiser said this is Juniper's fifth protest.
"These are all my friends," she said, turning her head to look at marchers.
David Horner sat near the sidewalk with his legs crossed, a small sign asking for help propped on his knee. The 48-year-old homeless man decided it would be a good idea to panhandle near the march.
It turned out to be a great idea.
"These are my people," he said. "I've made more money today than in months."
Inside the convention center, longtime Spokane Valley community activist Sally Jackson employed her straight-shooting style, noting she worked in Washington state to get the Equal Rights Amendment passed in 1972. She said she's afraid women will lose rights that she and others fought so hard for.
"In that time, it was OK for a guy to grab your butt, grab your boob," she said. "A lot of times it was a condition of your employment. That's what happens when you have no rights. That should offend every woman in this damn country. That's when we were second-class citizens, and we're never going to let that happen again."
Jackson brought those seated to their feet, the crowd roaring in approval as she spoke. "I'm a woman and I'll be damned if they take my rights away," she said. "Together we are women. Hear us roar."
And roar they did.
Local journalism is essential.
Give directly to The Spokesman-Review's Northwest Passages community forums series -- which helps to offset the costs of several reporter and editor positions at the newspaper -- by using the easy options below. Gifts processed in this system are not tax deductible, but are predominately used to help meet the local financial requirements needed to receive national matching-grant funds.
Subscribe now to get breaking news alerts in your email inbox
Get breaking news delivered to your inbox as it happens.
---