News > Spokane
Brian Dansel resigns Washington state Senate seat for Trump administration
UPDATED: Tue., Jan. 24, 2017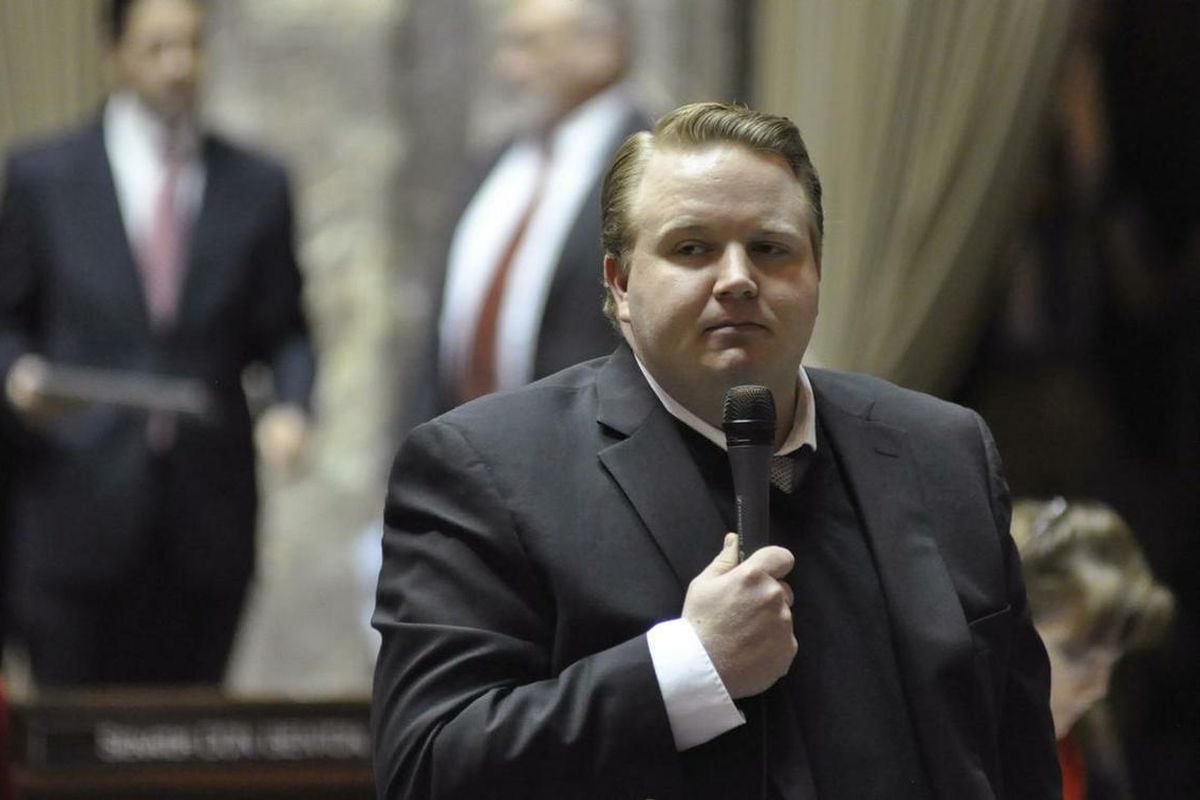 Sen. Brian Dansel, R-Republic. (Jim Camden / The Spokesman-Review)
An Eastern Washington state senator resigned Tuesday to take a position in the Trump administration, likely prompting a scramble by Republicans to fill the position quickly.
Sen. Brian Dansel, R-Republic, notified Gov. Jay Inslee and Senate leaders Tuesday afternoon that he was resigning immediately. An early supporter of Donald Trump, Dansel told lawmakers he is taking a job as special assistant to the U.S. agriculture secretary.
Dansel said in an interview with The Spokesman-Review the job involves "doing anything I can to help" the new secretary, adding he hopes to be a voice for more logging and mining on land owned by the U.S. Forest Service, which is part of the Agriculture Department.
The resignation means the Senate is temporarily tied, with 23 Republicans and one Democrat voting as a coalition caucus, and 24 other Democrats together in the other caucus. But Dansel will be replaced by a Republican, so the GOP is expected to keep control with a one-vote majority.
About an hour before the letter surfaced, Democratic leaders were questioning whether Republicans would be able to move controversial legislation or manage their committees. Dansel is the chairman of the Senate Local Government Committee and was not present Monday when his bill to raise the speed limit on parts of Interstate 90 had a hearing in the Senate Transportation Committee.
With his departure announced, Senate Democratic Leader Sharon Nelson, of Maury Island, said Republicans no longer have majority control. The two parties should work to find a way to increase state support of public schools, she said, "or they can use the waiting game as a way to keep the Senate in a state of gridlock."
Another Senate Republican, Doug Ericksen of Ferndale, has taken a temporary part-time job in the Environmental Protection Agency as part of the Trump transition, but has not said he will resign.
Senate Democrats also said Sen. Mike Baumgartner was in Washington, D.C., but the Spokane Republican was in Olympia and said he had not gone to the nation's capital or interviewed for a job in the Trump administration.
Dansel's notice of resignation arrived shortly after the weekly news conference for Republican leaders. Senate Majority Leader Mark Schoesler, R-Ritzville, told reporters at that point he hadn't yet talked with Ericksen about his schedule, but said it was good for the state to have people in the new administration who are familiar with Washington state issues.
Dansel's 7th District contains two of the mainstays of Washington agriculture, tree fruits and wheat, Schoesler said.
Under state law, when a legislator resigns, the precinct officers of that party submit three names to county commissioners for a replacement. A majority of commissioners must agree on one of those names.
Complicating the process for replacing Dansel is his district in northeast Washington contains all or parts of five counties – Spokane, Pend Oreille, Stevens, Ferry and Okanogan. Commissioners from all five vote on the replacement. The appointee will face a special election in the fall.
The last time a vacancy occurred in that district, in 2013, the seat was filled in less than a month, Schoesler said. That appointee, John Smith, served for one session but lost to Dansel, who was then a Ferry County commissioner, in the election that fall. Dansel, now 33, won re-election in 2014 and had to give up his commissioner seat because both positions were on that year's ballot.
The most recent vacancy in the Senate, when Sen. Pam Roach resigned on Jan. 3, was filled by Jan. 9 when the Legislature convened.
"We'll trust that they'll get right after it," Schoesler said.
Editor's note: An earlier version of this post incorrectly said Baumgartner was in Washington, D.C. based on comments of legislative leaders at their respective press conferences.
Local journalism is essential.
Give directly to The Spokesman-Review's Northwest Passages community forums series -- which helps to offset the costs of several reporter and editor positions at the newspaper -- by using the easy options below. Gifts processed in this system are not tax deductible, but are predominately used to help meet the local financial requirements needed to receive national matching-grant funds.
Subscribe now to get breaking news alerts in your email inbox
Get breaking news delivered to your inbox as it happens.
---