Sports
Nine-year-old Amanda Nguyen twice comes up aces on golf course
Tue., July 11, 2017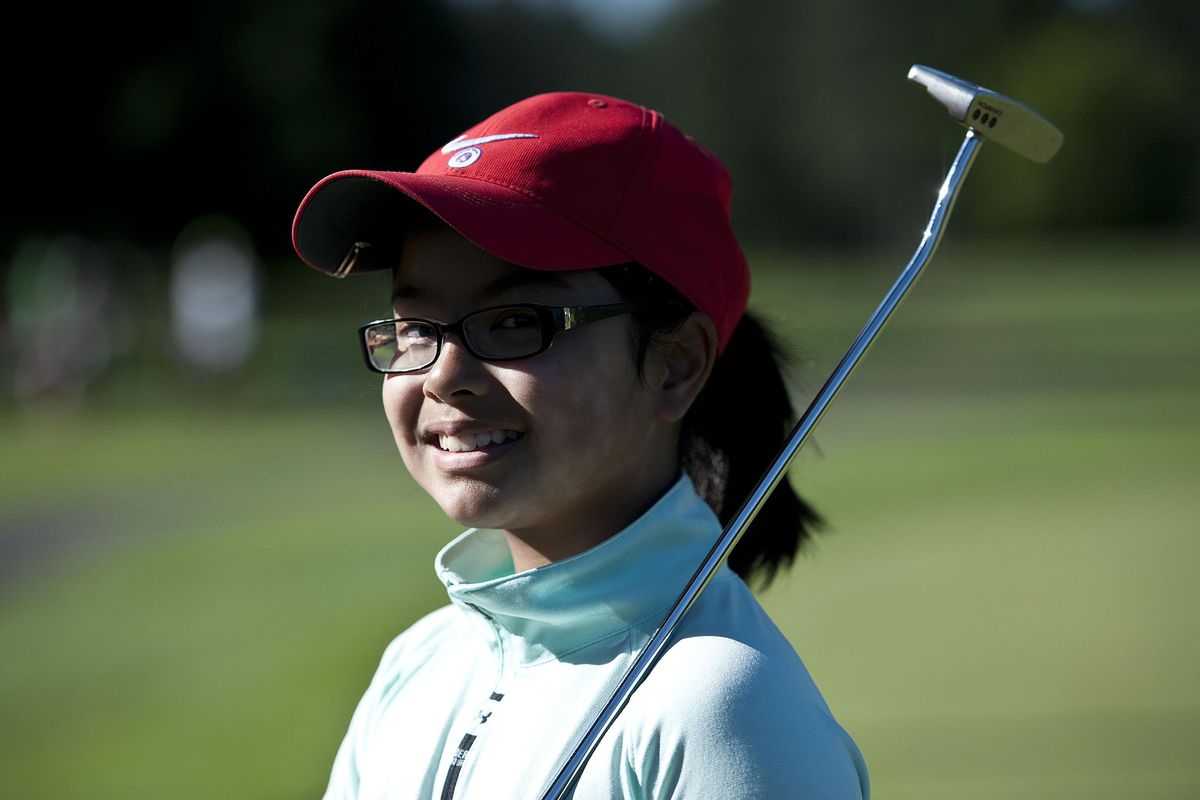 Amanda Nguyen, 9, works on her golf game at Avondale Golf Course in Hayden on Tuesday. (Kathy Plonka / The Spokesman-Review)
Amanda Nguyen's goal is to drop her golf handicap from 11.4 into single digits by her 10th birthday in September.
She's off to a pretty good start. The 9-year-old made two holes-in-one last week in the span of three days.
Nguyen, who will be a fifth-grader at All Saints Catholic School in Spokane, aced the 96-yard 16th at Palouse Ridge Golf Club with a 9-iron on Monday, July 3. Her dad, Andrew, witnessed the shot.
Three days later, Nguyen stepped up to 12th tee box at Manito Golf and Country Club, pulled out a 7-iron and knocked her ball into the cup 123 yards away.
"It's fun, it's awesome," Amanda said. "It's breath-taking."
Not to mention extremely rare. The odds of an amateur making a hole-in-one are about 13,000 to 1. A pro golfer checks in at 3,000 to 1. The odds of a low handicapper making two aces in the same round are 67 million to 1.
Nguyen said she was motivated by older brother, Alex, who will be a senior at Ferris High. Alex had a hole-in-one earlier this summer at Manito, the family's home course.
"He was not jealous," said Amanda, who takes lessons from former Manito pro Steve Prugh. "But he thought it was just unbelievable."
Nguyen kept both lucky golf balls but didn't do anything special with them. They're in her golf bag.
"I'll use them again," she said.
Nguyen plays in numerous Washington and Idaho junior golf tournaments. She shot 40 for nine holes at Kalispel Golf and Country Club on Monday and 48 at Avondale Golf Course on Tuesday.
"Well, it is very fun," said Nguyen, when asked why she likes golf. "I make a lot of friends playing it. It's a very strategic game."
Golf is just one of Nguyen's many interests. She's an accomplished violin and piano player. She likes participating in Math is Cool competitions during the school year.
Nguyen won three gold medals and one silver medal at Musicfest Northwest, held at Gonzaga University in May.
"We just want to get her exposed to whatever she likes and she will choose what she likes to do in the future," said Kim, Amanda's mom.
The youngest recorded hole-in-one was by a 3-year-old in California on a 65-yard hole. Tiger Woods made his first hole-in-one at age 6. LPGA star Michelle Wie was 12 when she jotted down '1' on a scorecard.
Last year, Newport's Frank Capehart made his first hole-in-one at age 87 on the first hole at the Ranch Club in Priest River. He repeated the feat about three months later on the same hole.
Nguyen said friends and family usually have the same reaction to her pair of aces.
"They were happy for me," she said, "and when I told them they were surprised."
"It's pretty cool," Kim added. "We just couldn't believe it when she did it again."
Local journalism is essential.
Give directly to The Spokesman-Review's Northwest Passages community forums series -- which helps to offset the costs of several reporter and editor positions at the newspaper -- by using the easy options below. Gifts processed in this system are not tax deductible, but are predominately used to help meet the local financial requirements needed to receive national matching-grant funds.
Subscribe to the sports newsletter
Get the day's top sports headlines and breaking news delivered to your inbox by subscribing here.
---