News > Spokane
Data shows which Spokane intersections are worst for texting and driving
July 28, 2017 Updated Fri., July 28, 2017 at 9:52 p.m.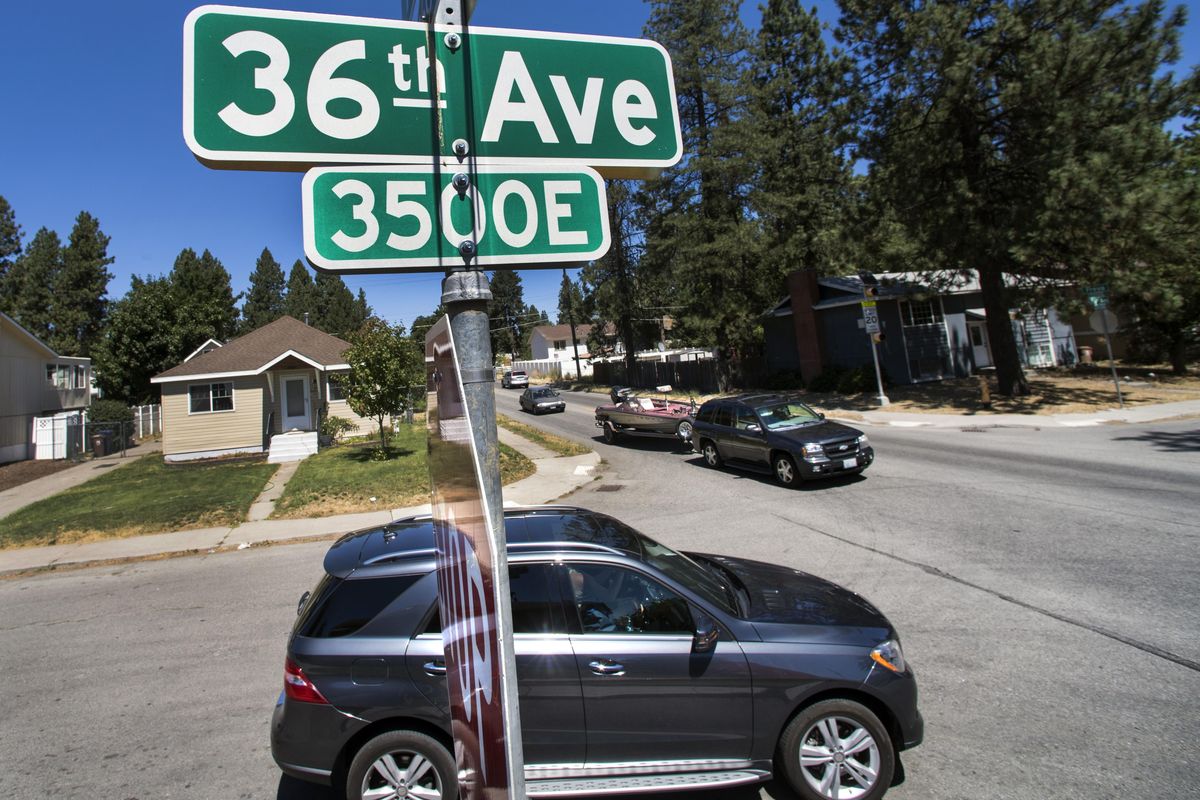 The corner of 36th Avenue and Freya Street in Spokane, Wash., is the worst intersection for distracted driving with a cell phone in the city, according to Cambridge Mobile Telematics. (Dan Pelle / The Spokesman-Review)
Ask someone where in Spokane they are likely to see drivers being distracted by talking on a cellphone or gazing at a smartphone screen, and the answer might be "everywhere."
While that may be true, a Massachusetts company is able to say with some certainty where most smartphone-induced distracted driving occurs in Spokane and 296 other cities. It can also calculate how drivers in Spokane stack up to those in other cities.
Spokane might be better than you think.
Using data from smartphone applications that it pioneered, Cambridge Mobile Telematics collected data on some 15,000 drivers who covered 18 million miles over a four-month period in 2016. It studied all the metropolitan areas with at least 100,000 people to determine where drivers are most likely to be using their smartphone while driving.
In Spokane, the top five distracted driving places are:
Along Freya Street around 36th Avenue
Near the intersection of Nevada Street and Lincoln Road
Along East Sprague and Appleway on either side of South Thierman Road
Along Division Street between Magnesium Road and Wellesley Avenue
On Freya and Thor streets near Interstate 90
In each of those stretches of roadway, the DriveWell app used by CMT and similar apps used by insurance companies detected high instances of drivers who were using their phones while traveling more than about 8 mph. The software also detects whether they were going faster than traffic normally would or braking sharply.
Sam Madden, chief scientist for CMT, said the software was originally developed at the Massachusetts Institute of Technology. It uses accelerometer and gyroscopic sensors that are now standard in most smartphones to detect and record speed, acceleration, turning and braking. It also records when the screen is on or the phone in use.
CMT offers the DriveWell app for free, and some insurance companies offer premium incentives to drivers who install similar software. The apps give readouts of how well (or poorly) a driver did on a trip and keeps track of progress over time. CMT believes the software and "gamification" – challenges among family members or friends to see who has the best scores or the most improvement – can lead to permanent changes for the better in individual behavior and overall safety.
The information on the most dangerous road segments in Spokane was gathered from 1,922 drivers making nearly 69,000 trips, in which the apps recorded 70,146 distracted driving events. They developed a distraction index for each road segment and rated the frequency from high to low.
Smartphones are now common enough in the United States – about 77 percent of mobile phone users in 2016, Madden said – to generate large numbers. They skew slightly toward younger drivers, who are more likely to have a smartphone and download an app.
"Your grandma might not have a smartphone, but she's also not likely to be checking Facebook while she drives," Madden said. "The younger you are, the more likely you are to use a smartphone when driving."
Compared to the other 296 cities for which CMT analyzed data, Spokane ranked 16th overall when all factors of safe driving were considered, and 28th for fewest minutes of distracted driving per 100 miles traveled.
Seattle ranked 159th overall for driving, and 118 from the top for distracted driving. Tacoma was 49th overall and No. 100 for distracted driving, and Boise was 40th overall and 110 for distracted driving. In both ratings, the lower numbers are better.
Local journalism is essential.
Give directly to The Spokesman-Review's Northwest Passages community forums series -- which helps to offset the costs of several reporter and editor positions at the newspaper -- by using the easy options below. Gifts processed in this system are not tax deductible, but are predominately used to help meet the local financial requirements needed to receive national matching-grant funds.
Subscribe now to get breaking news alerts in your email inbox
Get breaking news delivered to your inbox as it happens.
---