News > Spokane
Davenport doorman honored for 75 years of service
UPDATED: Thu., June 1, 2017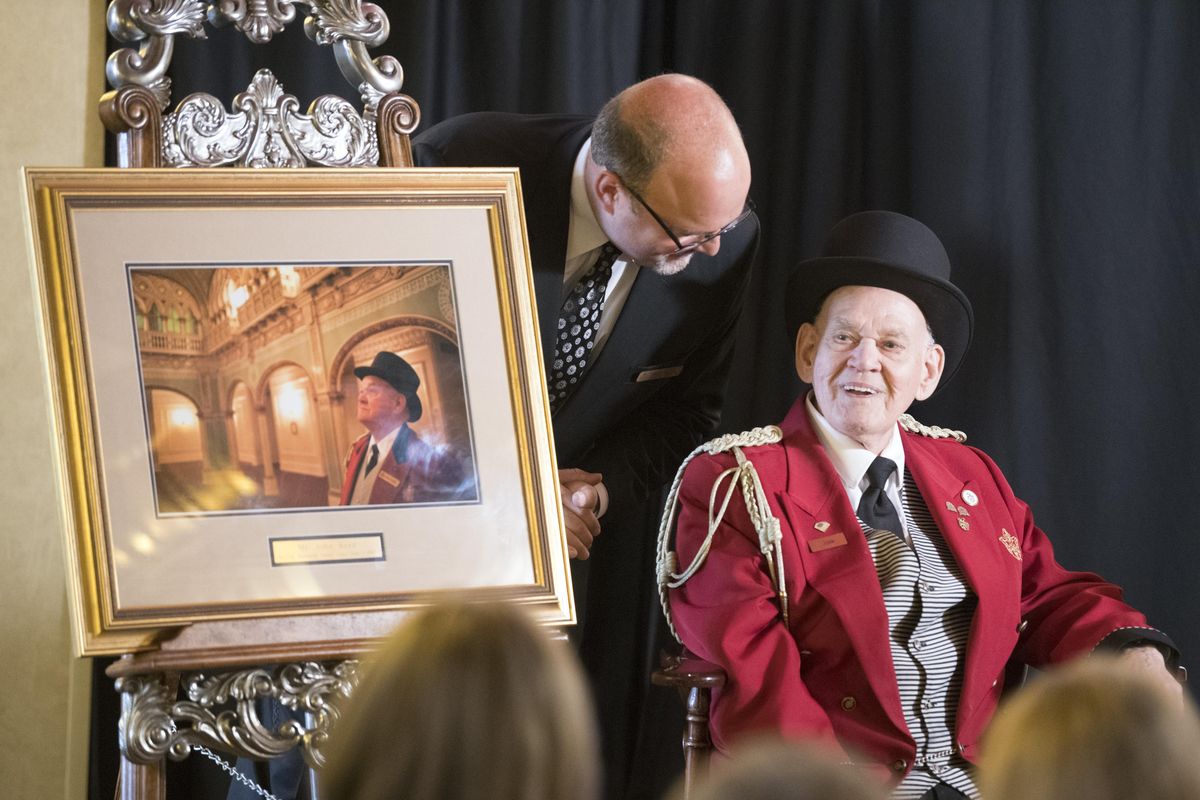 Longtime Davenport Hotel door man John Reed, seated, shares a chuckle with Matt Jensen, Director of Sales and Marketing for the Davenport Hotels, at a ceremony to recognize that Reed has been at the Davenport Hotel for 75 years as of Thursday, June 1, 2017. Though he took time off for college, Reed was hired as a bus boy by Louis Davenport June 1, 1942 and is the hotels longest serving employee by far. To honor him, the hotel named a boardroom after Reed and will hang the photograph at left in the room. (Jesse Tinsley / The Spokesman-Review)
John Reed is the historic Davenport Hotel's longest-serving employee, and well into his 80s, he said he doesn't plan on retiring anytime soon.
"I've been very devoted to my job, and it's been very rewarding," he said.
The doorman was honored Wednesday in a ceremony celebrating his 75 years at the Davenport. In his honor, the hotel renamed its board room after him and gave him a new refrigerator stocked with all the fixings for gin and tonics, one of Reed's favorite drinks.
Reed began working at the hotel when he was 13, making 35 cents an hour as a bus boy plus whatever tips the waitresses would split with him. It was 1942, during World War II, and manpower in the United States was low. Employers were allowed to hire younger men to fill jobs while the older men were at war.
Reed left for college and returned to the Davenport in 1958, when he started working as a bellman, and he was one of the few employees who stayed through the hotel's closure in 1985. He's seen several former presidents and celebrities walk through its doors, including John F. Kennedy and George H.W. Bush.
The hotel's head doorman works four days a week, wearing a three-piece suit and top hat every day. The Davenport's pastry kitchen prepared a top hat-shaped cake in his honor to be served at Wednesday's ceremony.
"He is just that iconic person that is old hotel service," Davenport Managing Director Lynelle Caudill said.
Reed reminds the staff to be more formal in the way they present themselves, she said.
Reed fondly remembers Louis Davenport, the hotel's founder, as an emblem of elegance and perfectionism. He is the only staff member at the Davenport who has worked directly with Davenport himself.
When staff went to get Reed's 75-year pin for the ceremony, the trophy company had to create a special one for him because they had never seen someone with that length of service in one place. The company should go ahead and make a 100-year pin, staff joked, because they were sure John wouldn't be leaving anytime soon.
"As long as John wants to work at the hotel, he has a job here," said the Davenport's owners, Walt and Karen Worthy.
Local journalism is essential.
Give directly to The Spokesman-Review's Northwest Passages community forums series -- which helps to offset the costs of several reporter and editor positions at the newspaper -- by using the easy options below. Gifts processed in this system are not tax deductible, but are predominately used to help meet the local financial requirements needed to receive national matching-grant funds.
Subscribe now to get breaking news alerts in your email inbox
Get breaking news delivered to your inbox as it happens.
---