News > Spokane
Dr. Ralph Berg remembered as cardiac surgery pioneer in Spokane
Wed., June 7, 2017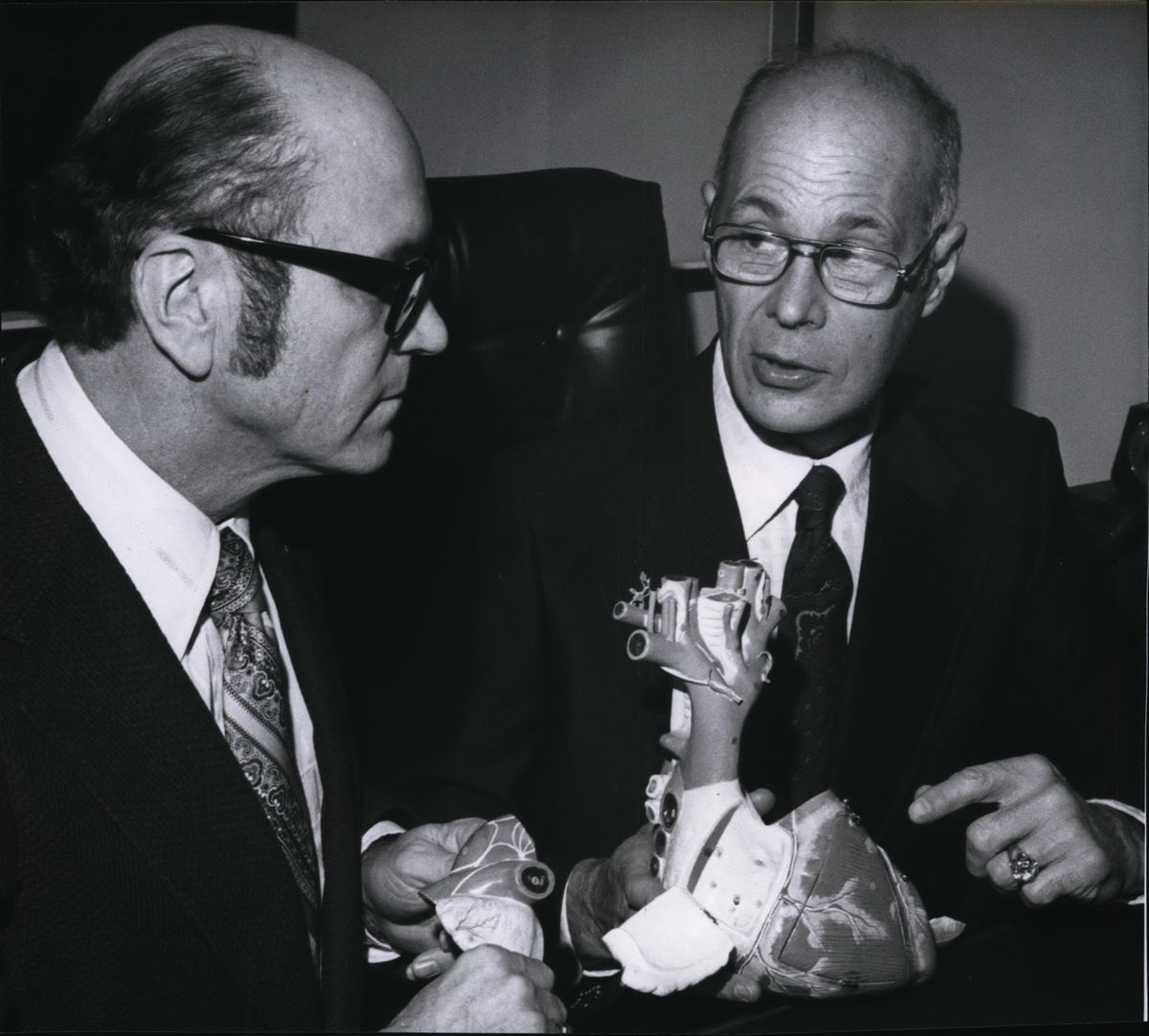 Spokane heart surgeon Dr. Ralph Berg Jr. (right) explains surgical procedures to Neighbors of Woodcraft state director Don E. Belangie in this photo dated 1976.
Dr. Ralph Berg, who performed Spokane's first open-heart surgery in 1959, was remembered Tuesday as a giant in his field bringing both lifesaving procedures and cardiac research into a revolution in treating heart disease.
Berg died on Friday. He was 96.
"He was a pioneer heart surgeon for many procedures," said a surgical colleague, Dr. Marcus DeWood. "He is a pioneer … He was a forward-thinking guy."
In 1952, Berg performed Spokane's first heart operation by sticking his finger in a woman's heart and releasing a mitral valve that was stuck.
He went on to lead the formation of an acclaimed cardiac care system in Spokane that was controversial in its early years. Berg pioneered cardiac catheterization procedures, which led to new procedures to treat heart disease, DeWood said.
"You cannot replace Ralph Berg, DeWood said.
Spokane heart surgeons got noticed in the 1970s for their aggressive treatment of heart attack patients, according to news files.
Instead of relying on traditional drug intervention, Spokane doctors were doing emergency bypass surgery on patients in the midst of heart attacks.
In a 2002 interview, Berg explained what he and others here faced:
"They used to say, 'Oh, this is malpractice,' " Berg said, but the techniques proved themselves over time.
Julie Spores spent 40-plus years working with Berg as his anesthetist nurse.
"I admired the man. He was an absolute perfectionist when it came to being a surgeon," she said.
Early on, the operations were long and tiring, lasting 12 hours or longer, she said.
Spokane's cardiac care system came about because of Berg's indomitable skill and an ability to attract smart people around him, Spores said.
DeWood said Berg turned his attention to congenital heart defects in children in an effort to save young lives.
In 1971, the first successful coronary revascularization, or bypass surgery, was done and became the foundation for what was then called the "Spokane experience," according to family members in a paid obituary.
The son of a baker and Norwegian immigrant, Berg grew up in northeast Spokane and attended Whitman School and Rogers High School. He married his high school sweetheart, Mary Lenz, who died in 2016 after 74 years of marriage.
Berg went on to Washington State College, now Washington State University.
He went to medical school at Washington University in St. Louis in 1942 and then into the Army under surgery service. He graduated from Washington University School of Medicine in 1945.
After the war, he moved to Portland and worked for the Veterans Hospital. He also had a short stint teaching at the University of Oregon.
Berg returned to Spokane in 1952.
He is survived by sons Ralph Eric "Rick" Berg, David Edward Berg and Michael Robin Berg and a daughter, Diane Lenora Berg.
A memorial gathering of family, friends, colleagues and medical professionals will be held from 2 to 4 p.m. Saturday at 1020 S. Pepper Tree Lane, Spokane.
Local journalism is essential.
Give directly to The Spokesman-Review's Northwest Passages community forums series -- which helps to offset the costs of several reporter and editor positions at the newspaper -- by using the easy options below. Gifts processed in this system are not tax deductible, but are predominately used to help meet the local financial requirements needed to receive national matching-grant funds.
Subscribe now to get breaking news alerts in your email inbox
Get breaking news delivered to your inbox as it happens.
---