News > Spokane
Evergreen president describes how protests 'blew up'
June 20, 2017 Updated Tue., June 20, 2017 at 10:02 p.m.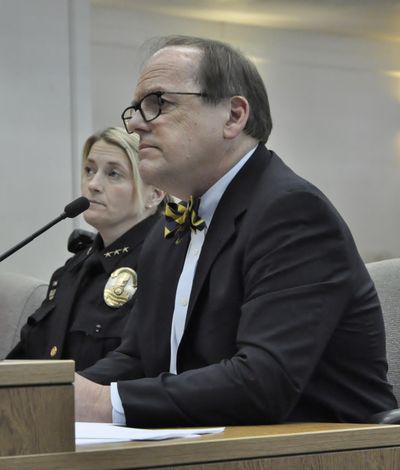 OLYMPIA – The president of The Evergreen State College defended most decisions he made during several weeks of unrest that temporarily closed campus and moved the graduation to Tacoma.
Social media accounts and cable news misrepresented generally peaceful protests in late May, generating threats against students and faculty, George Bridges told the Senate Law and Justice Committee in a special "work session" Tuesday.
After professor Bret Weinstein talked on cable news about student reaction to his refusal to participate in an optional annual event known as the Day of Absence, the response on and outside campus "blew up," Bridges said.
But those weren't the first signs of student unrest on the campus this year, Thurston County sheriff's Lt. Dave Pearsall said.
In January, a scheduled swearing-in ceremony for Stacy Brown, the new chief of campus security, was taken over by students and had to be postponed. "It was complete chaos," Pearsall said.
Students protesting "law enforcement presence on campus" staged an unexpected demonstration, Bridges later told the committee. The board that enforces the Code of Conduct put them on probation.
When asked by Sen. Steve O'Ban, R-Pierce County, whether he agreed with that, Bridges said it wasn't up to him: "If I were the sanctioning agent – which I am not – I probably would have imposed a tougher sanction."
After Weinstein's appearance on FOX news, students occupied Bridges' office. He said he never felt threatened and always believed he could leave if he wanted. During the negotiations, he asked for Brown to come to the office, but without her firearm after being told the weapon could make students feel uncomfortable.
"That was wrong," Bridges said, to order a police officer to set aside her weapons.
The college policy allows its police officers to have only handguns, and bans rifles, which would be more valuable in an "active shooter" situation, Brown said. Asked if that was a budget matter, she said no.
"It's philosophical," she said. "It concerns me greatly."
Bridges said a change in policy is something "we're looking at."
The campus was closed for several days after local law enforcement received a call it considered a credible threat that someone not connected with Evergreen would go to the college and kill people. The conservative Patriot Prayer group later held a demonstration on the campus that was met with a counter-demonstration by students, faculty, staff and supporters from the community.
Some 80 members of a State Patrol "rapid deployment force" kept the two groups separate, and only one arrest was made.
The next night, the college graduation ceremony was held at the baseball stadium in Tacoma, with extra security. That cost about $100,000, Bridges said.
The college owes the State Patrol about $67,000, Bridges said, which would be about half of what Chief John Batiste said his forces racked up.
The money for both will come from the college's reserves, Bridges said.
Damage from vandalism on the campus was about $5,000, Bridges said. Reports of students carrying baseball bats are being investigated.
The committee took more than an hour testimony from campus and law enforcement officials, as well as Rep. Matt Manweller, R-Ellensburg, who teaches at Central Washington University. He has proposed a bill that calls for the state to cut back its financial support of Evergreen and sell it to a private entity.
From his teaching experience, Manweller believes many college students equate threatening speech with physical violence and may feel justified reacting to verbal violence with physical violence.
"I'm not sure if laws can fix that. It's not a legal problem, it's a social problem," he said.
Sitting in the back of the hearing room were more than a dozen Evergreen students. After the hearing they complained the committee didn't allow them to speak and got a one-sided view of the protests.
The issue on campus is not free speech but social equity and safety, particularly for minorities, Evergreen student Vee Ramsey said. "It was unsurprising that the panel was completely white."
"They're not here to listen to us. They're not here to care about us," said Keah, a student who would only give her first name because of previous threats. "If they did, they'd ask for our opinion."
Because it was a work session and not a hearing on legislation, only people invited by the committee were given a chance to speak. When Committee Chairman Mike Padden, R-Spokane Valley, was asked later why no students were invited, he said said the college was asked to send a panel. They sent Bridges, Brown and Colleen Rust, director of government relations.
"Evergreen was free to bring whoever they wanted on their panel," Padden said. As to the criticism that the panel was "completely white," he said that's really up to voters who elect the Legislature.
Of the 49 members of the Senate, only four are racial or ethnic minorities. None of them serve on the Law and Justice Committee.
Local journalism is essential.
Give directly to The Spokesman-Review's Northwest Passages community forums series -- which helps to offset the costs of several reporter and editor positions at the newspaper -- by using the easy options below. Gifts processed in this system are not tax deductible, but are predominately used to help meet the local financial requirements needed to receive national matching-grant funds.
Subscribe now to get breaking news alerts in your email inbox
Get breaking news delivered to your inbox as it happens.
---