News > Spokane
Spokane drivers who struck potholes get few payouts as city makes record investment on road maintenance
UPDATED: Fri., June 23, 2017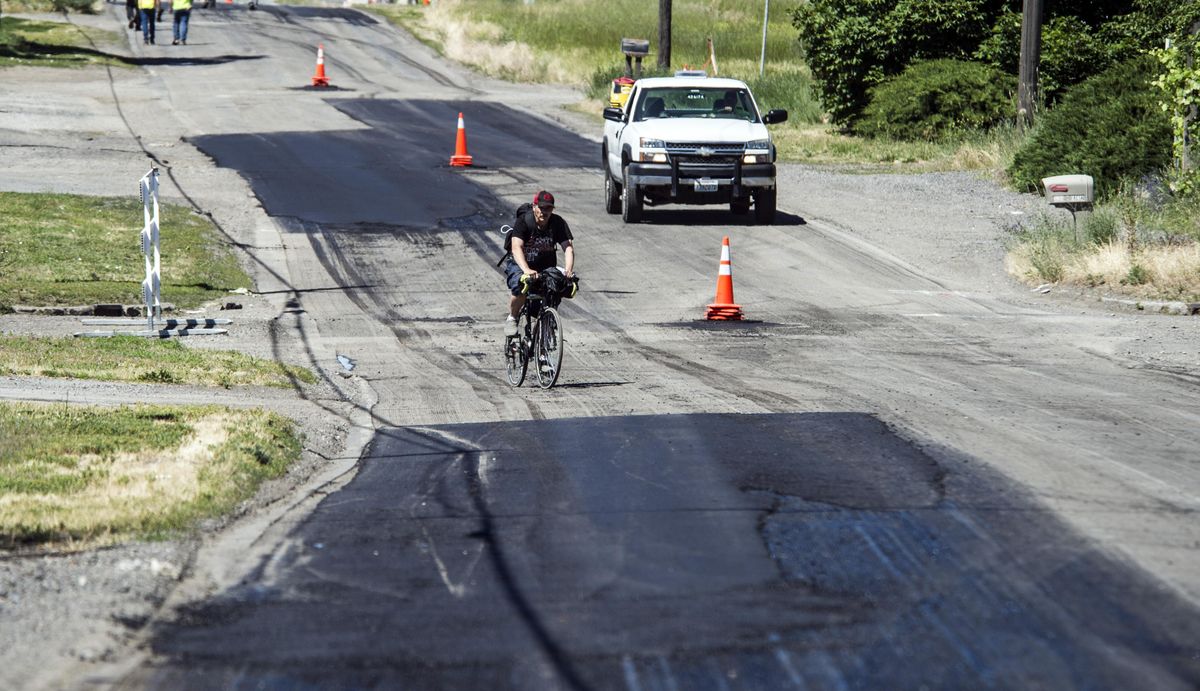 A cyclist and a city crew truck head south Thursday on Freya Street at Crown Avenue past the skin patches, June 22, 2107. (Dan Pelle / The Spokesman-Review)
Gerald Click credits "polite persistence" for his unlikely check from Spokane to pay for damage caused to his car by potholes this winter.
"I think I benefited from it being a very slow day," said Click, who received a check for just shy of $1,120 to pay for four new tires on his 2010 Lincoln sedan after damage sustained Feb. 9 near Spokane Falls Community College.
Click, a retired corporate auditor who meticulously documented his damage, was told by his father-in-law to "go down there and scream at" City Hall. Click said he instead took a diplomatic approach.
"I had to be on good terms," he said. "There's a time to be polite, but make sure you get your point made."
The firm reviewing liability claims against the city sent denial letters to 101 of 103 motorists who asked for compensation due to damage caused by potholes on city streets in February, when nearly 20 inches of snow fell, melted, refroze and left gaping pockmarks in many of Spokane's streets. The outbreak led Mayor David Condon and Gary Kaesemeyer, then the newly appointed streets director, to announce at the end of that month new strategies to fill the holes and a partnership that brought a hot asphalt production facility online earlier than intended.
Letters to aggrieved motorists were obtained through a public records request of City Hall that asked for all correspondence between drivers who'd filed claims against the city in February for pothole damage and the company reviewing the claims for the city.
Of those 103 claims, more information was requested in 10 of the cases before a determination could be made. Eight people filed claims for damages that occurred outside city limits. In three cases, the claims administrator, Alternative Services Concepts, did not provide documentation showing the case had been closed. The vast majority of the filed claims – 80 – were dismissed because the firm determined city crews worked at a reasonable pace to repair reported potholes before or after the damage occurred.
Kathleen Paradis, the claims adjuster with the firm who reviewed most of the pothole damage complaints, declined comment on the denial rate, saying the firm does not respond to news media requests and directed questions back to City Hall.
In an interview, Condon said the city was still grappling with the effects of a "very abnormal" winter, and pointed to the city's record-breaking investments in construction, including roads, in the past two years, funded largely by a voter-approved property tax levy in 2014.
The city will spend north of $100 million this construction season, after spending $82 million last year and $73 million in 2015. Crews had repaired 3,604 potholes this year as of Thursday, according to numbers provided by Brian Coddington, spokesman for the city. That's about 600 more than all of last year and 800 more than 2015.
Coddington also pointed to climate data showing historically frigid temperatures in January and February combined with precipitation totals in February that were 10 times greater than the 10-year average.
"I think the long term is to take care of these issues, and that's why we had the Fix It Fest, and the significant fixing of these areas," Condon said, referring to the roll-out of a $1 million targeted-streets program that has already repaved large swaths of town, including sections of Thor and Freya that prompted multiple legal claims in February.
One of those claims came from Diane Westmoreland, who blew two tires and bent a rim the afternoon of February 9 at Ray Street and Hartson Avenue. Bob Westmoreland, her husband, said the city could earn some goodwill by paying for some of the damages to the family's car.
"I thought we submitted a very thorough, complete application," Westmoreland said, adding on the phone that he was still staring at the two busted tires in the shop at his house. "We gave them pictures, times, dates. I don't think we could have provided them any more info than we gave them."
Westmoreland said he got a generic response in return, which led him to believe "the whole system is cooked to reject a claim."
Denial letters frequently cite a 2008 Washington appellate court ruling that the state's Department of Transportation was not liable for injuries occurring on an icy highway because the agency must have been notified and had "reasonable opportunity" to address the problem. Alternative Service Concepts matched the dates of the claimed damage to a road maintenance log maintained by the city to determine if the pothole was reported, and how long before (or after) the incident, dates that appear in many of the denial letters.
In Westmoreland's case, the denial letter states the city first received reports of the potholes on the same day the tires blew.
Spokane contracts with Alternative Service Concepts to manage legal claims, which are not reviewed by the mayor's office or City Council before a decision is made. The City Council signed off on a contract extension late last year that pays the firm $295,120 in 2017.
City Council President Ben Stuckart expressed surprise at the denial rate of the pothole claims, and said the city should consider re-examining its strategy.
"Yes, we have a fiduciary responsibility to the city, but we also have a responsibility to the citizens," Stuckart said.
"I could see a 50 percent fail rate. Two percent seems really, really low," he added.
The amount paid out nationwide to drivers who claim damage from potholes varies widely. In 2011, the city of Toronto's ombudsman reported 96 percent of claims made about pothole damage were denied, as reported by Canadian television network Global News. Jackson, Mississippi, by contrast, paid out $170,000 to drivers filing claims during a four-year period ending in October 2016, according to the city's Clarion-Ledger newspaper.
Condon said the Spokane firm handling complaints performed its work "very professionally" and said it was important they work independently of City Hall on legal claims.
"Systematically, it's well-placed with a third party, that makes those determinations," the mayor said. "For the citizens also, because again remember, it's still the citizen's money that pays those claims out."
Mead resident Judy Flanders was the only motorist beside Click whose February claim was approved. Flanders said she picks up her mail at the post office and shouted out when she found her check for $643.67 waiting in late March.
"It seemed like a real shot in the dark, at least from what everybody says, nobody gets paid," Flanders said.
Flanders struck a gash on Wellesley Avenue headed west near the NorthTown Mall on Feb. 10, a day after Click's deflation on the other side of town. Before she crossed into the next block, she said, the dashboard of her 2013 Nissan SUV showed low tire pressure.
"I pulled into a church parking lot, and it was just flatter than a pancake," she said.
Flanders filed her claim around the same time as her boss, Steve Timmerman, who saw his $364 claim for repairs from damage caused by holes at Thor Street and Fifth Avenue declined.
"I was not at all impressed that my claim was turned down, considering how terrible the roads had become, and the thought that it hadn't been reported in whatever period they listed is literally unimaginable to me," Timmerman wrote in an email.
Timmerman's denial letter says the first reports of potholes on that stretch of road wasn't until Feb. 10, the day after his damage.
Condon said he understood how some motorists may be feeling after getting denial letters, but he believes the city is working to address the issue of degrading roads by patching the holes that form and spending the most Spokane has ever spent on rebuilding aging streets.
"I don't blame citizens being frustrated," Condon said.
Local journalism is essential.
Give directly to The Spokesman-Review's Northwest Passages community forums series -- which helps to offset the costs of several reporter and editor positions at the newspaper -- by using the easy options below. Gifts processed in this system are not tax deductible, but are predominately used to help meet the local financial requirements needed to receive national matching-grant funds.
Subscribe now to get breaking news alerts in your email inbox
Get breaking news delivered to your inbox as it happens.
---