News > Education
Police arresting far fewer students after Spokane schools change discipline polices
Sat., March 11, 2017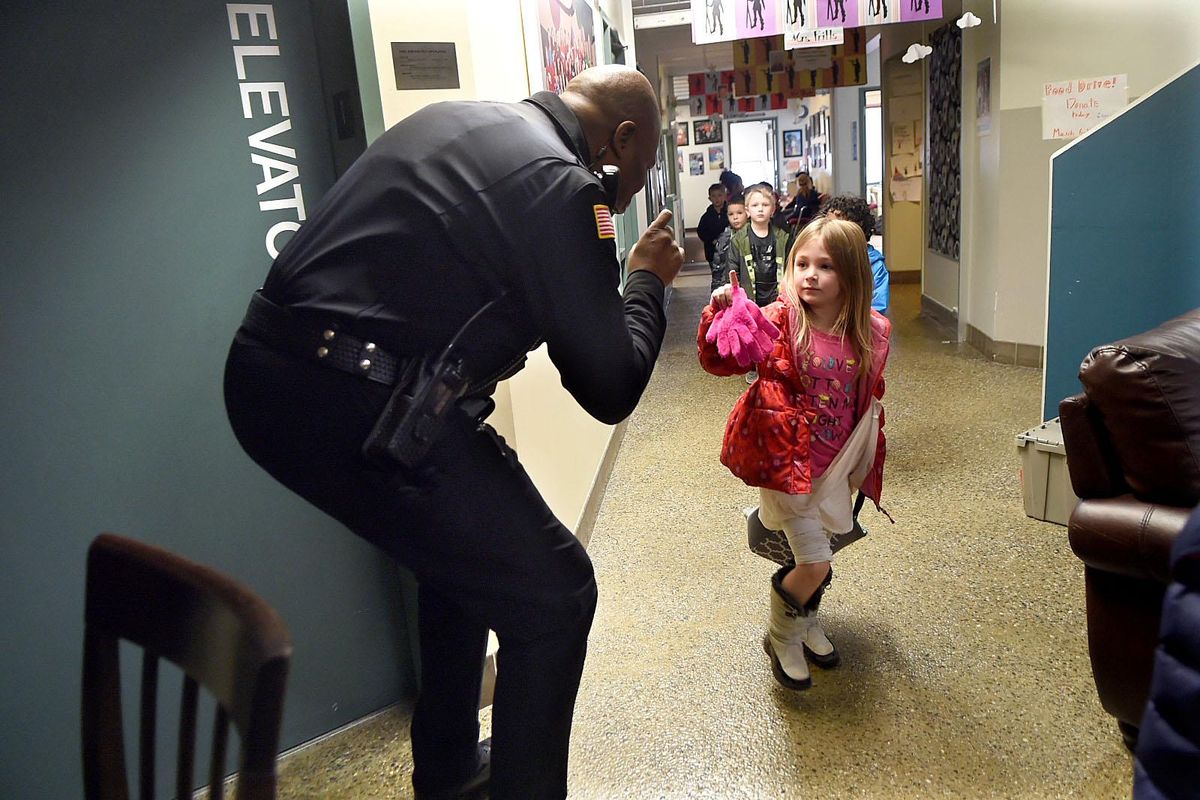 School resource officer Ed Richardson greets kindergartner Emma Gaston as she walks to lunch at Moran Prairie Elementary in Spokane on Thursday, March 9, 2017. Spokane public schools have proposed a change in policy regarding use of force. Kathy Plonka /THE SPOKESMAN-REVIEW (Kathy Plonka / The Spokesman-Review)
The three middle school-aged boys were drunk when Spokane Public Schools resource officer Edward Richardson found them on school property last year.
The 6-foot-7 Richardson could have arrested the three and referred them to juvenile detention. But he didn't. Instead he sent them to an alcohol abuse class.
"Obviously we have a problem here," Richardson said. "I'm not going to take you to jail. I'm going to do a referral."
Richardson – who students call Big Ed, or Officer Richardson, when they're in trouble – said those three boys are now in high school, and "they thank me every time they see me."
His response is emblematic of a wider change in the district's approach toward discipline. That change, school officials say, has led to a drastic reduction in the number of students arrested. As of Feb. 28 district officers have arrested 58 students, compared to 467 at the same time last year.
Although changes already have been implemented in the field, the district's board will the revised set of policies handling officer use of force and school safety on March 22.
The new use-of-force policy would limit when and how school resource officers can make arrests and put an emphasis on deescalating situations before making an arrest, said Mark Sterk, the director of safety, risk management, & transportation.
Additionally, the new policy would require resource officers to attend training on how to communicate with students who have disabilities or behavioral issues, said Sterk, the former county sheriff. Officers also have to confer with a supervisor before making an arrest and are required to talk to the school administrators about the student and the situation.
"We thought that was really appropriate and really important for our officers," he said.
The proposed changes to the district's safety and use-of-force policy are due partially to concerns raised by the ACLU and Spokane community members that the use-of-force policy was too much like the Spokane Police Department guidelines. Those concerns were raised during a board meeting and also during a series of meetings convened by Superintendent Shelley Redinger.
Because school resource officers have a limited commission from the Spokane Police Department, students who are arrested go into the juvenile justice system. Parents and advocates have argued this often is an unfair and disproportionate punishment for juveniles.
"My personal opinion is that it's made a much better policy for us," Sterk said.
Sterk said its been a challenging adjustment for a few officers. Some saw their "function more as a cop." However, he said they are adapting.
Although Jenny Rose, the president of the Spokane Education Association, believes the reduction in arrests is a good thing, she worries that it might be coming at the expense of classroom and teacher safety.
"Some of our first graders are actually dangerous kids," Rose said. "Even though they look so cute."
Just last year Rose said a first grader in the district trashed his classroom in a fit of rage.
"It was so traumatic for her (the child's teacher) she had to take three days off because she was told she could not touch the child," Rose said.
Rose is supportive of reducing arrests and incidents of discipline, but not at the expense of teacher and student's safety. And the reduction mustn't be done simply to lower numbers, she said.
"It's really been implied strongly to them, 'No arrests,'" she said of campus resource officers.
Nikki Lockwood is a member of the Every Students Counts Alliance and the mother of two children in the district, one of whom has autism.
"The changes that were made, I think they're better for students," Lockwood said. "I appreciate their responsiveness to the community members."
Lockwood hopes there are more examples of this kind of collaboration between families and administrators in the future.
Still, there are two things in particular Lockwood would like to see changed. Currently, the policy gives parents and students 10 days to file a complaint against resource officers. Lockwood believes that should be extended to 30 days, arguing that the additional time would make the policy more "family friendly."
She also wants it to be possible for complaints against officers to be appealed to the school board.
"It's been a good collaboration," Lockwood said. "Hopefully our kids will all benefit."
Vanessa Hernandez, the youth policy director for the ACLU of Washington, echoed Lockwood.
"It's a significant improvement on the first policy and gets very close to a comprehensive policy," she said.
Hernandez sent the district a letter on behalf of the ACLU Wednesday requesting the complaint window be extended to 30 days and allowing complaints to be appealed to the board.
Redinger said the process has been methodical well-vetted with community feedback.
"Staff really listened to input," she said.
Much of the changes occurring in Spokane are in response to a new state law that limits long-term suspension and expulsion and demands districts collect, and publish more data on discipline.
The newness of the mandate presents its own set of challenges, said district Spokesman Kevin Morrison.
"We're inventing this as we go along," he said.
Before becoming a resource officer Richardson worked for 16 years as a counselor for at-risk kids. He joined the district 19 months ago, because he believed he could help struggling kids.
"This is the best job ever," he said. "Best job in the world. (It's a job) where we get to make a difference in the kids and family lives every day."
Local journalism is essential.
Give directly to The Spokesman-Review's Northwest Passages community forums series -- which helps to offset the costs of several reporter and editor positions at the newspaper -- by using the easy options below. Gifts processed in this system are not tax deductible, but are predominately used to help meet the local financial requirements needed to receive national matching-grant funds.
Subscribe now to get breaking news alerts in your email inbox
Get breaking news delivered to your inbox as it happens.
---