News > Business
The Dirt: Work to start on Citylink bus hub in Kootenai County
Sun., March 19, 2017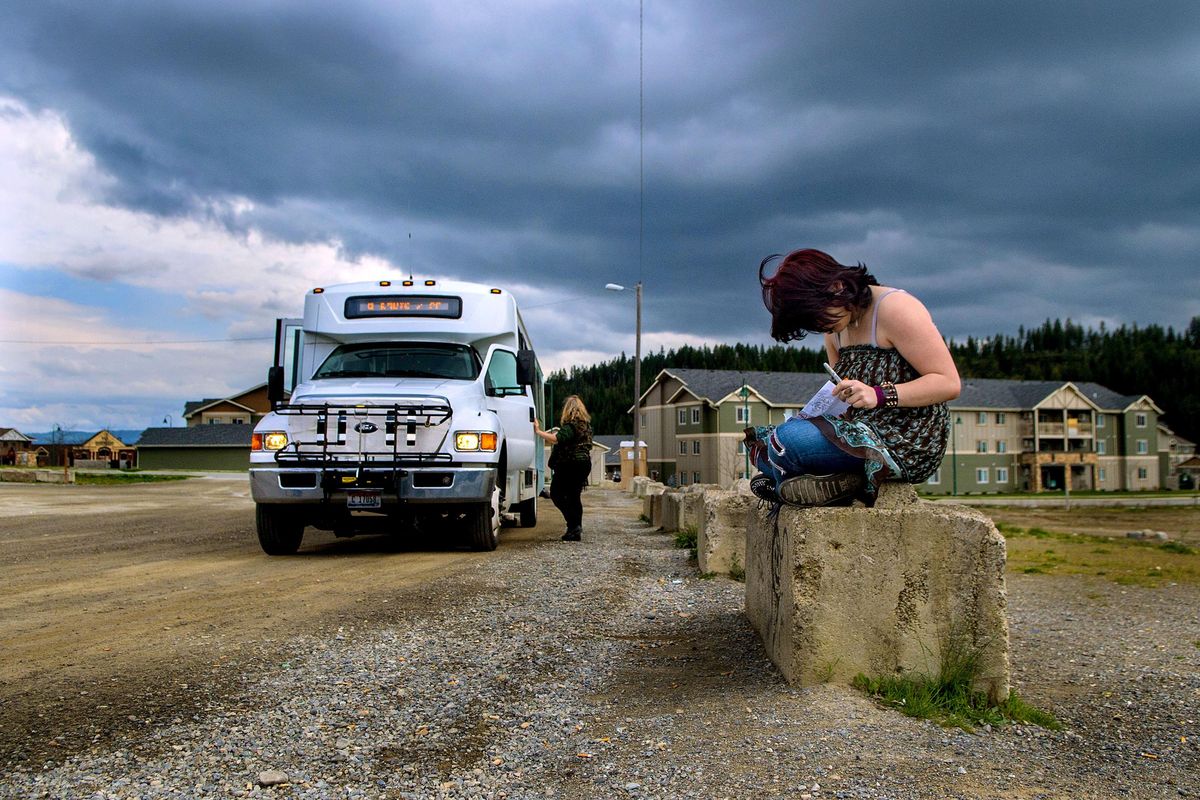 In this April 2016 photo, Anastasia Jackson waits for a Citylink bus to take her from the park-and-ride area at Riverstone in Coeur d'Alene to her job in Post Falls. (KATHY PLONKA/TheSpokesman-Review)
Early-phase construction is expected soon for a permanent Riverstone Transit Center to serve as the main hub for Citylink bus routes in Kootenai County.
Located at 2548 West John Loop Road in Coeur d'Alene, the first phase of work is expected to take 18 to 24 months. Plans call for seeking bids in April or May from companies to be considered for construction management services.
Eventually, the center will have a 2,000- to 2,500-square-foot structure with offices, a driver break area and public restrooms. The site also will have a loop for buses, paved parking areas, shelter coverings for passengers and landscaping.
Citylink began services with three shuttle buses in November 2005, and it has operated out of a gravel lot in Riverstone since then.
Kootenai County and the Coeur d'Alene Tribe bought two lots in the Riverstone development – on John Loop Road near Riverstone Drive and Seltice Way – in June 2014. The county-tribe agreement calls for the county to own, operate and maintain the improvements for the new transit center.
The county has secured a combined $1.9 million in federal funds from the Federal Transportation Administration and the Idaho Transportation Department, along with enough local government matching funds at just over $411,000 to start the first phase.
Citylink exists in two parts, including one for Kootenai County and a separate system in Benewah County. Kootenai's Citylink serves Post Falls, Huetter, Coeur d'Alene, Dalton Gardens and Hayden.
In the southern portion of Kootenai and Benewah counties, a link shuttle runs from the casino to a temporary transit center at Riverstone. The rural route serves the towns of Worley, Plummer, Tensed and DeSmet. Other on-demand and commuter services are offered.
The Citylink transit system is free, funded through local and federal sources along with some financial backing from Kootenai Health and the Coeur d'Alene Tribe. The county is considering introducing a riders' fare for the first time. A 30-day public comment period on that proposal begins Monday.
More information is available at kcgov.us/departments/boardcommish/transit.
Coffee house to go in old auto shop
A Spokane business will convert a former auto shop into a coffee house and wholesale roasting site.
Arctos Coffee is leasing the space at 1923 N. Hamilton St., eventually occupying 1,400 square feet.
Jim Orcutt, of Black Commercial, assisted with the lease transaction.
Pizza Pipeline leases space
A new Pizza Pipeline outlet has leased 2,400 square feet of space at 10411 N. Newport Highway.
Colin Conway, Chad Carper and Kim Floyd, all of Kiemle & Hagood, assisted landlord 3W Company. Carlos Herrera, of SDS Realty, represented the tenant.
Wellness clinic to open
Healthy Habits Wellness Clinic will open a new location in Spokane on April 1.
The office has leased 2,000 square feet of space at 1220 N. Nevada Street. It's the weight-loss clinic's second location in Spokane. Dr. Kimball Lundahl is the clinic owner.
Joel Crosby, of Coldwell Banker Tomlinson Commercial, represented Healthy Habits. JoAnne Watts, of JMA Commercial Real Estate, assisted the landlord.
Bridal shop opens in Coeur d'Alene
Cloud Nine Bridal is now open in the Coeur d'Alene Resort Plaza Shops, at 210 E. Sherman Ave.
Owners Lisa Seher and Tara Ovnicek provide alterations and fitting appointments, and the shop offers wedding gowns, bridesmaid dresses and tuxedo rentals. It's in the process of getting Mother of the Bride and Mother of the Groom dresses.
Mobile home parks sell
Two mobile home parks in Medical Lake have sold.
Hans Esterhuizen purchased Whispering Pines and Starlite Mobile Home Parks from Greg and Sue Williams. The properties sold for $1.3 million on March 7.
Joel Crosby, of Coldwell Banker Tomlinson Commercial, was the broker.
Dermatology practice opens
Dr. William Wray, a dermatologist, has leased 3,400 square feet of space in the Wandermere Professional Building.
The practice opened Feb. 1 at 309 E. Farwell Road in Spokane.
The brokers were Joel Crosby, of Coldwell Banker Tomlinson Commercial, and Chris Bornhoft, of Windermere Commercial Realty.
Send items to The Dirt at TrevaL@spokesman.com, or call (509) 459-5439.
Local journalism is essential.
Give directly to The Spokesman-Review's Northwest Passages community forums series -- which helps to offset the costs of several reporter and editor positions at the newspaper -- by using the easy options below. Gifts processed in this system are not tax deductible, but are predominately used to help meet the local financial requirements needed to receive national matching-grant funds.
Subscribe now to get breaking news alerts in your email inbox
Get breaking news delivered to your inbox as it happens.
---