News > Spokane
Enrollment, endowment soar with Gonzaga hoops success
March 29, 2017 Updated Wed., March 29, 2017 at 11:24 a.m.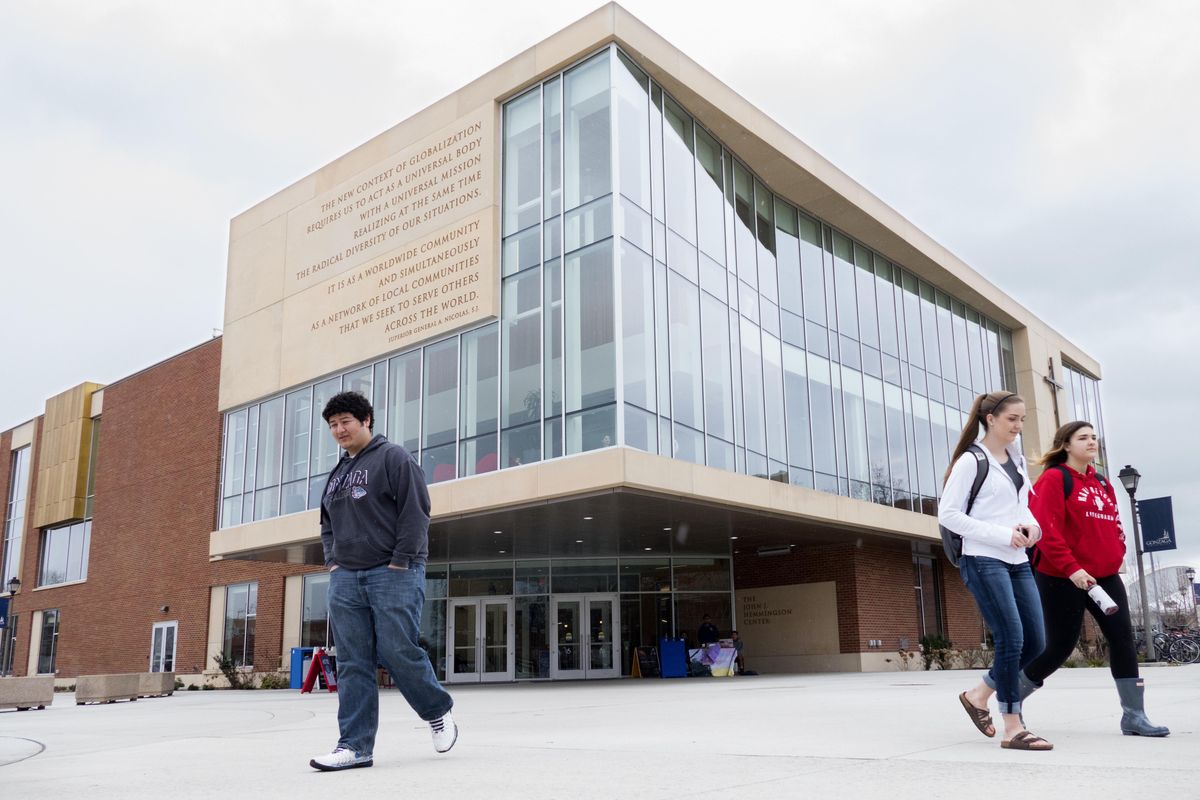 Among the signs of growth and investment which Gonzaga University enjoys because of their successful national stature from their success in basketball is the new Hemmingson Center, pictured here, a student union building with state-of-the-art offices, meeting rooms, lounge areas, many offices for student services and restaurants. (Jesse Tinsley / The Spokesman-Review)
As Gonzaga University prepares to make its first Final Four appearance, university officials also are celebrating a host of off-the-court successes.
Enrollment has reached 7,500 students, nearly doubling over the past 20 years. More students want to attend Gonzaga. Undergraduate applications rose nearly 300 percent during that time, and applicants' college test scores keep climbing.
University budgets are growing along with the school's endowment, which topped $212 million. New buildings are under construction on campus.
Much of the growth is directly or indirectly tied to the success of the men's basketball team, which first advanced to the Elite Eight in an improbable run in 1999 under former coach Dan Monson. It was the beginning of the Zags' long-running success and branding.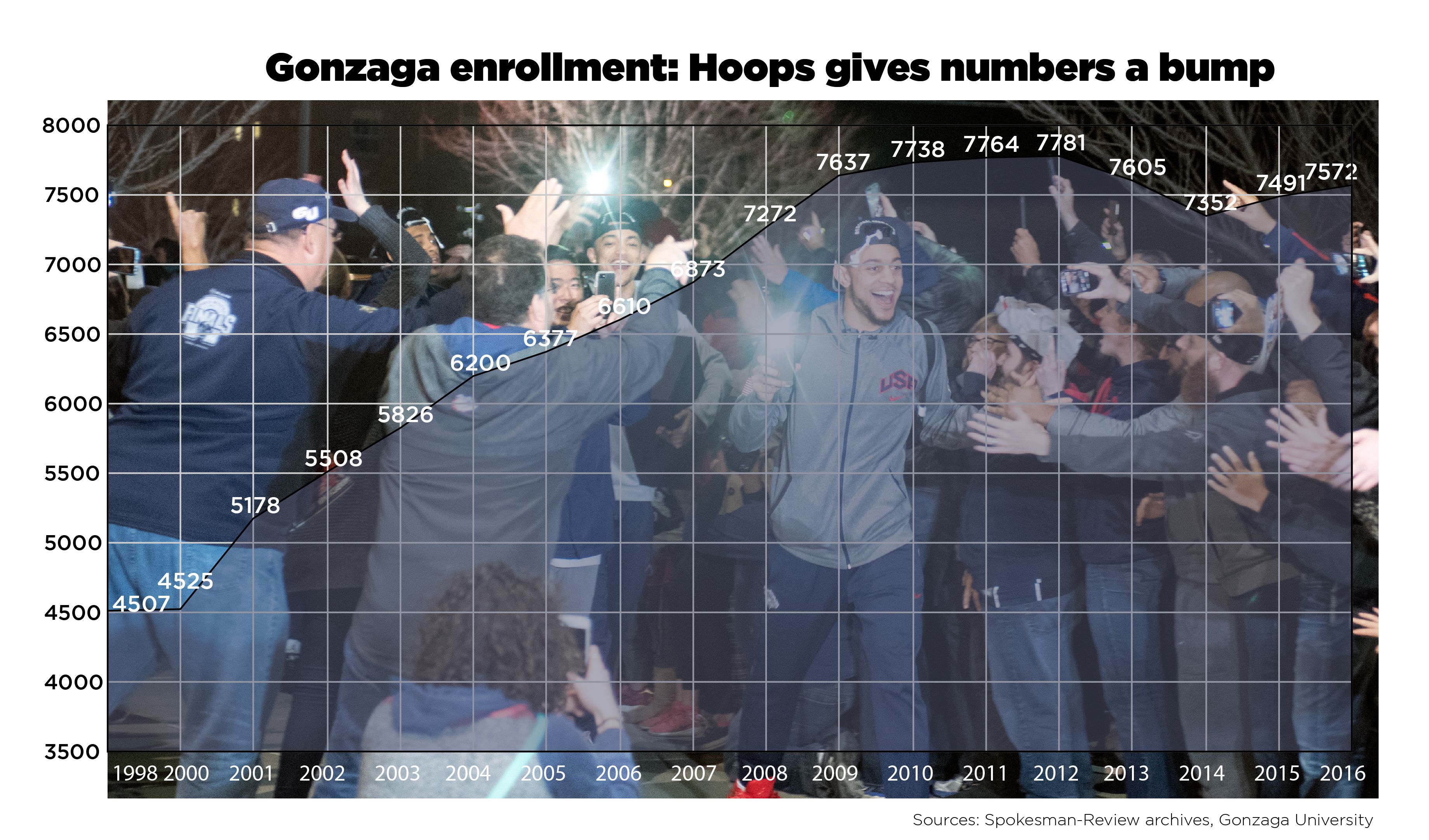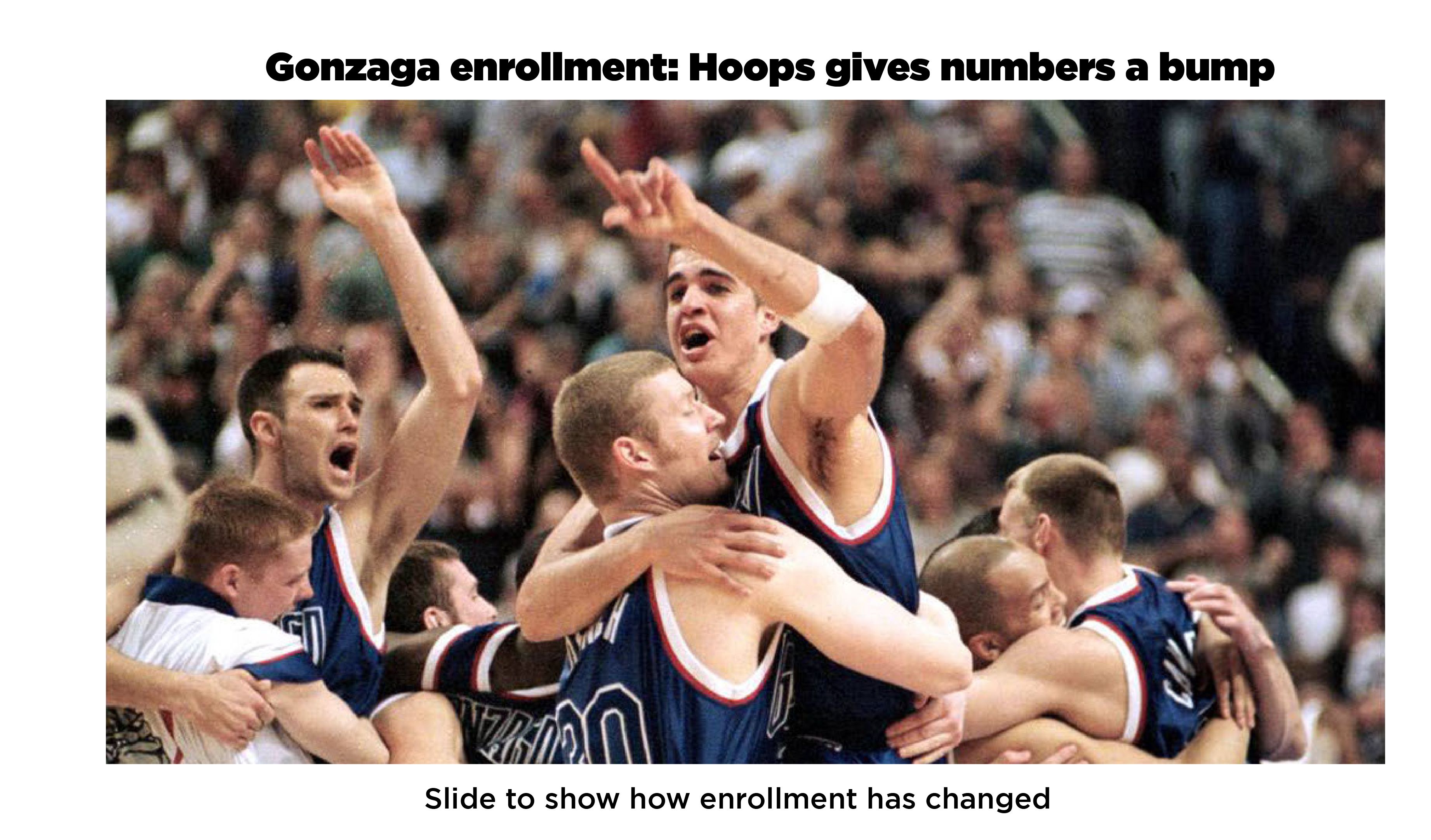 "Basketball has certainly been a major factor these 20 years in terms of people's awareness of the university," GU President Thayne McCulloh said. And, "we've certainly not missed the opportunity to capitalize on the success of the team and the appearance they've had on the national stage."
Publicity about the Zags helps raise awareness of the 130-year-old Spokane university. McCulloh thinks of the team as the portal that guides the public into learning more about Gonzaga and its academic programs.
"It invites people to look at us more closely," he said. "It allows people to think about the opportunities they might have as students if they attended Gonzaga."
Over the past two decades, university leaders also have worked to increase financial aid and develop new programs for an emerging workforce.
"I think it's fair to say there have been many initiatives," McCulloh said. "Our view is that they've all worked together."
Along with a larger student body, Gonzaga has grown more ethnically and racially diverse over the past two decades. Undergraduate students who are people of color have grown from 12.4 percent to 24.9 percent of the student population.
The university's annual budget grew nearly 300 percent to $283 million over the past 20 years. The number of full-time faculty increased by 55 percent.
In addition, "the success of the basketball program has played a significant role in our ability to raise funds," McCulloh said.
Some of the fundraising is evident in the university's athletic buildings, such as the 6,000-seat McCarthey Athletic Center, which opened in 2004 with a major donation from brothers Phil and Tom McCarthey.
"We saw a bit of a sleeping giant," Phil McCarthey, a GU alum, said in a 2013 interview. "We saw a bit of an opportunity. We had the vision, not that the basketball team could be No. 1, but that it could be better."
Other major gifts followed. Since 2004, benefactor gifts have allowed the university to launch 12 major building projects.
In 2016, Gonzaga broke ground on the $24 million Volkar Center for Athletic Achievement, which is expected to open this fall. It was named after a Coeur d'Alene couple, Pat and Sandy Volkar, who moved to North Idaho in 2011 and instantly became GU fans.
For other donors, "the story of their generosity began with athletics," but their interest in Gonzaga branched into other areas outside of sports, McCulloh said.
Gonzaga launched its largest fundraising campaign in 2015, with a goal of raising $250 million. So far, the university has raised $240 million from 34,000 donors.
A $55 million gift came from the estate of Myrtle Woldson, one of Spokane's most-noted philanthropists. She wanted to fund student scholarships to bridge the affordability gap for talented students from middle- and lower-income families.
Spokane's ownership in the Zags continues to grow.
About 315,000 residents of the Spokane and Coeur d'Alene area are expected to watch Saturday's Final Four game, when the Zags take on South Carolina. That's a conservative estimate from KREM, the local CBS affiliate broadcasting the game.
"Our hope is that Gonzaga's success is experienced by the people of Spokane," McCulloh said. "Gonzaga and Spokane have grown up together. Their histories are intertwined. … We hope it brings recognition and attention to Spokane and the many wonderful aspects of this community."
Local journalism is essential.
Give directly to The Spokesman-Review's Northwest Passages community forums series -- which helps to offset the costs of several reporter and editor positions at the newspaper -- by using the easy options below. Gifts processed in this system are not tax deductible, but are predominately used to help meet the local financial requirements needed to receive national matching-grant funds.
Subscribe now to get breaking news alerts in your email inbox
Get breaking news delivered to your inbox as it happens.
---