News > Spokane
Hanford tunnel collapse prompts some to ask: What's the long-term solution for nuclear waste?
Fri., May 12, 2017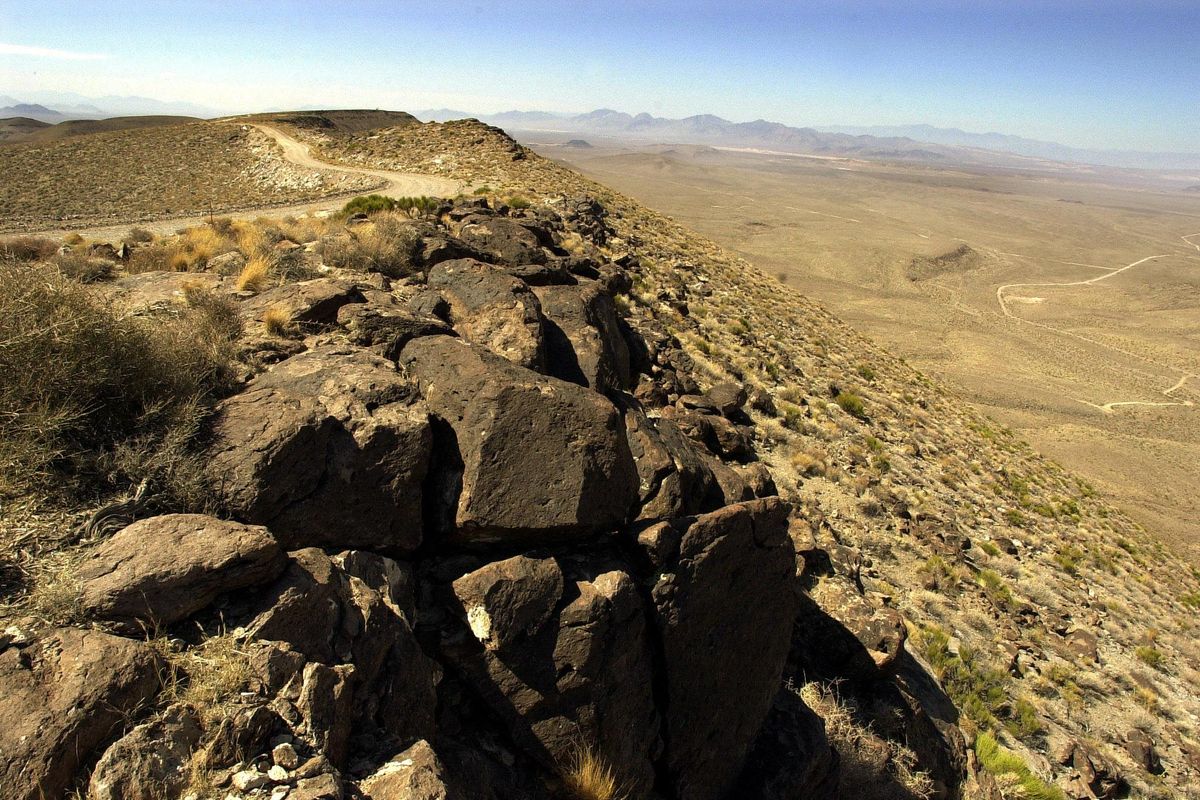 FILE - In this June 25, 2002 file photo, the view from the summit ridge of the proposed Yucca Mountain nuclear waste dump near Mercury, Nev., looking west towards California. For two decades, a ridge of volcanic rock 90 miles northwest of Las Vegas known as Yucca Mountain has been the sole focus of government plans to store highly radioactive nuclear waste. Thursday, Energy Secretary Steven Chu told a Senate hearing that the Yucca Mountain site no longer was viewed as an option for storing reactor waste, brushing aside criticism from several Republican lawmakers. (JOE CAVARETTA / Associated Press)
A mound of dirt and some pressure-treated timbers is a "surprising" way to conceal radioactive waste, according to Rod Ewing, a nuclear security researcher at Stanford University.
But that's how some irradiated equipment is stored at the Hanford Nuclear Reservation, the sprawling compound near Richland that created weapons-grade plutonium during World War II and now stores the most nuclear waste of any facility in the country.
"How can waste be left in a tunnel? Whose idea was that?" Ewing said by phone Thursday. "I've been to Hanford many, many times for conferences and things like that, and I don't recall anyone saying that there was waste in tunnels underground. I can't imagine why that would be the case."
Tuesday's collapse of an earthen tunnel at Hanford highlights long-standing concerns about the ways in which nuclear waste is stored. At Hanford, liquid waste is known to leak from holding tanks. And because of building and design issues, plans have stalled for a $17 billion factory that would embed the radioactive stew in chunks of glass to be buried.
The tunnel collapse also increases pressure on the nation's leaders to create a permanent repository for radioactive waste, a project that could revive a decades-old political fight.
A dumping ground carved inside Nevada's Yucca Mountain has been on the drawing board for three decades, but the project was mothballed in 2011 amid criticism from Nevada lawmakers. However, the Trump administration has hinted at plans to reboot the project, and Nevada Sen. Harry Reid, the Democratic majority leader and perhaps the fiercest critic of the project, retired last year.
"Unfortunately, it's more of a political issue than a technical or safety issue," said Donald Wall, director of the Nuclear Radiation Center at Washington State University.
'A lot of corners are being cut'
The U.S. Department of Energy this week said there was no sign of a radiation release from the hole in the tunnel at Hanford, which contained rail cars filled with old, irradiated equipment. The hole, estimated at 400 square feet, was being filled with about 50 truckloads of soil on Wednesday.
But some aren't convinced that's a viable long-term solution.
"That waste has to be taken out of there at some point," said Kevin Kamps of Beyond Nuclear, an anti-nuclear group based in Maryland. "What do you do now, dig it out?"
Kamps doesn't have a science degree but has spent 25 years advocating on nuclear power and radioactive waste issues. He believes "a lot of corners are being cut" at Hanford and other facilities.
Asked about the implications of the Hanford incident, Ewing, the Stanford professor, recalled another scare at an underground nuclear dump in New Mexico.
Officially called the Waste Isolation Pilot Plant, the dump in the Carlsbad desert is the nation's only permanent repository for defense waste. In 2014, it was the site of an explosion that sent mounds of white, radioactive foam into the air and stalled the disposal of thousands of tons of waste in Idaho, Washington, New Mexico and elsewhere.
According to the Los Angeles Times, the explosion "involved a drum of plutonium and americium waste that had been packaged at the Los Alamos National Laboratory. The problem was traced to material – actual kitty litter – used to blot up liquids in sealed drums. Lab officials had decided to substitute an organic material for a mineral one. But the new material caused a complex chemical reaction that blew the lid off a drum."
The Times reported that the explosion caused extensive damage to the dump and could cost taxpayers up to $2 billion. A federal investigation found more than two dozen safety lapses at the site.
Ewing served on a committee that oversaw plans for the New Mexico dump before it was constructed nearly two decades ago.
"Our committee essentially said the project looks pretty good" with only a few caveats, he said. "Having said that, you can imagine my disappointment when there was a release of radioactivity during the operational phase."
Ewing outlined a number of concerns about the dump in a paper last year. He said the safety lapses don't bode well for future attempts at nuclear waste storage.
"If under the best circumstances we have these kinds of accidents, what does that say about our long-term safety analysis?" he asked. "Maybe we don't have the right institutions and the right experts in place."
'An excellent safety record'
While concerns abound about the safety of old defense waste, scientists seek to assure the public that commercial waste is easier to manage. Nuclear fission produces nearly a fifth of the United States' electricity and, according to those in the industry, the greatest share of the nation's "green" power.
"The research and power industry is a completely different animal from weapons," said Wall, the WSU professor. "We're the most heavily regulated industry in the world, and we have an excellent safety record."
Wall, who oversees a reactor on the Pullman campus, said there have been zero deaths because of safety lapses in the history of commercial nuclear power generation.
"We just don't have accidents like that," he said. "It's more dangerous to go work in an insurance office or a bank. I wouldn't work here if I didn't think it was safe."
Wall noted that potassium naturally emits gamma rays. "The bananas you eat are radioactive," he said.
According to the Nuclear Energy Institute, a nuclear industry group, all the used commercial fuel from the past four decades would only cover a football field about 8 yards deep.
"If we recycled it – which we can, we know how to do it – that 24-foot pile becomes a couple of inches," Wall said. And, "when you recycle it, the vast majority of it is not hazardous material."
Everett Redmond, a senior technical adviser with the Nuclear Energy Institute, said it's imperative the government approve the repository at Yucca Mountain, which could receive both commercial and defense waste.
Although it's relatively small in volume, used nuclear fuel can't remain at power-generating stations, Redmond said.
"Storing it on-site indefinitely is not the solution," he said.
Editor's note: This story was changed on May 15, 2017 to clarify Kevin Kamps' scientific background.
Local journalism is essential.
Give directly to The Spokesman-Review's Northwest Passages community forums series -- which helps to offset the costs of several reporter and editor positions at the newspaper -- by using the easy options below. Gifts processed in this system are not tax deductible, but are predominately used to help meet the local financial requirements needed to receive national matching-grant funds.
Subscribe now to get breaking news alerts in your email inbox
Get breaking news delivered to your inbox as it happens.
---