News > Education
Conscious discipline makes difference at Oregon school
Sun., May 21, 2017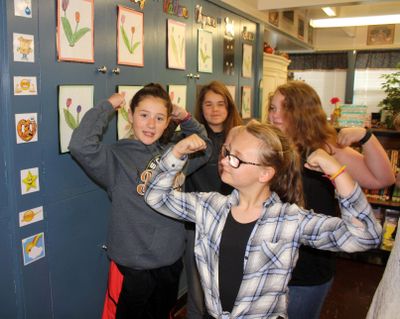 SUTHERLIN, Ore. – When students arrive at their classroom in the mornings at West Intermediate School in Sutherlin, it's like a greeting party every day.
Shannon Grauf's fifth-grade class is just one of the classes in Sutherlin that uses a program called Conscious Discipline Building Resilient Children. Exercises and music are used to get students focused and excited about the day.
Grauf was a little apprehensive about trying the program when she first heard about it.
"Absolutely, I wondered how seriously they'd take the dancing, the moving, the connecting, and the silly greetings at the door and the breathing, but I've been beyond proud of the choices they've made," the teacher said.
She didn't know how it would apply to fifth- and sixth-graders because most of it seemed to be targeted to K-3, but the school committed to try it, and she has been impressed with the outcome.
"I have seen huge results and I love hearing from the kids that they do too," Grauf said.
They do breathing techniques, a muscle man routine, and the pretzel exercise and several other routines to get them moving and to become alert and ready for learning.
Just like the teacher, some of the classmates were a little apprehensive about the program, but quickly bought into it, and now they're really enthusiastic about it.
"I didn't think this was going to help at all," said Brooklyn Bailey, a fifth grader in Grauf's class. "But I found a huge difference in our class and how individuals changed. They committed to it."
Keeland Walker, another member of the class, was also unsure of the value of the program, but then he too started to see students connecting with each other, as the program progressed.
"You feel like you have a part to commit to in this classroom, and when everyone is so nice and generous to you after we do the morning greeting, and you make eye contact and say hello, you're just starting your day off on a good note," Keeland said.
Everybody in the class goes around the room and connects with fellow students. They do exercises that involve everybody, with stretching, along with some energetic music to get everybody moving.
The students say they learn lessons that they'll be able to use throughout their lives.
"I know for sure that the breathing helps because when we're testing I get really frustrated, so I just breathe deep three times, and it makes my mind more positive," Brooklyn said.
"In the testing when you don't feel confident that you can do this, and then you take a big deep breath three times it really makes you feel more active, like you can do this," Keeland said.
The entire West Intermediate School is doing the Conscious Discipline program, which takes three years to roll it out. The school is in year two. The first year was book study with students reading and trying to understand the program.
The discipline part of it is seeing problems as opportunities to learn, and realizing that everybody makes mistakes. They're known as teachable moments, and not as consequences and negative behavior.
Trish McCracken, principal of West School, said Sutherlin, just like most schools in the county, is experiencing more and more kids who don't have good self-regulation and are emotional at school, and have a hard time coping. So she sent two staff members to Portland for a six-day training on the Conscious Discipline program. And that got it started.
"We're just amazed in the difference in our school and it's more peaceful and kids are coping better," McCracken said. "We've got kids that get up and go to the back of the room to do deep breathing when they're stressed, and then they go back and return to their math work."
She said the students are trying harder on their assessments and it's changing the school socially and emotionally, but also academically. The kids are more focused and feel safer at school, she added.
The Sutherlin Rotary Club paid for a one-day trainer to come to West School for a training session in October.
Eight teachers from the school were awarded a Ford Family Grant for Educators. The eight will go to Little Rock, Arkansas, for training this summer.
The school also applied to the Oregon Community Foundation to fund a three-day training in Sutherlin this summer for educators. The outcome of that request is expected soon.
Local journalism is essential.
Give directly to The Spokesman-Review's Northwest Passages community forums series -- which helps to offset the costs of several reporter and editor positions at the newspaper -- by using the easy options below. Gifts processed in this system are not tax deductible, but are predominately used to help meet the local financial requirements needed to receive national matching-grant funds.
Subscribe to the Coronavirus newsletter
Get the day's latest Coronavirus news delivered to your inbox by subscribing to our newsletter.
---