STA kicks off new Spokane Valley bus route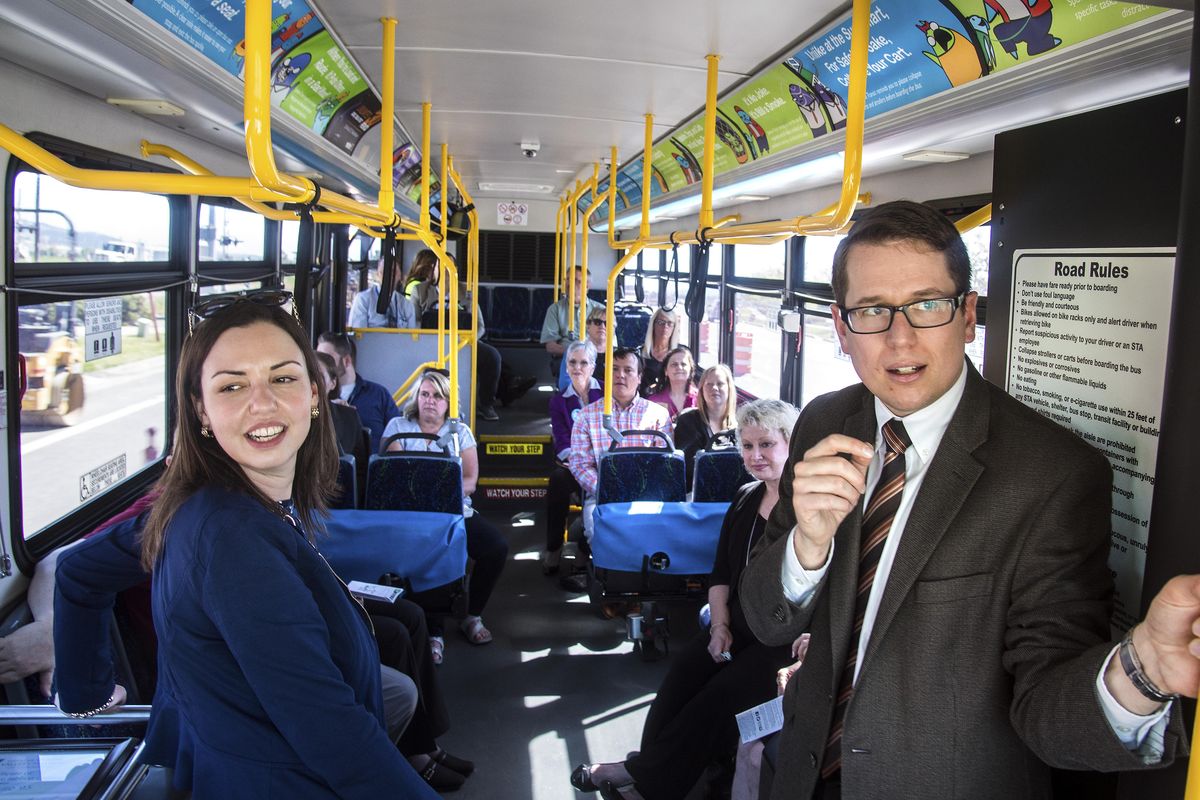 Spokane Transit Authority this week began a new Spokane Valley bus route under a voter-approved STA expansion last fall.
The No. 95 Mid-Valley Route was rolling Monday after its inaugural runs on Sunday.
It will serve the fast-growing areas of Spokane Valley east of Sullivan Road and especially along Indiana Avenue between Sullivan and Flora roads.
"It connects people to services. It connects people to jobs," said Pam Haley, chair of the Spokane Transit Board of directors and city council member in Spokane Valley.
The route was made possible with voter approval of two small sales tax increases to pay for expanded transit service. Fares are also going up.
Board members had committed to opening the new No. 95 as early as possible to serve the area east of Sullivan, particularly the growing medical and office complexes along Indiana.
Riders heard about the service from announcements, and the bus was already drawing passengers Sunday and Monday
Transit officials held a ribbon-cutting ceremony Monday morning at the Valley Transit Center at Appleway and University Road, which is the origination point of the new route, and then hopped on a bus special for a guided tour down the line.
The bus runs north on University to Broadway Avenue; east on Broadway to Flora Road; north on Flora to Indiana Avenue; and then west on Indiana to the Mirabeau Point Park and Ride.
The bus then turns around and retraces its route back to the Valley Transit Center.
On the way it passes homes, apartments, schools, churches, shopping centers, restaurants, offices and medical facilities.
Service will run every 30 minutes on weekdays; hourly on weekends and holidays. Each leg is scheduled at 26 minutes.
The route had been sought by business interests for more than a decade, but STA did not have the funding to initiate it, said Susan Meyer, the CEO of STA.
She said it was the first major improvement under the STA ballot measure that raised the sales tax by a tenth of a penny on April 1, which will be followed by another tenth of a penny in April 2019.
Katherine Morgan, president and CEO of the Spokane Valley Chamber of Commerce, said some 7,200 jobs are located within a quarter-mile of the route, giving workers another choice for transportation.
"This is a really big deal for the Valley," she said.
Sharon Fairchild, chief officer for marketing and community affairs at Providence Health & Services, said the new route will bring a convenient way for patients to get to Providence Medical Park on Indiana east of Sullivan, especially patients who don't drive.
That sentiment was echoed by Lindsey Ruivivar, public policy and development manager for the CHAS Valley Clinic at 15812 E. Indiana Ave.
She said transportation and health are key components of the region's infrastructure.
Tabitha Oriol Sanchez took the No. 90 Sprague bus from downtown to the Valley Transit Center Monday and then hopped on the No. 95 to reach an appointment at Aspen Dental, 15810 E. Indiana Ave.
"It's easier," she said of the new route.
STA also launched other service improvements on Sunday, including later Saturday evening service on most routes.
The No. 96 Pines/Sullivan route will see changes due to creation of the new Mid-Valley route.
Cheney routes will also see earlier weekend trips.
The No. 60 airport bus will get additional weekend service to Airway Heights via Northern Quest Casino.
The No. 32 Trent/Montgomery bus will get an earlier weekday trip to Spokane Community College.
Meyer said riders can anticipate new service improvements every four months as STA builds out its Moving Forward plan through at least 2025.
The program is being funded through sales taxes, fare increases and state and federal grants. The sales tax would raise more than $200 million.
Per-trip fares for adults are to increase in July to $1.75 from $1.50. Fares will increase to $2 in July 2018.
Coach operator Ron Leibrecht was the driver on Monday's special bus tour for officials and guests.
---