Sports
Seattle Seahawks Hall of Famer Cortez Kennedy dead at 48
May 23, 2017 Updated Tue., May 23, 2017 at 8:43 p.m.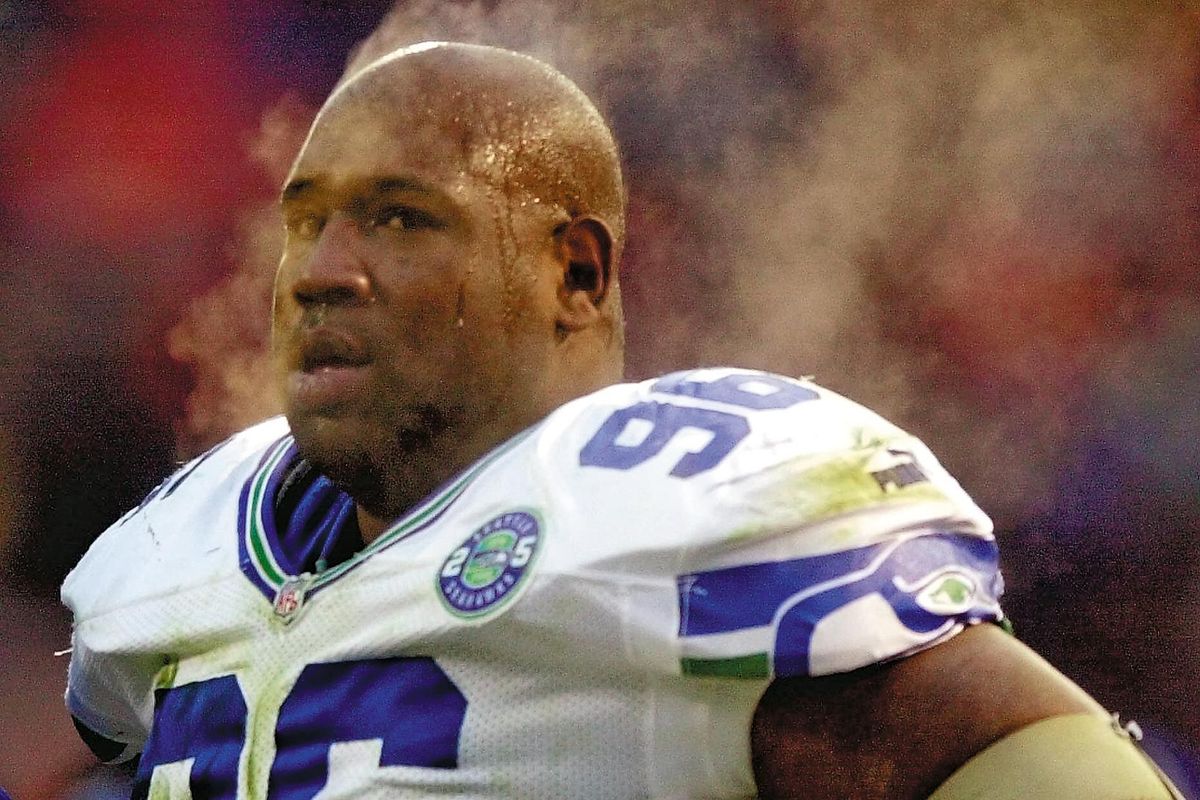 FILE- In this Sunday Dec. 10, 2000 file photo, steam rises from the body and head of Seattle Seahawks defensive tackle Cortez Kennedy as he rests on the sidelines during the third quarter of their game with the Denver Broncos at Mile High Stadium in Denver. (DAVID ZALUBOWSKI / Associated Press)
Cortez Kennedy, one of three Seahawks to have his number retired and one of four to make it to the Pro Football Hall of Fame after playing his entire career in Seattle, died Tuesday at the age of 48.
Sgt. Wanda Miglio of the Orlando (Fla.) Police Department said Kennedy was found dead of still unknown causes Tuesday morning, stating via e-mail: "We can confirm his passing and at this time there is nothing suspicious to report but we are conducting an investigation regarding his unattended passing." Miglio said Kennedy was living in Orlando at the time of his death. According to TMZ, Orlando Police fielded a call at 10:20 a.m. of an "unconscious patient" with "no vitals" at Kennedy's house.
In a statement released Tuesday afternoon the Seahawks called the former standout defensive tackle "a pillar of the Seahawks franchise" and "the heart and soul" of the team "who played with a selfless and relentless approach to the game." The team later lowered the flag at its training facility in Renton to half-mast.
Tributes from former teammates, coaches and rival players also came quickly, many focusing more on the good-natured, kind-hearted personality Kennedy displayed off the field than the offensive-line-destroying terror he was on it.
"He was a great football player and a tough guy but he would laugh and he had a great sense of humor," said former Seahawks coach Mike Holmgren, who coached Kennedy during his final two years in Seattle in 1999 and 2000. "I so enjoyed him. This is a hard one for me. I think he was one of the good guys and I don't think there is anything easy about this when it happens so suddenly.''
"I'm stunned," said former standout Seattle safety Eugene Robinson, who played with Kennedy with the Seahawks from 1990-95, in a phone interview with the Times. "Besides being an incredible player he was a very good friend. Tez is incredibly compassionate, thinks about others. He's always been that way. He values others more highly than himself and he just loved life. Loved people, loved life. He loved being a football player. He just liked all that came with it — the fun, the times you get together, all that stuff. And then just the grueling lock-it-up with your brother and play. … he was always just a really, really good friend."
Kennedy played his entire 11-year career for the Seahawks, from 1990-2000, after being taken as the No. 3 overall pick in the draft out of Miami, serving as a rock of stability during an especially turbulent time for the franchise — Seattle had just two winning seasons in his career.
After emerging as a full-time starter in his second season in 1991 he went on to become regarded as one of the best defensive tackles in the history of pro football, ultimately starting 153 of 167 games he played in, missing only nine games overall and setting a then-team record of 100 straight starts from 1990-97.
His finest season came in 1992 when he was the driving force of a Seahawks defense that was considered one of the best in the NFL despite the team's franchise-worst 2-14 record.
He was named the NFL Defensive Player of the Year following that season when he led the Seahawks with 14 sacks, becoming just the third player in NFL history to win that honor playing for a team with a losing record and the only one from a team that finished last in its division.
Kennedy would ultimately be named to eight Pro Bowls and as a first team All-NFL pick in 1992, 1993 and 1994 and a member of the NFL's All-Decade team for the 1990s.
Kennedy officially retired in August, 2002. He had asked for his release from the Seahawks following the 2000 season but decided not to play in 2001 despite having offers from several other teams and then decided to officially retire as a Seahawk.
"I could have still played a couple of more years," Kennedy said at the time. "But when it's time to give it up, it's time to walk away."
He played in just one playoff game — a wild-card loss to Miami following the 1999 season in what was the final athletic contest ever held at the Kingdome.
But after he was elected to the Pro Football Hall of Fame in 2012 he expressed no regrets about his career.
"I loved playing for the Seahawks, you know," he said then. "I didn't want to go anywhere else."
Robinson said the fact that few fans outside of Seattle may have known much about Kennedy, given the team's lack of success during that era, his fellow NFL players revered him.
"The volume of work that he put in it just spoke loudly in the National Football League," Robinson said. "So despite having not-good seasons in Seattle during that time it didn't matter – he was just kind of larger than life. He was a player that everybody knew in that if you were an offensive player that was not the guy you wanted to block."
The Seahawks drafted Kennedy after making a trade with New England, dealing two first-round picks, (eighth and 10th overall) and a third and a fourth to get the third overall pick and No. 29 in the second round.
"We thought that he was the best," said Tom Flores, then the team's general manager and who later coached Kennedy with the Seahawks from 1992-94. "And he proved it over the years. He proved that he was the best you could get at that position."
Listed at 6-3, 305 pounds, he stood as a rare combination of power and one of the quickest first steps for any defensive tackle in his era.
"He would tell me 'E-Rob, they think I'm slow. They think I'm slow. But watch, I'm going to kill them with my quickness,"' Robinson recalled Tuesday morning. "He would always say that to me cause if you looked at him as a big, rotund guy you think that at the three-technique or one-technique (positions) that he's not as fast as he is. But you had to go ahead and double-team him because he demanded the double team because he was quick enough to beat you."
Said Holmgren: "He was a big guy who could play inside and was very, very difficult versus the run. But he also for a big man, he wasn't tremendously tall, so he was tough to block. But he was so quick and active, for a big guy he was really, really active and he could rush the passer from a position that a lot of times that's your run-stuffer inside and you don't even ask him to do that that much. But he was the total package.''
Holmgren took over for the fired Dennis Erickson following the 1998 season and says his relationship with Kennedy took some time to develop.
"I think in all fairness the transition to me and how I wanted to do things I think caught him a little off guard, to be honest,'' Holmgren said. "But he was a great player for me. I've had more fun with him in the years since he retired. He'd come back and come over to the facility in Seattle or I'd see him at the Hall of Fame ceremonies and we would reconnect and laugh and talk about stuff. He was very proud of the fact that he really was careful with his finances. I'd say 'are you okay' and he'd say 'I'm in great shape.'
"And it was fun for me because I think I was very hard on those guys when I first came into Seattle and then after in the years following that our relationship I think was really good and fun and that's kind of as a coach that's what you hope happens.''
Kennedy served as something of a team ambassador for the Seahawks in later years, often making road trips and greeting fans with a gregarious nature that belied the manner in which he played on the field, regularly greeting reporters and others watching training camp practices by their names each morning. Kennedy also worked for a while after his playing career as an adviser for the New Orleans Saints, due in part to a strong relationship with New Orleans general manager Mickey Loomis, who was an executive in the Seahawks' organization throughout Kennedy's career (Loomis also released a statement via Twitter).
Bob Whitsitt, president of the Seahawks from 1997-2005, told the Times that what stood out most about Kennedy was his loyalty and love of life.
"I mean this is in a complimentary way: He enjoyed simple things," Whitsitt said. "He enjoyed friends. The simple things in life. He didn't need to be flaunting things or getting overly fancy. And he was loyal. I know he was loyal to the trainers, the doctors, the coaches that took care of him and took time to coach him."
Dave Wyman, who played with Kennedy from 1990-92, recalled that Kennedy had an ability to make any situation fun.
"He loved training camp," Wyman told the Times. "During camp, he'd come in and be all excited, and everybody else was dreading it. You'd get up in the middle of the night to go to the bathroom, and he'd be wandering around the hallways, playing jokes on people. One time I went to the bathroom and I came back, get in my bed and all of a sudden he pops out of my closet. I didn't lock my door when I went to the bathroom so he snuck in my room. He, I think, counted that as one of his favorite accomplishments in his life, that he scared the crap out of me."
Teammates and coaches also spoke of his generosity.
Chad Brown, who played with Kennedy in Seattle from 1997-2000, first recalled a story from his Pittsburgh days when remembering Kennedy on Tuesday.
"My very first Pro Bowl (1996), I was with the Steelers and they were one of the cheaper franchises in the league so they gave me one extra helmet so you could sign and trade with another player," Brown said. "I'm in the locker room and I've got my one precious helmet. I'm still in awe, I'm looking around the room, thinking who I was going to exchange helmets with. I'm running down the list, and I'm still pretty shy and kind of unsure of myself. And out of nowhere Cortez comes over and hands me a Seahawks helmet. That was my first time ever meeting or talking to Cortez. That was totally Cortez."
Said Flores: "He was great in the locker room. His teammates liked him. The coaches liked him. The public liked him. He just had great compassion for everybody around him and a great respect for the game and the people who surrounded him that made it all possible. He was very successful in life, too, because he didn't throw his money away."
Among those offering condolences online was longtime coach Jimmy Johnson, who recruited Kennedy to Miami.
Johnson said on Twitter: "Shocked at Cortez Kennedy passing..1 of the most talented players I ever recruited or coached…a fun loving person a sad day.."
Kennedy had been due back in Seattle by Thursday to participate in a fundraiser for the Special Olympics 2018 games at The Seattle Great Wheel.
Kennedy was born in Osceola, Ark., on Aug. 23, 1968. He is survived by parents Ruby and Joe Harris and daughter, Courtney, 22.
Local journalism is essential.
Give directly to The Spokesman-Review's Northwest Passages community forums series -- which helps to offset the costs of several reporter and editor positions at the newspaper -- by using the easy options below. Gifts processed in this system are not tax deductible, but are predominately used to help meet the local financial requirements needed to receive national matching-grant funds.
Subscribe to the sports newsletter
Get the day's top sports headlines and breaking news delivered to your inbox by subscribing here.
---