Brian Schaeffer named Spokane fire chief by Mayor David Condon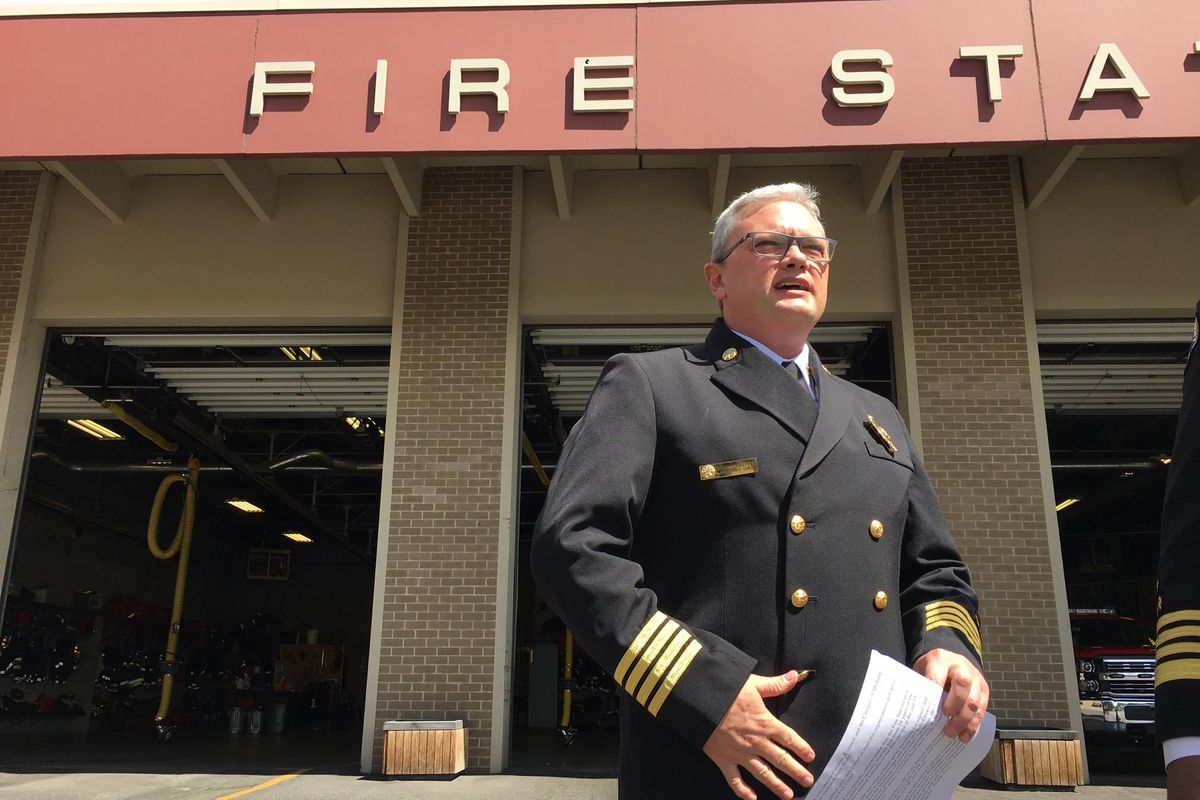 Brian Schaeffer was 8 months old and lying in a crib when a fire tore through his family's mobile home in Freeburg, Illinois, a town of fewer than 500 people southeast of St. Louis.
The fire apparently started when a breeze pushed a curtain over a burning scented candle on the afternoon of Oct. 17, 1971. The flames "spread from the living room throughout the trailer within an unbelievably short time," the Freeburg Tribune reported at the time.
Schaeffer's parents had recently adopted him and were raising him on a shoestring budget. His mother was in the kitchen when the blaze erupted. His father – a volunteer fireman – was surprised to arrive at his own home on the running boards of a fire truck.
Schaeffer and his mother escaped without injury, but one firefighter received an 8-inch burn on his shoulder, and a pair of neighbors who offered help were treated for smoke inhalation. The home was a complete loss.
"For my parents, it was really a devastating situation because we didn't have anything," Schaeffer said. "Their money, their checkbooks, everything was destroyed."
Schaeffer, now 46, was named chief of the Spokane Fire Department on Wednesday. He said that experience from his infancy has motivated him throughout his career.
"Although I was indoctrinated into the fire service at a very young age, this journey took me 28 years," he told a crowd Wednesday morning at a ceremony in front of Fire Station 1 downtown.
Schaeffer already has led the department for about four months following the retirement of Bobby Williams, who served as fire chief for 28 years. Mayor David Condon appointed Schaeffer to fill that position permanently, and the City Council is expected to confirm him on June 5.
Schaeffer, who joined the department as assistant chief in 2005, beat four other finalists for the top post after a national search and several rounds of panel interviews.
"I couldn't be more excited about the results of that process," Council President Ben Stuckart said. "Chief Schaeffer is going to do a great job serving the citizens of Spokane."
Councilwoman Lori Kinnear called Schaeffer "a tireless advocate for his department, an innovator and an all-around good guy."
Schaeffer started his career as a first responder in Warrensburg, Missouri, in 1989. In the late '90s he was a helicopter flight paramedic in Missouri and Kansas. Before coming to Spokane, he served as deputy chief of the Yakima Fire Department.
During his career, he pursued an education. He holds a bachelor's degree in fire science from Sterling College and a master's in public administration from the University of Missouri. And now he's writing his dissertation for a doctorate in leadership education from Creighton College.
"Brian's a really smart guy," said Nathan Craig, chief of Yakima County Fire District 12. "He's really well-prepared for everything he's tasked with."
Schaeffer, who also served as deputy chief of that fire district, hired Craig, a longtime volunteer firefighter, as a training captain in 2002.
"When he came to us, he really moved our department forward," Craig said.
The process of selecting a new chief was not without controversy.
Before a round of candidate interviews last month, the city's human resources analyst in charge of the process raised questions of impartiality when she urged top members of the department to attend a community forum "not only to meet the candidates, but to support Chief Schaeffer."
The Spokane Firefighters Union also had expressed some concerns about the recruitment process, although the union congratulated Schaeffer in a Facebook post on Wednesday.
"We look forward to strengthening our partnership, and through cooperation improve our department for the safety of our citizens," the union said.
On Wednesday evening, three of the four other finalists gave mixed responses to Schaeffer's selection.
"I understand picking Brian; I think he's been doing a great job," said Helen Ahrens-Byington, deputy chief of operations for the fire department in Kirkland, Washington.
She and Tony Nielsen, chief of Spokane County Fire District 8, said Wednesday they felt the process was fair, although Nielsen previously called the email "probably not an appropriate use of city resources and influence."
Jason Nicholl, the medical division battalion chief for the South Salt Lake Fire Department, suggested the whole process was a "sham" and that city leaders planned to pick Schaeffer from the start.
"I'm incredibly happy I didn't get the job," Nicholl said.
He believes the Spokane Fire Department is riddled with problems, from financial mismanagement to slow emergency responses to an overzealous labor union – all claims that Schaeffer rejected.
The fifth finalist, Charles "Andy" Sannipoli, an assistant fire chief in Durham, North Carolina, didn't immediately return a phone call Wednesday evening.
Schaeffer, who has regularly fielded questions from reporters on behalf of the department, said he looks forward to improving public outreach and education. He also hopes to secure funding to resolve staffing issues and finish implementing a new policy for incident commanders, among other goals.
During Wednesday's ceremony, Condon said he had been approached by numerous people who questioned why the city was conducting a national search for a new fire chief with "the right candidate," Schaeffer, already leading the department.
"Ultimately, they were right," Condon said.
---