News > Spokane
Then and Now: Manito's Duncan Garden
Mon., May 29, 2017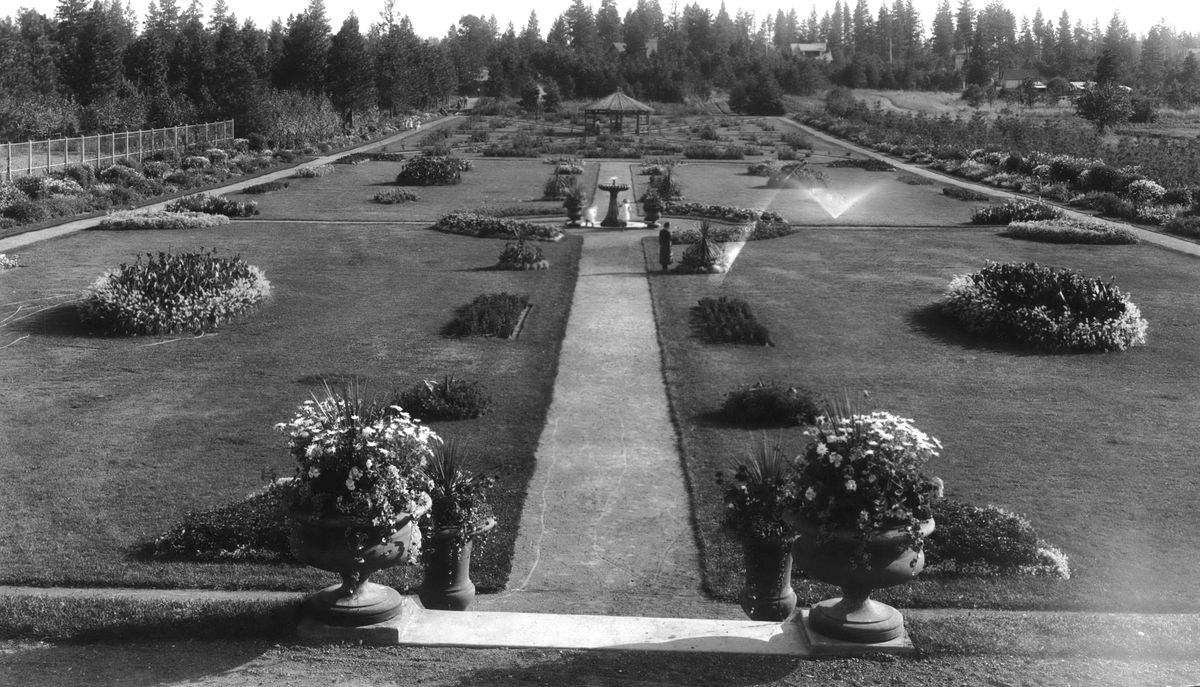 1928 - When Spokane Parks Superintendent John W. Duncan took the position in 1910, this low spot in Manito Park was a muddy swamp left after many yards of dirt had been excavated and taken away for other uses by his predecessor. Duncan had the area leveled and designed a European Renaissance-style garden, with symmetrical planters and pathways and a water feature in the middle. He called it Sunken Garden. It was renamed Duncan Garden in 1941 to honor the beloved Parks Superintendent, who retired in 1942. (SPOKESMAN-REVIEW PHOTO ARCHIVE / SR)
In early Spokane, parks were primarily natural spaces used for picnics. When Parks Superintendent John W. Duncan retired in 1942, Spokane's park system included more parks, plus features like playgrounds, swimming pools, golf courses and sports courts and fields.
Duncan was born in Aberdeen, Scotland, and came to the United States as a boy. He studied park management and worked in Boston. He passed through Spokane in 1909 on his way to a convention in Seattle and returned the next year to become the city's park superintendent.
Manito Park, which was supposed to be the city's jewel, was in poor shape. "There was a dilapidated, broken-down greenhouse," he told the newspaper. "There was fertilizer at the entrance of the park and they dumped rubbish in the gardens."
His tenure kicked off as citizens passed an $850,000 bond issue for parks in 1911. Duncan began to modernize the parks system.
Flowers were one of Duncan's passions, and he added plantings to each park. He assembled hundreds of varieties of lilacs for plantings. Where the previous Manito Park manager had excavated thousands of yards of dirt, he designed a European-style garden with colorful annuals and perennials. He called it the Sunken Garden.
With $500, he developed the first city golf course, where Felts Field now sits. It was not well-received, but it generated demand for Downriver Golf Course, which opened in 1916. Indian Canyon followed in the early 1930s.
He built playgrounds with modern equipment and wading pools where small children could safely cool down on hot summer days. He added tennis courts and softball diamonds as demand rose for each. A newspaper editorial, published after his retirement, stated, "He never planned bigger things that he thought the city was ready for."
His obituary, which mentioned his unofficial title as "The Father of Spokane's Park System," read, "He has seen a complete revolution in public demands in its parks. Where once they were gathering places for picnic parties and family groups with Sunday band concerts, the gradual change has brought about a demand for more playgrounds, wading and swimming pools, tennis courts, softball diamonds and golf courses. He saw that the finest of them all was provided Spokane citizens, young and old."
Duncan died in 1948.
Local journalism is essential.
Give directly to The Spokesman-Review's Northwest Passages community forums series -- which helps to offset the costs of several reporter and editor positions at the newspaper -- by using the easy options below. Gifts processed in this system are not tax deductible, but are predominately used to help meet the local financial requirements needed to receive national matching-grant funds.
Subscribe now to get breaking news alerts in your email inbox
Get breaking news delivered to your inbox as it happens.
---