 Strikes, work stoppages in Washington fields indicative of changing agriculture labor environment
Sun., Nov. 5, 2017 | By Eli Francovich
QUINCY, Wash. – In the long light of a late fall afternoon, Ulises Perez Gonzalez hesitantly cuts a Costco cake. The 23-year-old Mexican farmworker's hands, roughened from months of farm labor, are not accustomed to the delicate work.
About 15 Mexican workers watch Gonzalez. They're celebrating an unlikely victory: a successful strike by foreign fieldworkers. On the cake, inscribed in icing are the words, "Sí se pudo."
"Yes we did it."
Most of these farmworkers came to the U.S. on a legal work visa from the small Mexican state of Nayarit. They went on a six-day strike in early September.
They demanded better working conditions. Better access to health care. Better food.
And they won.
Their six-day strike was one of several across Washington state during a turbulent year for labor relations in one of the country's largest agricultural states. And it underscores Washington apple farmers' growing reliance on legal foreign farm work.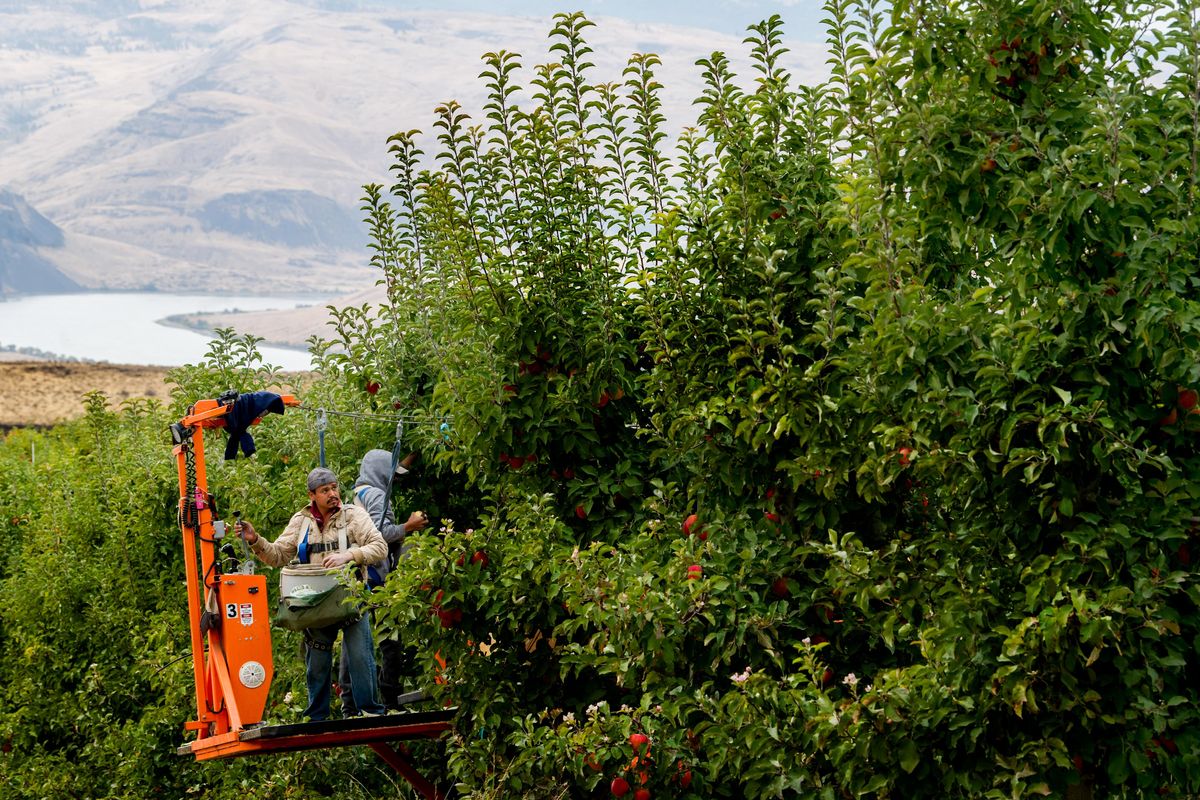 Worker Raymond Huerta stands atop a Bandit Express mobile picking system that allows workers to avoid the hazards of working from orchard ladders as he and fellow workers harvest apples on Wednesday, October 18, 2017, in a Stemilt orchard outside Quincy, Wash. Tyler Tjomsland/THE SPOKESMAN-REVIEW (Tyler Tjomsland / The Spokesman-Review)Buy a print of this photo
In Washington, some labor groups are baffled by unrest, noting that they believe working conditions have never been better. And yet activists say the strikes are indicative of widespread abuse and structural deficiencies of the legal visa program. Those same labor activists see these strikes, particularly the Quincy one, as historic.
"These guys are the ones that started things," said Mary Jo Ybarra-Vega, a social worker at the Quincy Community Health Center who assisted the strikers. "I kept telling them, know that you might not ever understand what you guys did, or what good could come from this, but know that this isn't the end."
A surge in H-2A workers
Although the legal farmworker program, called H-2A, started in 1986, the number of workers coming to the United States and Washington has surged in the last decade.
With the H-2A program growers can bring foreign-born laborers to the United States for specific work and time periods. The growers are required to provide transportation to and from the worker's home country, and provide housing, medical care and basic food supplies during the work season. Additionally, they are expected to transport the workers back to his or her home country.
Despite the extra cost and complexity, the number of H-2A workers has more than tripled during the last five years. For instance, in 2010 there were 3,014 H-2A workers in Washington; in 2015 there were 11,844. In 2017, Washington farmers and growers requested about 18,500 H-2A workers.
Nationwide, the use of H-2A workers rose from 79,000 in 2010 to 140,000 in 2015, according to U.S. Department of Labor statistics. As of March, the U.S. Department of Labor had approved 69,272 H-2A applications.
"These H-2A programs, they are cumbersome. They are a lot of work. They are a lot of cost. And they are a lot of paperwork," said Roger Pepperl, director of marketing for Stemilt Growers. "We dreaded them in the beginning but once we realized it was our only tool we embraced it."
Pepperl said one thing most people don't realize about the H-2A program is that companies have to advertise the jobs locally before they can ask for H-2A labor. What's more, if a company employs H-2A workers they must pay all workers a minimum of $13.38 per hour.
"The fact that people think agriculture is trying to outsource work, it's beyond ludicrous," he said.
He added, "There is no labor."
Activists say the nature of the program makes voicing concerns and complaints about working conditions a risky proposition. H-2A workers often don't speak English, live far from town, know no one and depend on their employer for things as basic as transportation and toiletries. If they violate the terms of their contract, either by getting fired or leaving, their visa is no longer valid and their employer is obligated to report them to Immigration and Customs Enforcement.
That's why the strikes in Washington are a deviation from the norm.
"They (farmworkers) are very reluctant, as a rule, to raise any complaint," said Michele Besso, an attorney with the Northwest Justice Project. "So when you have large numbers of them saying I can't take it anymore, they clearly are feeling tremendous pressure."
The Quincy strike
This was Ulises Perez Gonzalez's second year working in the United States as an H-2A guest worker. Normally, the lanky 23-year-old is soft-spoken, he said through an interpreter. But this season he found his voice as the spokesman for the striking Quincy-area workers.
In Facebook live videos and face-to-face meetings with a foreman and the farm's owner, Gonzalez was front and center.
The six-day strike started when three workers were summarily fired for not picking enough. And while that event was the flashpoint for the strike, the complaints had been building up for weeks.
When workers were hurt they were expected to walk back to their company-provided housing, Gonzalez said. The foreman was verbally abusive, swearing and mocking the H-2A workers.
On one occasion a worker fell from a ladder. The foreman's response?
"Good thing the ladder didn't break," Gonzalez said.
But, in an encouraging sign, Gonzalez said, farm owner Keith Larson was open and responsive to their requests. After six days, the strike was resolved and things have gotten better, Gonzalez said.
"Ever since the incident they do pay a little more attention to us," he said.
Activists, lawyers and health workers say this is one of the few, if not the first, times in the United States that a group of H-2A workers has gone on strike and had demands met. In fact, this year there have been a number of strikes and work stoppages across the state.
Earlier in the summer, workers went on strike after a worker died at a berry farm near Sumas, Washington. Those workers were fired and returned to Mexico. Gonzalez and his co-workers went on strike in Quincy and workers near Kennewick, Washington, walked away from the fields weeks before harvest finished in late October.
Besso believes that pressure to pick faster and work harder has pushed some workers to strike, or leave the country early. Based on what she's heard from her clients, the owners often feel that the expense of the H-2A program demands faster, more efficient work. At the same time the workers are, per their H-2A agreement, unable to leave the farm they're contracted with and get another job somewhere else.
"They don't want to be protesting," Besso said. "They want to work. They want to make money to send money home to their families. If they had options, if they had the option to move to a different farm, they would totally do that."
Unlike some, Besso doesn't believe the H-2A program is fundamentally a bad program. But she does believe it needs better oversight and enforcement of provisions designed to protect workers.
"It does work for some workers and some employers," she said. "I think for some H-2A workers they can come up and they earn a decent wage and it works for them."
Some farmworker activists and organizations take a harder line. They believe that the H-2A program is exploitative and should be scrapped.
"They have no transportation," said Rosalinda Guillen, executive director of Community to Community Development, a farmworker advocacy group in Washington. "They don't know anyone in the community and the employer hangs on to their visa. It's like a prison. This is normal. This is legal."
Fieldworkers whom Guillen talks to are "exhausted," she said. One of the biggest complaints that Community to Community receives is that farmworkers don't get breaks during the workday.
Larger advocacy organizations also believe that the program is exploitative.
"We believe that the H-2A program is a deeply and inherently flawed program," said Adrienne DerVartanian, immigration and labor director for Farmworker Justice.
The national nonprofit advocates for migrant and seasonal farmworkers. She said H-2A workers often are made to pay recruitment fees, a practice banned under the program. Additionally, there is no path for workers to earn citizenship, or even apply for a green card.
DerVartanian said the structure of the H-2A program pushes employers to favor H-2A workers at the expense of the domestic workforce.
And finally, she said, there is a human toll. Many H-2A workers come to the United States for months at a time, some even approaching a year. For most that means long periods of time away from their homes and families.
"Workers generally are here on their own and they are separated from their families," she said.
WAFLA response
In 2006, fruit across Washington state rotted on the trees. Growers were unable to find enough workers to pick the waiting fruit, said Dan Fazio, executive director and CEO of the WA Farm Labor Association.
"By 2012, we had a much larger crop than 2006, the largest crop ever, and we were able to get the entire crop off due to the legal worker program," Fazio said in an email.
WAFLA provides human resources training for growers and helps bring H-2A workers to the state. This year, Fazio said, WAFLA brought 10,000 H-2A workers to 200 Washington farmers.
As for this year's strikes, Fazio points out that roughly 100 workers were involved out of the more than 15,000 H-2A workers statewide. Fazio believes that there may be issues with individual supervisors, and that "new regulations" pressure employers to increase productivity, which could lead to more stressful working conditions in some cases. The program and the work is not for everyone, he said.
And the nature of the H-2A program makes the strikes more visible and public, he said.
"We have had similar types of unrest before H-2A, but the legal worker program brings everything out in the open, because workers have a contract and the right to complain," he said in an email. "In addition, groups who oppose the legal worker program are using social media to promote unrest."
As for accusations that the H-2A program is fundamentally flawed and exploitative, Fazio doesn't agree. The H-2A program benefits everyone, he said. Even growers who don't use H-2A workers have a larger pool of local workers to draw from at the end of the day.
Fazio pointed out that most of the program's most vocal critics are organizations that represent undocumented workers and workers afraid of being displaced by the legal work program.
"Who is being abused?" Fazio asks in an email. "The guy who pays a coyote, walks across the desert, sleeps in his car and travels from job to job with the minimum wage as his only guarantee? Or the person who has a contract, a guaranteed wage that is 23 percent higher than minimum, housing, transportation and legal presence?"
Good or bad, the system is changing
The increased numbers of H-2A workers is changing the farm labor system.
Ybarra-Vega believes that the H-2A program has given farmworkers the legal footing necessary to strike and publicly protest working conditions. She points to the Washington strikes as an example of that.
"These guys, they had options," she said. "I think they feel empowered because they have legal documentation to say this isn't right."
Others are less sure the changes are a good thing. One of Community to Community founder Guillen's fears is that the cost of the H-2A program will drive smaller farms out of business.
"The family farming system in the U.S. is disappearing," Guillen said. "The family farmers are disappearing."
About 10 years ago, there were 4,000 independent apple growers in Washington. In 2017, there were 1,450.
For farmworkers, the disappearance of small growers and farmers is a bad thing, Guillen said.
"The big farms that are here have never wanted to talk to representatives of workers or advocates or unions," she said. "The bigger they are the harder it is to communicate with them."
Driving through the fields west of Quincy, Ybarra-Vega said she's seen the same thing. She points out the field owned by bigger companies, Stemilt, McDougall & Sons and others.
"Some of these big companies, we've never had a phone call. Ever," she said. "And I've been here for 15 years."
Phyllis Gleasman, owner of a small orchard in the hills above Lake Chelan, said the wider implementation of the H-2A program is too expensive for her to use. But she doesn't need it, largely because her long-term foreman has a good recruiting network and she built worker housing several years ago.
"The labor is getting critical to our area," she said. "One reason being that the laborers are able to get more by working construction. We're right in the middle of a huge construction boom. And these guys can go get twice the monies working construction than they can on the farm."
Another area where the H-2A program appears to be affecting agriculture is wages. Besso and others have heard reports of the H-2A program artificially depressing wages. Although growers pay more than minimum wage, that rate is an average hourly rate and not necessarily reflective of the particular working conditions or time. DerVartanian said she's heard stories of domestic workers being turned away from farms when they requested more money.
"It's totally changing," Besso said. "It's changing our system, but it's really hard to know how without some good research (about) all the ways it's changing things."
Strong like a tree
With the harvest season nearly over, the Quincy H-2A workers who went on strike are looking forward to going home. Some have been in the U.S. nearly 10 months. They miss their wives, children and friends. They're tired of living in trailers surrounded by apple orchards.
But they'll be back, one way or another.
As if to illustrate that point, Gonzalez, the spokesman for the group's bargaining efforts, pulls the sleeves of his shirt up to show a tattoo penned onto the flesh of his left forearm. It's a picture of a tree.
He said, "For as much as life throws at you, you have to be strong like a tree."
Tyler Tjomsland contributed to this report.
Lead photo credit: Jose Marquez hooks a tractor load of apples to a truck on Oct. 20 in an owned by rancher Phyllis Gleasman north of Manson, Wash. (Tyler Tjomsland / The Spokesman-Review)