News > Spokane
Reindeer Cletus and Clyde make welcome addition to River Park Square festivities
Nov. 17, 2017 Updated Fri., Nov. 17, 2017 at 10:49 p.m.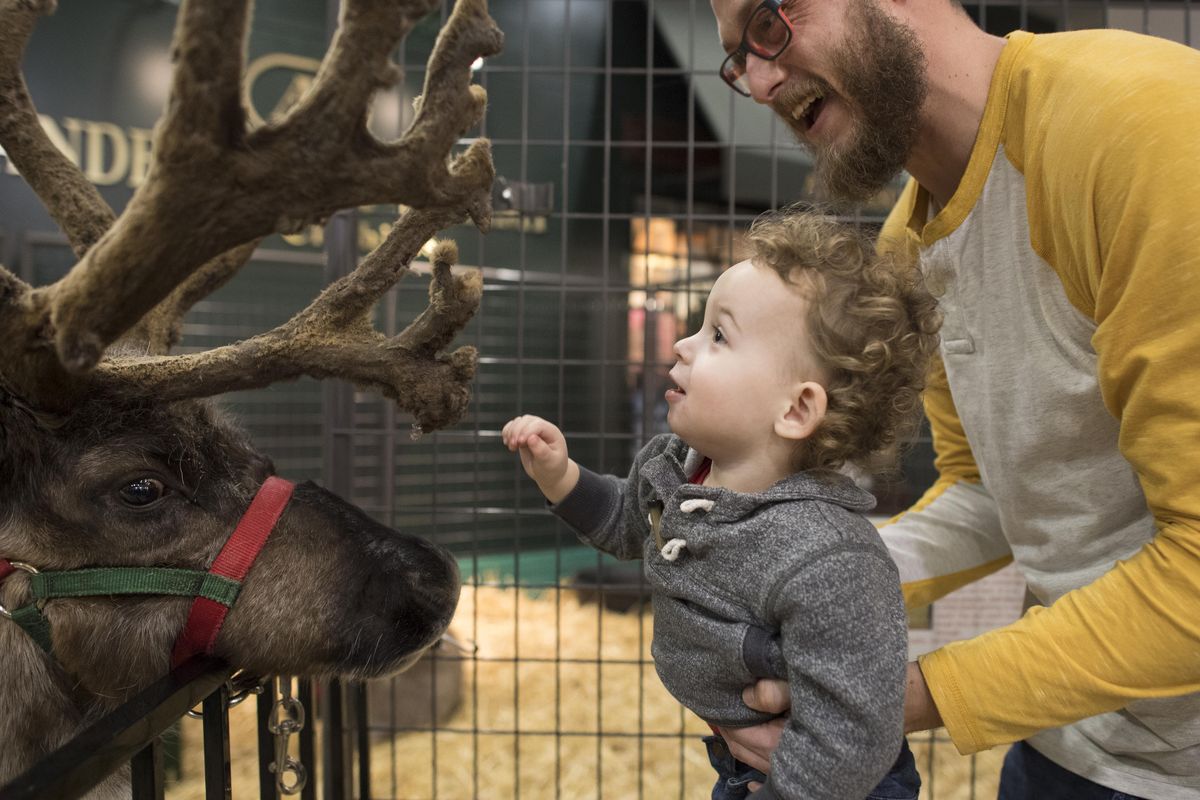 Adam DeVleming introduces his son Finn, 2, to Cletus the reindeer, on Friday, Nov. 17, 2017, at Riverfront Park in Spokane, Wash. (Tyler Tjomsland / The Spokesman-Review)
River Park Square typically prepares for the holiday season each November by hanging garlands in walkways, stringing bright lights in storefront windows and setting up the 50-foot Christmas tree in the center of the mall. But this year, visitors were surprised by a new addition welcoming Santa's arrival.
"Oh, my gosh, it's a reindeer!" said Sarah Cleveland, riding the escalator down to the main floor with her infant daughter in tow.
Cleveland, who is from Houston, Texas, was visiting family in Spokane.
"We were walking around and thought we would get to see Santa, but it's pretty cool we get to see some reindeer," Cleveland said.
This marks the first year River Park Square welcomes two reindeer, Cletus and Clyde. The pair arrived at the mall Nov. 15 and will remain there through Sunday evening.
The reindeer visit will coincide with River Park Square's annual Nov. 17 Christmas tree lighting ceremony, a 15-year community tradition that involves lighting more than 10,000 LED lights.
On Friday morning, over a dozen people gathered around the reindeer pen, including a few pleasantly surprised shoppers taking pictures of the reindeer and a group of several enthusiastic preschool children, who watched Clyde graze and Cletus sleep.
Spokane preschool teacher Marlene Cantlon said she was taking her class back from storytime at the Spokane Public Library when the children noticed the animals.
"For the kids to actually see live reindeer is pretty exciting," she said.
The holiday experience is really one that is magical for kids, said River Park Square General Manager Bryn West.
"We thought Santa's arrival was a fantastic event. But, with his arrival, an idea was brought up to include reindeer in the story," she said. "We researched it thoroughly and found Reindeer Express. We love the fact they are great with animals, have humane practices and are accredited for the treatment of their animals."
Reindeer handler Sonya Benhardt and her husband, Ed – who was a top emu producer – operate the company, based on a farm in Reardan that is home to reindeer and camels.
The Benhardts have taken reindeer to community events for more than 20 years, mostly during the holidays in the Seattle area.
"They only have to work six weeks out of the year and only a few days," she said. "The rest of the time we are their servants."
The reindeer are naturally laid-back, but there's a lot involved with caring for the animals, such as trimming hooves and taking them to vet visits, she said.
"You can train one to walk on a lead rope in about a week," she said.
The reindeer, who have their own security team, sleep in the mall. Benhardt regularly cleans their pen and feeds them a special food made by Purina, as well as leaves of alfalfa.
"They love raisins," Benhardt said. "So don't forget to leave them out on Christmas Eve."
Benhardt said people have been supportive and interested in the reindeer. But there have been a few people concerned about having the reindeer in the mall.
However, once she educates them about reindeer, their normal behavior and that they are actually domesticated animals managed by people, those folks tend to understand, she said.
"It's normal for them to walk back and forth in the cage," she said. "It is the same as a person that is laying around and needing to get up and stretch their legs."
West said they are diligent in ensuring the animals are comfortable during their short stay at the mall.
"We were told by the handlers once they bed down, they are comfortable, happy and not stressed out," she said. "Both have bedded down within an hour and a half of arriving here."
In fact, they can get attached to people. West said the reindeer have already bonded with a man who works at the mall who visits them every few hours.
Benhardt says on their Reardan farm, they have a reindeer, Candy, who is attached to her husband. If he goes out of her sight, she'll start "barking," then run up to him and put her head under his arm.
West said they've had an amazing response to the reindeer, especially from children.
"Their eyes light up, they get a look of astonishment on their faces," she said. "It's beautiful to watch."
Local journalism is essential.
Give directly to The Spokesman-Review's Northwest Passages community forums series -- which helps to offset the costs of several reporter and editor positions at the newspaper -- by using the easy options below. Gifts processed in this system are not tax deductible, but are predominately used to help meet the local financial requirements needed to receive national matching-grant funds.
Subscribe now to get breaking news alerts in your email inbox
Get breaking news delivered to your inbox as it happens.
---