Elegance on display: Downtown trees decked out for Christmas fundraiser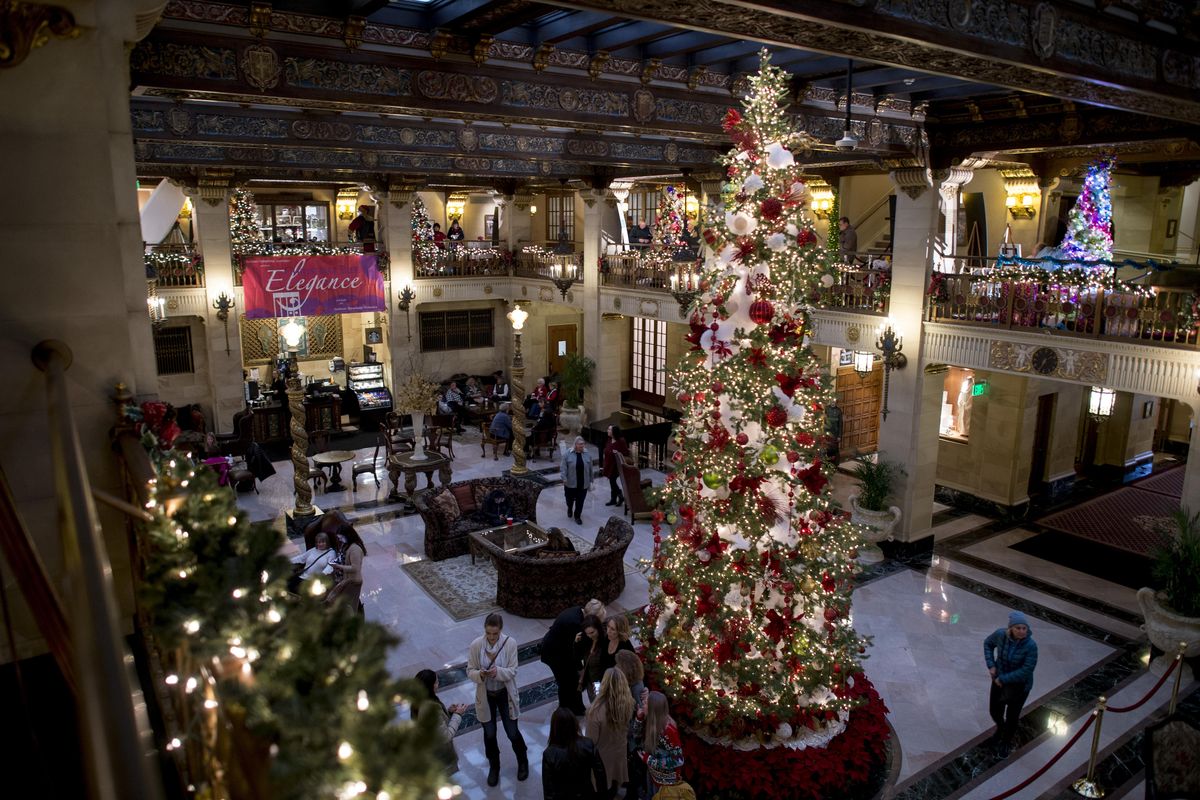 You can decorate a tree with just about anything.
That's one lesson visitors might learn at this year's Christmas Tree Elegance display in downtown Spokane. The festive event, which started Tuesday, is the culmination of months of work by volunteers, local businesses and other groups.
There are 18 trees in all – a dozen in the mezzanine of the historic Davenport Hotel and six more on the skywalk level of River Park Square. Each tree has a unique theme and is accompanied by piles of enticing gifts, from snow gear to motorcycle lessons to fistfuls of cash.
On Dec. 10, each package will be given away in a random drawing. Raffle tickets cost $1, and all proceeds will benefit the Spokane Symphony.
"That's how it's raised, $1 at a time," said Carol Worthington-Borodin, a lead organizer of the fundraiser.
The first Christmas Tree Elegance event, 35 years ago, raised $7,000 for the symphony, she said. Last year's event garnered $286,000.
But the event can have an even bigger impact on the raffle winners, some of whom react with tears, Worthington-Borodin said. In 2007, one winning family had recently lost their home, and last year a Montana man won a tree-and-gift package not long after the death of his wife.
The other lead organizer, Elizabeth Raol, has participated in the event for 17 years. She said she loves watching groups of volunteers – "tree teams," as they're called – decide on their themes, design their displays and solicit donations from local businesses.
"They make the magic happen, and that magic is what sells tickets," she said.
Raol fashioned her first tree after the Greek islands, and her gift package included a round-trip vacation there. Each year she also hand-sculpts a Father Christmas figurine to raffle away.
This year's event features a tree adorned with shovels and bags of seeds (for a garden theme) and another with items that Worthington-Borodin collected in Mexico and Guatemala. Raffle winners might walk away with a camping stove and a fishing pole, $4,500 or a collection of music-themed living room accessories.
"It's amazing, the people who put tickets in, who don't think they're going to win," Raol said. "So they don't arrange for a truck … and then they show up in a little family sedan!"
She said Spokane Symphony Associates, the group that supports the symphony with fundraisers such as Christmas Tree Elegance, is always looking for new members. Dues are $25 a year.
Dozens of groups underwrite and contribute to Christmas Tree Elegance, and this year's event received a $10,000 sponsorship from Larry H. Miller Lexus.
"The businesses in Spokane are very generous," Worthington-Borodin said, adding that the event has grown in popularity. "This year we actually had a waiting list for the first time, and we have some folks who want to participate next year."
Even casual passersby might stop to take in the glowing lights and holiday spirit.
"They aren't just your regular Christmas trees," Worthington-Borodin said. "They are really special."
---