News > Spokane
Her school destroyed by Hurricane Maria, Puerto Rican student finds welcome at St. George's
Sat., Oct. 28, 2017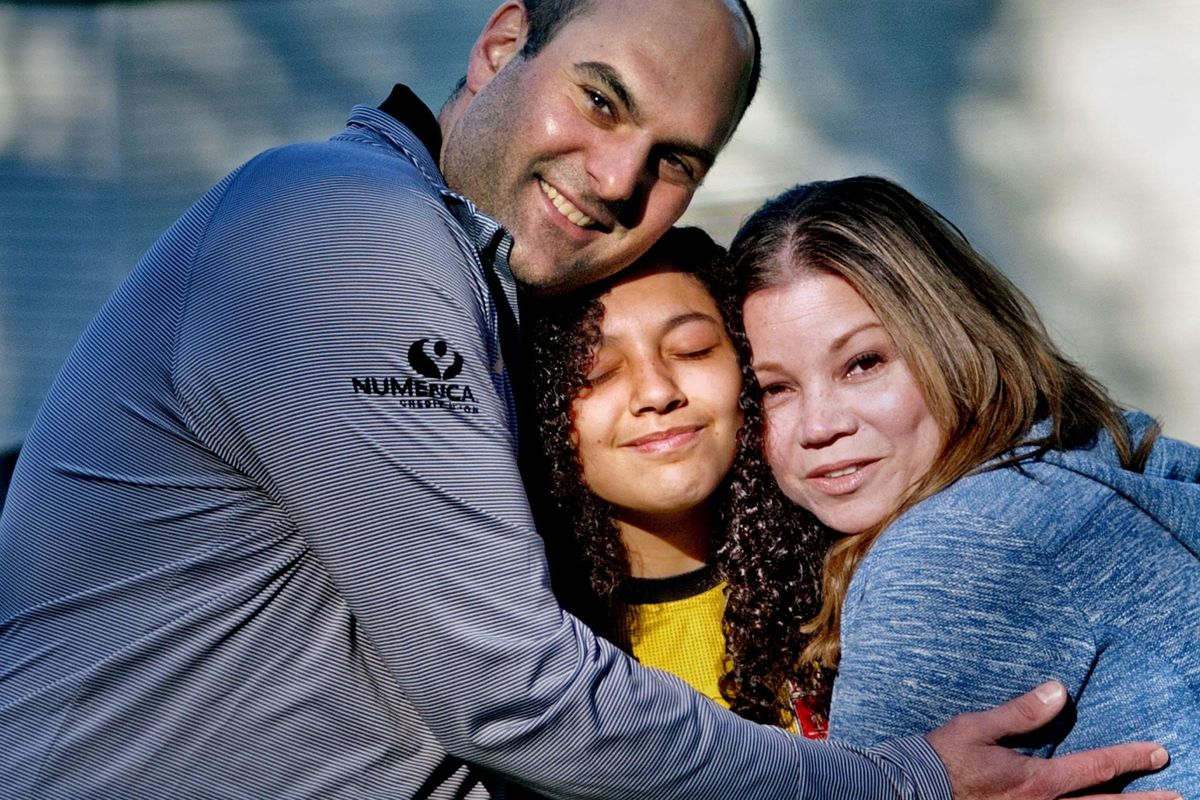 Sofia Roman Ocasio, center has relocated from Puerto Rico to Spokane to live with her aunt and uncle, Manuel Hochheimer and Vange Hochheimer. Sofia's school, The Tasis School in Dorado , is a private English-language school. The school was damaged in Hurricane Maria. Sofia's parents did not want her education disrupted so made arrangements for her to stay with her aunt and uncle in Spokane.They posed for a photograph at St. George's, Sophia's new school on Friday, Oct. 27, 2017. (Kathy Plonka / The Spokesman-Review)
Sofia Roman Ocasio leaped into the air, tipping a soccer ball up and over the goal with her hand.
Warming up for the final regular season game with the St. George's Dragons, the 14-year-old goalie showed focus as her teammates took their shots. "Nice save, Sofia!" her coach called each time she dove to the ground and came away with the ball in her arms.
Though she has friends at school and a starting spot on a team that looks to be heading to the state championship, Ocasio has only been in Spokane for two weeks. She moved here to live with her aunt and uncle after her home in Puerto Rico was destroyed by Hurricane Maria.
When the storm hit on Sept. 20, Ocasio was at home with her mother and two dogs: Nina, a toy poodle, and Lola, a 14-year-old beagle.
The family had prepared for the storm, stocking up on supplies and cooking all the meat in the house so it wouldn't spoil if they lost power. They had storm shutters on the windows.
The wind kept blowing – taking their front door and garage door with it.
They lost power. When they turned on the tap, nothing came out.
In the days that followed, Ocasio went out with her father to survey the damage to Dorado, the suburb of San Juan she calls home. Everywhere she went, she found toppled trees and lampposts. Houses were damaged, and nobody had power.
"It was terrifying," she said. "I went to different places that I was really fond of and I just saw them all destroyed."
Eventually they got a generator, but keeping that fueled was difficult.
"The hustle for diesel and gasoline, it was exhausting," Ocasio said. Lines were often three hours long. Her school was destroyed, and it was clear classes wouldn't be back in session for a while.
In Spokane, Ocasio's aunt, Vange Hochheimer, tried to reach her twin sister and niece right after Maria. It took her five days to get through and learn everyone was alive.
Hochheimer, an economics professor at Whitworth University, was close to Ocasio growing up. When the girl's parents were separating, Hochheimer invited her niece to live with her in Maryland for six weeks.
"I used to confuse them when I was little," Ocasio said of her aunt and mother.
"She was my baby," Hochheimer said.
For Hochheimer and her husband, Manny, taking Ocasio in was an easy choice. As soon as they got word she was OK, they booked the ticket for her to come to Spokane. Her parents wanted her to go so she could continue her education.
Settling in to Spokane has been smooth, Ocasio said. It's about as far from Puerto Rico as you can get without leaving the mainland U.S., but St. George's is similar to The Tasis School, a bilingual college prep school she attended on the island. Just like at home, all her classes are in English, with the exception of a Spanish literature class.
The Hochheimer's two sons, 5-year-old Luca and 7-year-old Noah, already attended St. George's, so Manny Hochheimer reached out to the head of school to see about getting his niece in midyear.
Ocasio took the required tests and earned a spot among the school's 346 students.
"She's a very diligent worker," said Jamie Tender, headmaster. "From my standpoint walking by her and her friends, you wouldn't know that she hasn't been here from the start."
She joined the soccer team immediately, and played her first game before she'd been at St. George's a week.
If she's asked whether she's any good at soccer, Ocasio demurs before mentioning she played briefly with the national juniors team in Puerto Rico. She once got to play in a scrimmage against a Florida team and said she was proud to represent Puerto Rico and wear the team's colors, even though they lost.
"After that first soccer game, I was crying," Manny Hochheimer said. "It was emotional for me to see how welcoming these girls were."
Her new friends often don't know much about Puerto Rico, Ocasio said, but she's happy to answer their questions. Many want to know what language she grew up speaking, and some make fun of her for her excitement seeing deer and other wildlife on the St. George's campus.
She's been surprised that the aftermath of Maria isn't talked about more, since it was all over the news until recently. She said she hoped sharing her story would encourage people to help with relief and rebuilding efforts in Puerto Rico.
"It's a humanitarian crisis," she said. "We need help. We have no electrical services."
Other than soccer, Ocasio likes to draw, play flute and play video games, particularly the Legend of Zelda franchise. Science and physics classes have been her favorites, and she hopes to study engineering.
"I just love the idea of creating something," she said.
Long term, she's not sure where she'll stay. She enjoys Spokane's mountains and wildlife, and her aunt and uncle's golden retriever, Marvin, keeps her company.
"Everybody in our country has been working very hard to get the island forward," she said. But if her school isn't back in working order, she's happy staying at St. George's.
And her aunt and uncle are happy to have her.
"The transition couldn't have been smoother. It's a miracle," Hochheimer said.
Local journalism is essential.
Give directly to The Spokesman-Review's Northwest Passages community forums series -- which helps to offset the costs of several reporter and editor positions at the newspaper -- by using the easy options below. Gifts processed in this system are not tax deductible, but are predominately used to help meet the local financial requirements needed to receive national matching-grant funds.
Subscribe now to get breaking news alerts in your email inbox
Get breaking news delivered to your inbox as it happens.
---