News > Travel
Exploring Belize: From Mayan ruins to barrier reefs and birds, there's lots to see and do in this small Central American country
Sat., Sept. 2, 2017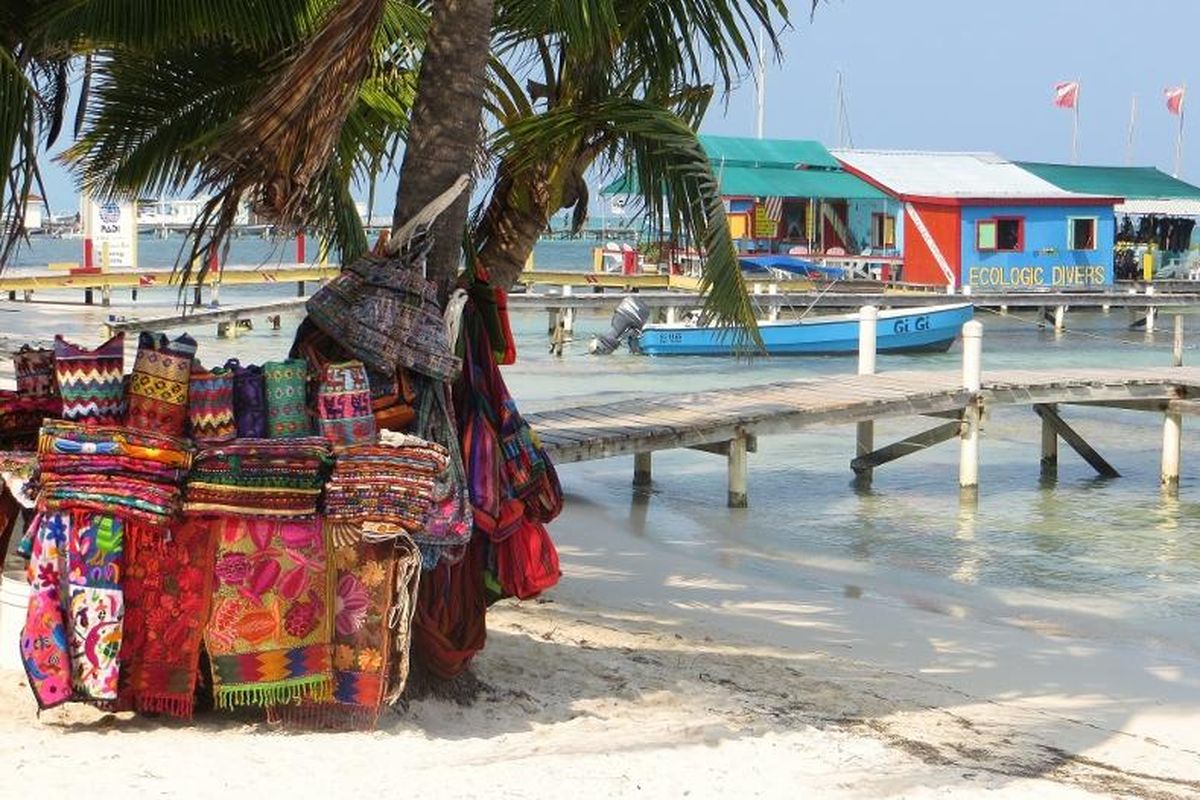 Street vendors sold fruit and Central American crafts. (Mark Hurtubise)
Getting to Belize isn't necessarily easy. It's certainly worth it.
After flying from Spokane, my wife, Rowena, and I spent the night in Dallas to avoid a nine-hour airport layover. From there, it was an easy two and half hour morning flight to Belize City.
Upon landing, it was clear that Belize is a young developing country. It only gained its independence from Great Britain in 1981. The trees are taller than the buildings. In fact, its highest building is a Mayan temple.
We also quickly noticed the friendliness of the Belizeans. Belize is the only Central American country where English is the official language, which made acclimating easier. Plus, the currency exchange is simple math – each American dollar equals two Belizean dollars.
Belize is small (8,900 square miles, roughly the same size as the Idaho Panhandle), which makes it convenient to access a number of adventures. The Belize Barrier Reef (the second longest barrier reef in the world and host to the great blue hole, a mecca for scuba divers); 127 offshore cayes (islands, pronounced "keys"); excellent fishing, scuba diving and snorkeling; abundant jungle flora and wildlife; and extensive cave networks are just some of the country's offerings.
Belize's dry season is between February and May. We chose March, with stops in north-central Belize, and Ambergris Caye (the "queen of the cayes"), off the northern Belizean coast, to experience the Barrier reef, Mayan archeology and birds that congregate nowhere else on the planet.
Arriving mid-morning in Belize City allowed us to fly to San Pedro, a post-card beach community of 12,400 people on Ambergris Caye. The 30-minute flight aboard a Cessna provided breathtaking views of turquoise-colored water surrounding small, flat emerald-green cayes. After landing, we took a cab north to a quiet beachfront hotel.
There we walked on narrow strips of white sand, enjoyed warm breezes rustling palm branches and watched long black lizards lumber over rocks. During late afternoons, 20-minute water taxi rides took us to San Pedro for local cuisine: rice and beans; shrimp and conch; stew chicken; even iguana (called "bamboo chicken"); and Belikin Beer (the "Beer of Belize").
San Pedro has hard-packed sandy streets (navigated mainly by golf carts) lined with brightly colored hotels, restaurants and diving/snorkeling shops. Street vendors sold fruit and Central American crafts. Looking east over crystal-blue water averaging 82 degrees year-round, the surf broke over the Barrier Reef.
On our third day in Belize, snorkeling guide Jimmie took us out in a small boat to the barrier reef. Hol Chan Marine Reserve (Mayan for "little channel") is 30 minutes from San Pedro and is a 100-foot-wide break in the reef. Shark-Ray Alley is a sandbar within Hol Chan where we anchored. Even though the sight of 7-foot-long nurse sharks brushing past the boat was exciting, we needed assurance their preferred entree was not human meat.
More than 160 species of fish have been identified in the Hol Chan Marine Reserve, along with 40 kinds of coral. Instantly after entering the water, I was floating over a penetratingly clear, flawless environment filled with multicolored fish and coral of all sizes. Under the boat, I spied a Nassau grouper that must have been 3 feet long and weighed 40 pounds. Schools of angel fish, yellowtail snappers and butterfly fish, a green turtle, a spotted eagle ray, even a small shark about 60 feet away swam under us over light pink, green and brown brain and finger coral.
Rowena had the most enchanted encounter – a kind-faced manatee with her newborn calf. She was swimming about 20 feet from me when a slow moving rotund body with a stubby snout and eyes set wide apart, glided up to her with Buddha tranquility.
Returning to Belize City, we met Leonard, who drove us 30 miles north to Bird's Eye View Lodge on the edge of Crooked Tree Wildlife Sanctuary. There we hoped to see its most celebrated guest, the jabiru stork, which was known to visit from Mexico during Belize's dry season. An adult jabiru has a wing-span of almost 12 feet and stands 5 feet tall with a foot-long beak. It is the largest flying bird in South and Central Americas.
Because we arrived at night at the lodge, which was a modest concrete two-story building, we were greeted by a cacophony of croaking frogs. At 6 a.m. we stepped from our second floor room onto a cement porch overlooking a very long and wide shallow lagoon about 30 yards away. The water was only a foot deep. It was a visual feast. There were large white Ibises, blue herons, brown speckled limpkins and reddish and snowy egrets. A black collared hawk perched on a branch protruding from the water, looking like he had been appointed to stand watch over his flock.
Throughout the day sandpipers and black-necked stilts furtively patrolled the shoreline. While yellow warblers, blue tanagers, vermilion flycatchers and rufous-tailed hummingbirds flitted from branch to branch and across fields beside the lodge.
The most curious bird was the northern jacana, a 9-inch-long shoreline bird with exceptionally long toes and an orange-yellow frontal shield. It's also called the Jesus bird because it appears to walk on water when running atop lily pads.
There are more than 10,000 living bird species worldwide, 600 of which touch Belize throughout the year. In one day, we saw about 25 of them, but no jabiru.
Traveling to Belize without seeing a Mayan site would be like visiting Rome and not viewing the Coliseum. We took a boat trip with 20 tourists north along scenic New River to Lumanai (Mayan for "submerged crocodile"). Lumanai was an agricultural, trade and ceremonial metropolis, supporting up to 35,000 people. Its occupation spanned back to 1,500 BC. The architectural quality and endurance of the buildings is fascinating. It was like being teleported to another time.
Only about 5 percent of Lumanai has been investigated. Nevertheless, we enjoyed three large pyramids, stelae (tall, sculptured stone slabs), an open plaza and a ball court. The high temple stands 108 feet tall. After climbing steep steps with the aid of a rope, we looked out from the summit over a lush jungle.
Another memorable way to experience the Maya is going underground. Actun Tunichil Muknal (ATM) is west toward Guatemala. After hiking through the jungle for about an hour with a certified guide, Rolando, and four other tourists, we were grateful to be in reasonably good shape. This was reaffirmed when we entered ATM.
Wearing headlights, we had brief swims and walks in neck-deep water through underground chambers among amazing limestone formations. The Maya believed stalactites were tree roots. After about a mile into the earth, we were rewarded with well-preserved Mayan pottery, scattered bones and the "Crystal Maiden," who was sacrificed about 1,000 years ago. Her bones and skull sparkled from eons of crystal calcification.
Our last tour was with Leonard and two other Bird's Eye View guests. After an hour drive, a leisurely four-hour lagoon ride in a small watercraft was the perfect capstone experience to our vacation.
Leonard imitated a howler monkey's call, prompting three of them to answer back from thickly leaved tree-tops. Large wood storks, hawks and vultures balanced on leafless branches 40 feet high. Turtles slept on sunny logs. A 6-foot crocodile splashed into the water and lazily swam up to the boat.
Being a master at finding hidden shoreline encounters, Leonard frequently cut the engine and let the boat drift toward the shrubbery. A pygmy kingfisher, at about 5 inches long the smallest of new world kingfishers, leaned its head toward us as if to say, "Hello."
We found an anhinga, just shy of 3 feet tall, glossy black-green with streaked white wings. It was focused more on prey than us. We got within 4 feet. The anhinga swims with only its neck and head above water and often glides for long periods, riding the thermals like a hawk.
Along the shoreline was a beautiful gray-necked wood-rail, which froze to display its distinctive color palette. Its feathered body was olive green and reddish-brown with a bluish neck and a greenish yellow beak. It had piercing red eyes and coral-red legs. Except for the toucan (Belize's national bird), it was the most artistically patterned bird we saw.
It was sunset when we arrived back at Bird's Eye. Evelyn, our friendly waitress, excitedly informed us a jabiru was 50 yards off shore. He was a giant among peers and a matchless dinner mate. He was eating live squirming 3-foot eels. Lodge guests squealed with curiosity at the rare and intriguing sight.
The final morning, just beyond the lodge along the roadside stood the jabiru. He was perfectly positioned to greet the international guests, humans and birds. He looked singular in his self-confidence and authority. He was a traveler's guide ending to a series of treasured moments.
Mark and Rowena Hurtubise live in Spokane.
Local journalism is essential.
Give directly to The Spokesman-Review's Northwest Passages community forums series -- which helps to offset the costs of several reporter and editor positions at the newspaper -- by using the easy options below. Gifts processed in this system are not tax deductible, but are predominately used to help meet the local financial requirements needed to receive national matching-grant funds.
Subscribe now to get breaking news alerts in your email inbox
Get breaking news delivered to your inbox as it happens.
---