Sports > NFL
Cleveland Browns to join police, military in pregame show of unity
Fri., Sept. 8, 2017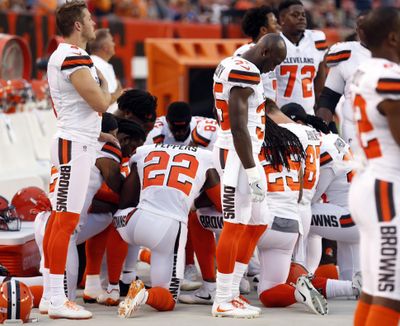 CLEVELAND – The Cleveland Browns will take the field on Sunday with some area police and firefighters in a pregame show of unity.
As part of a broader effort to connect with their community, Cleveland's players also will run onto the field before their season opener against the Pittsburgh Steelers with emergency workers and military personnel. The groups will then stand together for the national anthem.
After some Browns were criticized for kneeling in prayer during the national anthem before a recent exhibition game, several players felt their display was misinterpreted and wanted to do something more to reach out to the community. They first met with owners Dee and Jimmy Haslam and later with Cleveland Police Chief Calvin Williams and other officers to develop a "neighborhood plan."
Team spokesman Peter Jean-Baptiste said that may include players riding along with police on patrol and attending area meetings to help strengthen the relationship between police and citizens.
On Thursday, Browns players Christian Kirksey, Ibraheim Campbell, Seth DeValve, Randall Telfer, Jamie Collins and Ricardo Louis, shared ideas and discussed some plans with Williams.
Browns coach Hue Jackson applauded his players' initiative.
"That is great," he said. "I would think that just knowing our organization, obviously, we love our country, we love our flag, we love the police department and what they do for us. They have done so much for us here, and I think that is super that we are coming together and working together for the right cause and looking forward to watching that happen on Sunday."
Days after the violence in Charlottesville, Virginia, where neo-Nazis clashed with opposition groups, more than a dozen Browns players knelt in a circle on Cleveland's sideline. DeValve and others said afterward they were praying for the country and to help work toward racial equality.
There was some backlash, however, as patrolmen's association president Steve Loomis said members of his union would not hold the U.S. flag at Cleveland's home opener. The Browns have traditionally unfurled a large flag held by police and others.
Loomis on Friday said he has accepted the Browns' invitation to participate in Sunday's show of unity and will detail 20 officers to take part. He was encouraged by the players' meeting with Williams "where tough issues were respectfully discussed and viewpoints exchanged."
"Once again Cleveland has risen above the fray and has demonstrated that respectful communication is the key to solving any problem," Loomis said. "We can always accomplish much more good by standing, communicating and working together than we ever will by standing apart."
Local journalism is essential.
Give directly to The Spokesman-Review's Northwest Passages community forums series -- which helps to offset the costs of several reporter and editor positions at the newspaper -- by using the easy options below. Gifts processed in this system are not tax deductible, but are predominately used to help meet the local financial requirements needed to receive national matching-grant funds.
Subscribe to the sports newsletter
Get the day's top sports headlines and breaking news delivered to your inbox by subscribing here.
---