Rescuing endangered rabbits from fire danger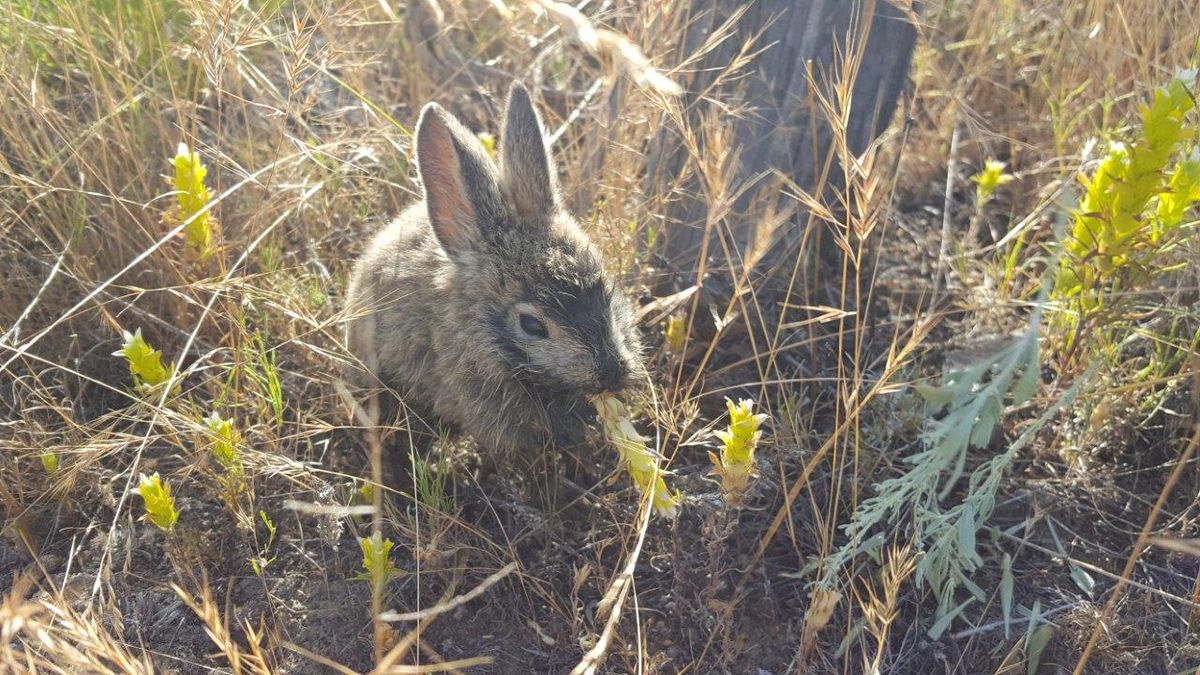 With a wildfire sweeping towards one of the state's refuges for the pygmy rabbit, biologists and firefighters scrambled this summer to save as many endangered bunnies as they could.
The Sutherland Canyon fire, started by lightning in late June, was burning toward the Washington Department of Fish and Wildlife's largest enclosure where the state and its partners are breeding endangered pygmy rabbits to bring the species back.
The 10-acre enclosure is one of four the state maintains in Central Washington, but was home to about half of the captive breeding population.
"We knew the fire's trajectory was bad," said Jon Gallie, a wildlife biologist who serves as recovery program coordinator. "Everything kind of came together at the last minute."
The pygmy rabbits, so small they typically weigh less than a pound and fit in an adult human hand, were declared endangered in the 1990s. By 2001 the state population was down to just 16 rabbits, which were caught and taken to the Oregon Zoo and Washington State University. The species was kept on "life support" and interbred with pygmy rabbits from other Western states for 10 years, when some of their progeny were brought to the protected enclosures near Ephrata. There 8-foot fences keep out most land-based predators and netting in some areas prevents raptors from snatching up the rabbits when they are out of their burrows.
But nothing was going to keep out the wildfire.
The department and its partners from the Oregon Zoo and the University of Idaho had eight people working with rabbits this summer on the recovery project. They scrambled to move the irrigation system to keep the area wet, but as 20-foot flames moved in, it was clear that wasn't going to be enough.
The program then faced a personnel problem. The biologists weren't trained firefighters, who could be allowed in a fire zone. The Bureau of Land Management had a spare fire crew, but they weren't trained biologists.
Gallie was fitted with fire protection and went in with the BLM crew, who would catch rabbits and bring them to a safe area where biologists could care for them. He gave the firefighters a quick rundown, and they staged a recovery effort in an active fire zone.
"It was a lot harder than you would think," Gallie said. "They're wild animals. They run when we come near them. Within an hour or two, (the firefighters) were starting to pick it up."
They used some standard traps, but when that wasn't collecting rabbits fast enough, they used salmon nets the department had to corral the bunnies. After two "very intense days" they had collected 38 rabbits, but six were so badly injured or stressed that they didn't survive.
The other 32 were relocated to two of the department's other enclosures, which weren't threatened by fire. Those enclosures already have resident populations, so the refugee rabbits will have to find a way to fit in with the ones that are already there.
The rabbit rescue crews will receive an award for their efforts Wednesday from Gov. Jay Inslee during his visit to Ephrata.
The department will rebuild the enclosure in the same general area, with some improvements it thinks can be made after several years of experience. They also have some ideas on how to mitigate future threats, although there's nothing that would stop a severe wildfire, Gallie said.
The enclosures are to the small burrowing rabbits what fish hatcheries are to salmon, he said. The department slowly releases young pygmy rabbits to wild habitat outside the enclosures.
They are slowly "recolonizing" areas of Central and Eastern Washington, but recovery of an endangered species typically takes decades. Even though pygmy rabbits usually have five to seven "kits" in a litter, as many as 90 percent don't see their first birthday in the wild, Gallie said.
The released rabbits are doing better than originally anticipated, he added. "They're showing an adaptability to today's landscapes."
---