News > Spokane
100 years ago today in Spokane: Fugitive stockbroker caught in Juneau
Thu., Sept. 14, 2017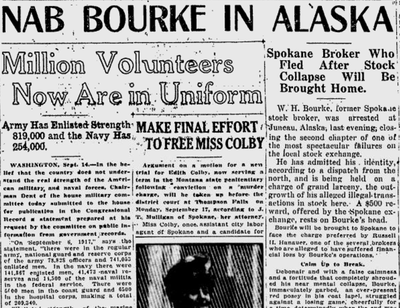 W.H. Bourke, a Spokane stockbroker who presided over "one of the most spectacular failures on the local stock exchange," was arrested in Juneau.
He had tried to corner the Copper King mining stock — purchasing hundreds of thousands of shares — but the gamble did not pay off. He was ruined financially — as were a number of his fellow brokers who tried to help him — and was expelled from the Spokane stock exchange.
A short while later, his attorney announced that an agreement was imminent — one that would settle his financial affairs.
However, Bourke vanished before the settlement could take place. A $500 reward was offered. No trace of him was found until Juneau authorities announced that they had him in custody. He was being bought back to Spokane to face charges of grand larceny.
He had been described — before his downfall — as "debonair," and with an "ever-present red posy in his coat lapel." Since then, his health had deteriorated.
From the prison beat: A Spokane attorney was launching a last-ditch appeal to free Miss Edith Colby — a former Spokane journalist and city commission candidate — from the Montana State Penitentiary.
She was serving a 10-12 year sentence for fatally shooting a Republican Party county chairman in Thompson Falls.
Her attorney filed a motion for a new trial.
Local journalism is essential.
Give directly to The Spokesman-Review's Northwest Passages community forums series -- which helps to offset the costs of several reporter and editor positions at the newspaper -- by using the easy options below. Gifts processed in this system are not tax deductible, but are predominately used to help meet the local financial requirements needed to receive national matching-grant funds.
Subscribe to the Coronavirus newsletter
Get the day's latest Coronavirus news delivered to your inbox by subscribing to our newsletter.
---