Luke Falk throws six touchdown passes as Washington State stays unbeaten with 52-23 win over Oregon State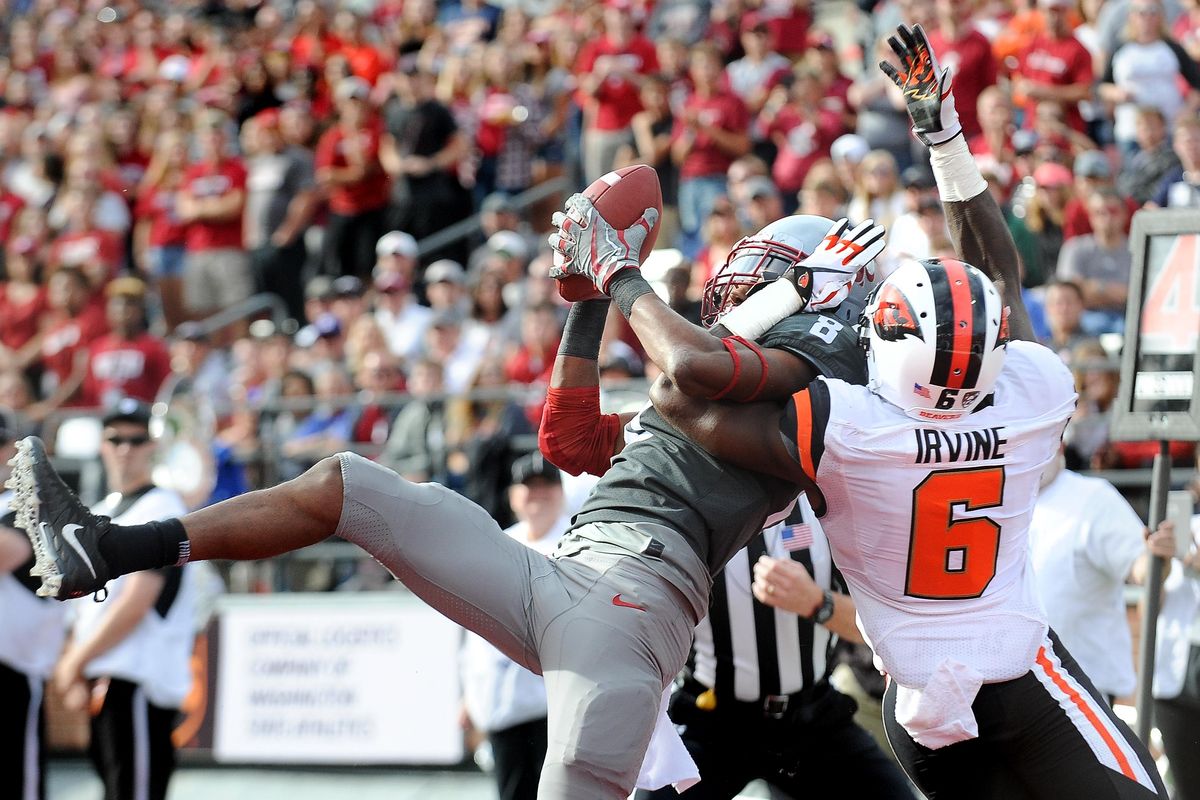 PULLMAN – Time and time again, Luke Falk has made the Oregon State Beavers pay simply because once a year they've decided it was a swell idea to share the same field on the same day as the Washington State quarterback.
The Beavers have stomached a few of Falk's best days as a college football player, so with OSU on the Palouse for Saturday's Pac-12 opener, the Cougars signal-caller was on schedule for another hallmark day behind center.
Falk posted eye-popping numbers, passing for 396 yards while matching a school record with six touchdowns in a 52-23 shellacking of the Beavers at Martin Stadium. The Cougars, ranked No. 21 nationally, stayed unbeaten this season (3-0, 1-0) as their quarterback mercilessly wrapped up his four-year run against OSU.
The Beavers never did beat Falk, making him the only QB in WSU history to win four games against a single school. And the OSU defensive backs might shiver when they hear Falk's career numbers against the Beavers.
He finishes 153-of-206 passing with a completion rate higher than 74 percent. He finishes with 1,689 yards. He finishes with 22 touchdowns. In 16 quarters against the Beavers, WSU's fourth-year starter was only intercepted twice.
Saturday was a dim day for the visitors from Corvallis, but at least Falk is finally out of their hair.
"My hat goes off to the throws that were there, and the contested balls that were caught," OSU coach Gary Andersen said. "It was as impressive as I've been around."
It was a bounce-back game for Falk, who was out of character in last week's triple-overtime win over Boise State. He finished with 193 yards and no touchdowns in that game and had one interception.
Through two games, the downfield passing game was something of a lost art. Saturday, it was easily the Cougars' best asset.
Tavares Martin Jr. reeled in 10 passes for a career-best 194 yards and three touchdowns. Isaiah Johnson-Mack, the outside target opposite Martin Jr., hauled in nine balls for 79 yards and two more touchdowns. Inside receiver Kyle Sweet made three catches for 32 yards and was on the end of Falk's sixth touchdown.
"They've been having a good camp, been having good practices and it's just good to see it in a game today," Falk said. "And that's their potential right there, they can play that good every week."
A seventh TD would've given Falk the school record. That information wasn't relayed on to WSU coach Mike Leach, who replaced Falk with backup Tyler Hilinski midway through the fourth quarter.
"Nobody bothered to tell me that, so I had no idea," WSU coach Mike Leach said. "I probably would've let him get it. Maybe would've put him in there. … Probably would've, didn't know he was one shy."
Falk opened the game completing seven of his first nine passes and lofted a rainbow to Martin Jr., who made a basket catch in the end zone, giving the Cougars a 7-0 lead with the 21-yard score.
Oregon State marched 31 yards on the next drive, but elected to punt after the drive stalled on the WSU 36-yard line. Nick Porebski left the Cougars one yard shy of their own goal line and the Beavers put two points on the board on the next play when Jamal Morrow couldn't break free from the end zone on a dump-off pass to Falk.
The Cougars didn't call their first designed run until there was 10:40 left in the second quarter, but a 27-yard gain from James Williams set Falk up for his second touchdown pass – a 20-yard end-zone fade to Johnson-Mack, who came down with the ball despite airtight coverage from Xavier Crawford.
Johnson-Mack shedded Crawford, the OSU corner who'd been ruled out earlier in the week, for a 2-yard touchdown later in the period and finished the game with career highs in catches, TD catches and receiving yards.
Only a few times did WSU's outside targets, both Belle Glade, Florida, natives who attended Dwyer High School, come out on the wrong end of a one-on-one battle.
"I think (Luke) always trusts us," Johnson-Mack said. "We were just in a lull as an offense, it wasn't just solely on Luke the past two weeks. It was on us, too, so we just all came together this week."
OSU cut it to 14-9 on a 7-yard scoring from Ryan Nall in the second quarter, but the scoring strikes to Martin Jr. and Johnson-Mack extended WSU's lead to 28-9 at halftime.
Nall's physical running meant more trouble for the Cougars in the second half. The Beavers' junior pinballed through WSU's front seven on a play in the third quarter and broke two tackles once he got to the second level to finish off a 45-yard touchdown run.
He finished with 15 carries for 118 yards and two touchdowns and ran up his two-year total against the Cougars up to 249 yards and four touchdowns.
But Falk fired to Martin Jr. on a slant during the next drive and once the junior broke through a gaping hole in the OSU secondary, there was nothing the Beavers could do to stop him from going 57 yards into the end zone unimpeded.
"He's dynamic," Falk said of Martin Jr. "He's not a small guy by any means and he's got his good hands and he can make people miss, so he's just a real dynamic dude out there."
WSU scored its third defensive touchdown in two games when cornerback Marcellus Pippins flew around the edge on a designed blitz to hit OSU QB Jake Luton on his blindside. The ball popped out and Cougar linebacker took it 40 yards the other way for a scoop-and-score touchdown that made it 49-16, giving the Cougars their largest lead 10 seconds into the fourth quarter.
Luton later took a violent shot to the head from Cougars safety Jalen Thompson, who rammed his shoulder into Luton's helmet as the QB was trying to evade the pocket. Luton didn't move for nearly 15 minutes and family members rushed onto the field before the Beavers starter was carted off the field on a stretcher.
"I've kind of been in a similar situation and you never want to see somebody in that," Falk said.
Reports indicate that Luton, the former Idaho QB, was moving all extremities when he arrived at the hospital.
Senior linebacker Peyton Pelluer, the Pac-12's reigning Defensive Player of the Week, left the field early in the second quarter with an apparent injury. He didn't return to the game and was replaced by Nate DeRider.
"Doing a fantastic job and thought he had a pretty good game this game," Leach said of Pelluer, whose status remains unclear.
DeRider had a respectable game in Pelluer's place with five tackles and one tackle-for-loss.
---