Sports > High school sports
Late fumble return for touchdown helps Gonzaga Prep hold off Mt. Spokane
Sept. 22, 2017 Updated Fri., Sept. 22, 2017 at 11:19 p.m.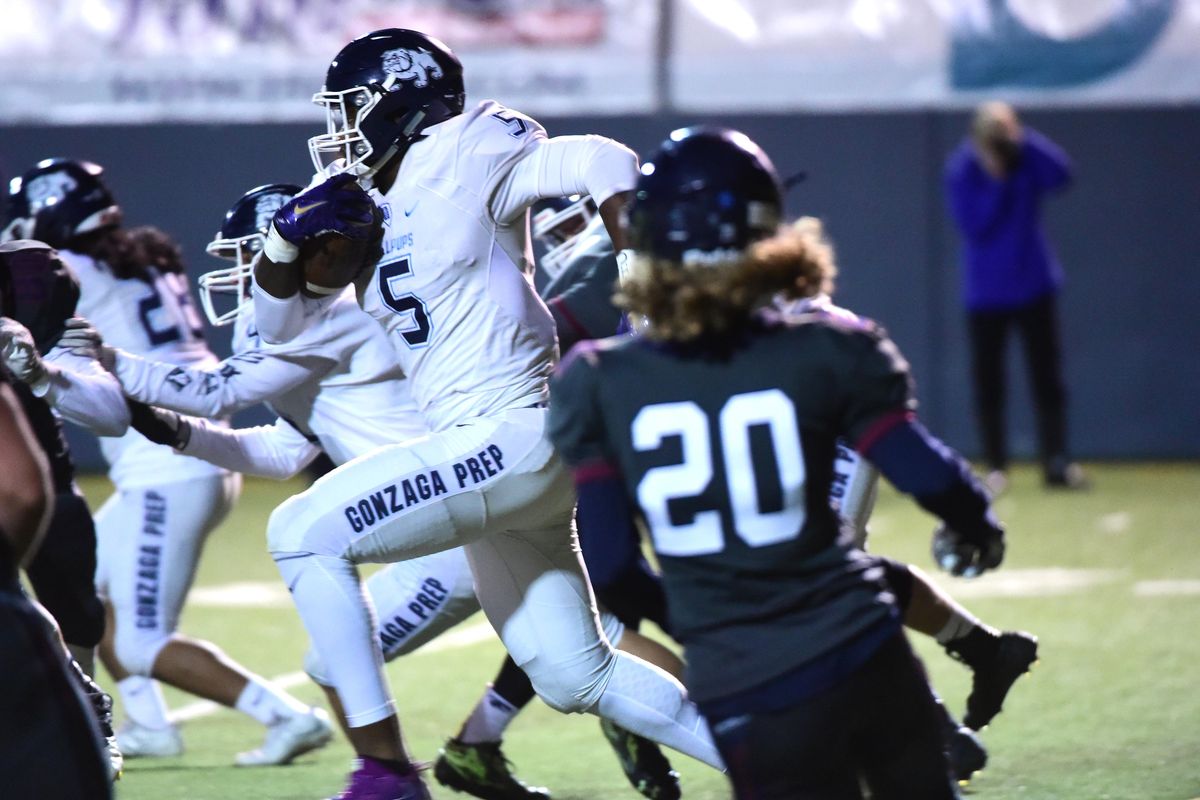 Devin Culp, at 6'5" and 250 pounds, carries a kickoff 95 yards back for a touchdown Friday, Sept. 2017 for the Gonzaga Prep Bullpups at Albi Stadium against the Mt. Spokane Wildcats. (Jesse Tinsley / The Spokesman-Review)
Mt. Spokane was in the red zone, threatening to cut into Gonzaga Prep's one-touchdown lead.
Then Bullpups' nose tackle Max Feldmeier stripped backup quarterback Quinten Ayers and the ball bounced into teammate Hunter McKenna's hands.
McKenna found an extra gear and sped 70 yards for a clinching touchdown. Matching him almost stride for stride on the sideline was his father and head coach Dave McKenna.
Hunter McKenna had one of two key blocked punts in the second half as the Bullpups held off Mt. Spokane 42-28 in a Greater Spokane League crossover matchup on Friday at Albi Stadium that was nothing short of entertaining throughout.
When the Bullpups (3-1) needed big plays in the second half, they got them. Otherwise, the Wildcats (3-1) matched them and actually finished with nearly 100 more yards total offense.
"You come out here and work so hard, but it's a gift to play the game," Dave McKenna said. "It's a gift to be able to coach your son. When he scooped and scored – that's a great gift."
McKenna couldn't praise the Wildcats enough.
"That's a great football team," McKenna said. "They're so well coached and they're tough."
The first half was worth admission.
Mt. Spokane drove 74 yards on 10 plays before Jagger Jacobi scored from 1 yard out for the game's first touchdown.
G-Prep's Devin Culp took the ensuing kickoff and dashed 98 yards to tie the score.
Michael Pablo set up the Bullpups' next touchdown with an interception. Kasey Anthony scored on a 49-yard sprint up the middle for a 14-7 lead.
Mt. Spokane answered. Jacob Adams evened things at 14-all on a 5-yard fly run.
The Wildcats' defense forced G-Prep to punt moments later.
Mt. Spokane took a 21-14 lead when, after taking over at G-Prep's 41-yard line, quarterback Brady Hill scored on a 1-yard sneak with 6:26 to go before halftime.
G-Prep answered, and it did so in a big way. Facing third-and-25 from Mt. Spokane's 31, quarterback Connor Halonen hit Sam Lockett in stride in the end zone for the tying score with 3:07 left in the second quarter.
Mt. Spokane moved to G-Prep's 20 but was called for offensive pass interference on a catch in the end zone. That pushed the Wildcats back. Kicker Cody McDonald's 42-yard attempt had plenty of distance but hit the right upright.
G-Prep still had thoughts of scoring with 59 seconds to go before half. The Bullpups got to Mt. Spokane's 30, but a pass into the end zone was incomplete to end the half.
The defenses showed up in the second half – especially for G-Prep.
Hunter McKenna and Jake Parola each blocked punts, setting up scoring possessions deep in Mt. Spokane territory.
McKenna's block allowed the Bullpups to take a 35-21 lead with 11:29 remaining.
Mt. Spokane wasn't through, though. The Wildcats pulled within 35-28 on the next series when Grayson Bowles powered in from 5 yards out with 5:51 to go.
The Wildcats' defense forced G-Prep to punt. A poor punt allowed Mt. Spokane to take over at the Bullpups' 31 with 2:46 to go.
Moments later, Feldmeier forced the fumble and McKenna sealed the win.
Local journalism is essential.
Give directly to The Spokesman-Review's Northwest Passages community forums series -- which helps to offset the costs of several reporter and editor positions at the newspaper -- by using the easy options below. Gifts processed in this system are not tax deductible, but are predominately used to help meet the local financial requirements needed to receive national matching-grant funds.
Subscribe to the sports newsletter
Get the day's top sports headlines and breaking news delivered to your inbox by subscribing here.
---