News > Spokane
Prayers, tears and remembrance as community remembers 'hero' Sam Strahan
Sept. 23, 2017 Updated Sat., Sept. 23, 2017 at 10:29 p.m.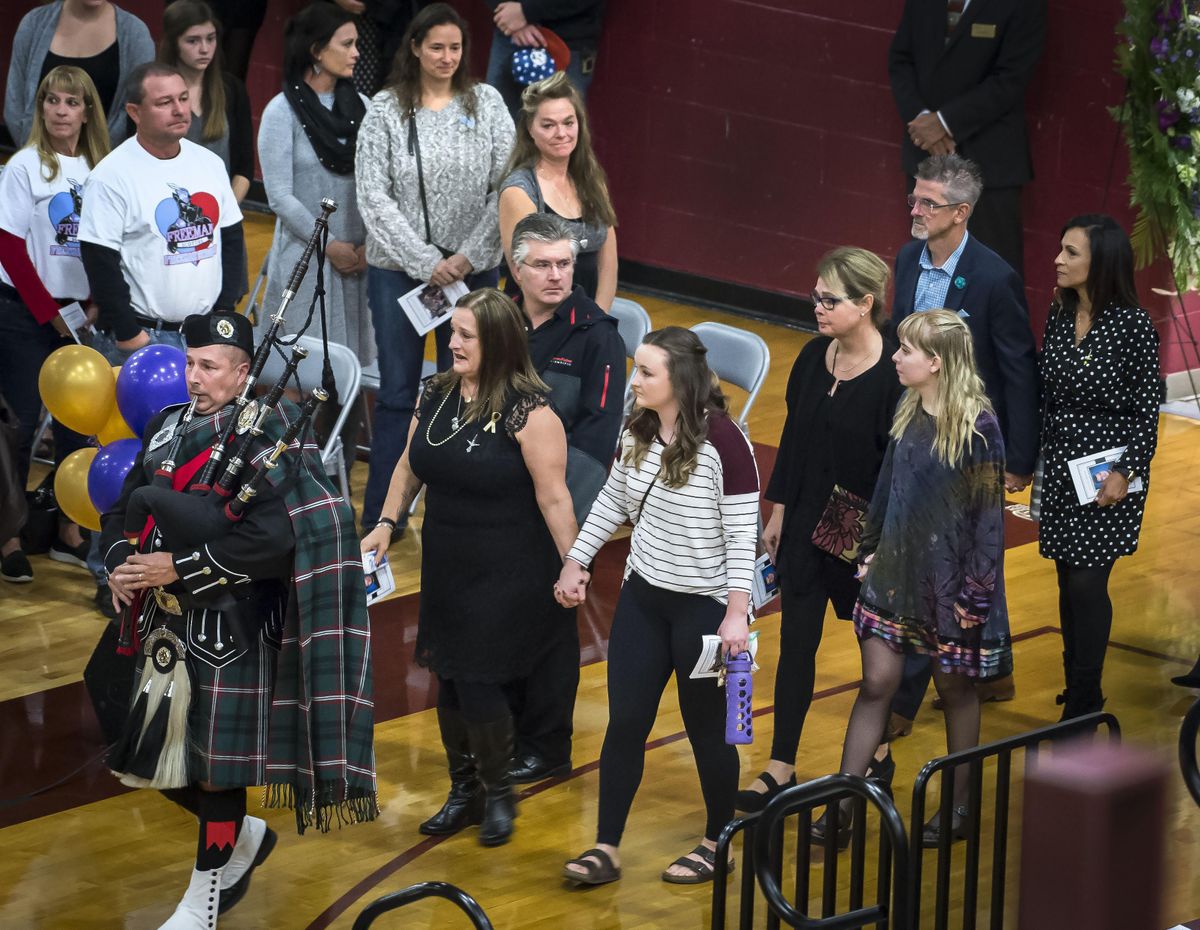 At the Saturday memorial for Freeman High School student Samuel Strahan, mother Ami and sister Emily enter the University High School gym. (Colin Mulvany / The Spokesman-Review)
Sam Strahan was like any other teenager, really. He loved video games, was a whiz at the Rubik's Cube, had a pet cat named Bella and started calling himself the family chef after he took cooking classes.
But many are now calling Strahan a hero after he stepped forward in what appeared to be an attempt to stop a classmate from shooting other students inside Freeman High School. Instead, Strahan himself was shot and killed. Caleb Sharpe is the alleged shooter.
His mother, Ami Strahan, said during a memorial service Saturday at University High School that she knows people are calling her son a hero. Still, she said, she can't wrap her mind around it. "I don't think that has even crossed my mind," she said. "Sam didn't turn away, though. He didn't. I don't think I or anyone else will ever know why."
She said she was approached by a student recently who told her he wouldn't be alive today if Sam hadn't stepped forward.
People wrote messages on slips of paper and hung them on a memory tree at the entry of the school. Among the messages of love and condolences, some stood out. "You will never be forgotten," read one. "You are a true hero."
Another message, written by a parent, said, "Sam, you will always be remembered for your kind (heart) and courage. Thank you for protecting my kids."
Hundreds of people packed into the gymnasium for the memorial service. Many first responders, including deputies from the Spokane County Sheriff's Office and firefighters from Spokane County Fire District 8, were also there. District 8 medics were the first on the scene and also have a connection to the Strahan family – Sam's father Scott, who died in a tragic accident on Father's Day, was a volunteer with the department.
Among the activities Sam Strahan enjoyed was volunteering with Calvary Baptist Church's soup kitchen. Program manager Peggie Troutt said Sam's smile transformed the event.
"Sam was always very, very respectful to us and to our honored guests," she said. "Our lives and the soup kitchen have never been the same since."
Assistant manager Betty Dumas said Sam never used any of her many nicknames. He called her Betty, even though as a teacher for decades she had never allowed students to call her by her first name. But Sam could.
"I want to thank you for letting us have Sam because we love Sam," Dumas said.
Ami Strahan said she was in awe of the number of people who came to the service and by the tremendous support the community has shown her family. She told Sam's life story, beginning from the time before he was born when she was certain he was a boy. "I think it's important that people know my son from my perspective," she said.
She spoke of Sam's Chewbacca onesie that he wore as a toddler, how they spent time together when his older sister Emily went off to preschool. She talked about his social awkwardness that was eventually explained by a diagnosis of Asperger's syndrome in the third grade.
Her son was often misunderstood because of how he responded to social situations, she said. "He didn't get it," she said.
But he thrived at Freeman despite his diagnosis. "God, he loved that school," she said. "He never said a bad word about it."
After her husband's death, the family considered moving, she said. But Sam made it clear that he would not consider leaving Freeman.
During her story, Ami's voice sometimes took on a tone of loving exasperation that parents know so well. But as she talked about her last morning with her son, her voice broke repeatedly. In the audience, too, tears began to flow.
They had argued the night before about typical teenage stuff, she said, but she worried she wasn't being a good enough parent, the kind of parent that Sam needed. The next day when Sam came downstairs ready for school, she hugged him and told him she loved him "with every ounce of my being" and was just trying to be the best mother she could. Sam hugged her back and said he understood.
"That was the last time I saw him," she said.
She urged everyone in the crowd to love and cherish each other every day.
"There is no disagreement big enough to compromise our love for each other," she said. "Be good humans. Be good humans."
Local journalism is essential.
Give directly to The Spokesman-Review's Northwest Passages community forums series -- which helps to offset the costs of several reporter and editor positions at the newspaper -- by using the easy options below. Gifts processed in this system are not tax deductible, but are predominately used to help meet the local financial requirements needed to receive national matching-grant funds.
Subscribe now to get breaking news alerts in your email inbox
Get breaking news delivered to your inbox as it happens.
---