News > Spokane
Q&A with graphic designer Cam Booth
Mon., Sept. 25, 2017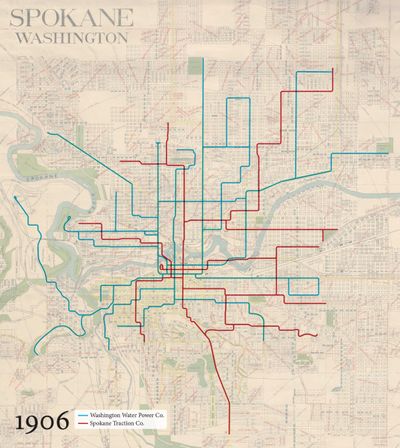 Getting There: What led to you creating the maps of Spokane's transit past? Is there something in particular about Spokane's old maps that gripped you, or something here that you haven't seen elsewhere?
Cam Booth: I'd already made similar maps of electric rail transit in my home town of Portland, Oregon in 1920 – the heyday of streetcars in that city – so when I discovered that Spokane also once had a similarly extensive network in the same time period, I was very intrigued. At first, remote Spokane seemed like an unlikely place to have both a dense streetcar network and electric interurbans reaching as far away as Colfax and Moscow, Idaho, but then I realized that cheap electricity from the falls was what made it all possible.
What really caught my attention was that you can still actually see the exact route of those interurban trains to the Palouse if you view satellite imagery in Google Maps… so I started to trace them and came up with this map.
I used a variety of extra sources to flesh out the details: contemporaneous maps of Whitman and Spokane counties, lists of station names with mile markers, a blueprint of Liberty Lake that showed the exact alignment of the streetcar loop by the lakeshore, a description for a photo of the depot at Medical Lake that described the routing through town in perfect detail… and more. It really is amazing the information that you can find online if you look hard enough! As with my similar map of Portland, it was a matter of compiling a whole bunch of disparate sources into one place to create a definitive resource for future work.
Of course, once I'd finished with the interurbans, I turned my attention to the streetcar network to complete the picture. Untangling this network was a much tougher proposition, and the maps that you've seen – showing the system in incremental stages from 1906 through to 1929 – are really just working files to help me decipher things. I found good maps of the city showing the overall network for 1906, 1922 and 1929, but I had to piece together the 1912 map from different pages of a county atlas that I found online. However, it all really came together when I found a 1908 map of downtown that clearly showed which company ran along which streets. Finally, I could definitively say that the Spokane Traction Company cars used Main, while the Washington Water Power cars used Front and Riverside, which helped a lot with determining who owned which routes. The 1929 map was easier, as by then both companies had merged to form Spokane United Railways.
Eventually, I'd like to actually work out the exact routes that ran through the city, but that's going to take more research. I have a book on the history of Spokane's streetcars coming my way in the next few days, so hopefully that will answer some questions!
Your most recognizable map is probably the "Interstates as Subways." It combines two really different modes of transportation in a really engaging way. How'd you come up with that?
It's really a "what if" proposition – taking one type of transportation network and depicting it using the familiar symbology of another: in this case, highways as a transit/subway/tube map. I find that this format focuses on connection points, rather than population size or the regional importance of a city, and I think that's an interesting way of looking at a highway network – what cities do I pass through (stations) and where do I switch to another highway (interchange) if I'm going from here to there? It's also a bit of a commentary on America's love of the automobile, if you want to read it that way (and plenty of people have). It also looks pretty awesome… I'm still really happy with this diagram some six years after I designed it, and I can't say that about everything I've made!
Recently you started sharing vintage maps that seem like they'd only be to interest to certain people, perhaps in a particular region. I'm thinking of the 1905 map of the Columbia River Gorge, the 1880 Street Railways of Washington, D.C., the Chevalier map of San Francisco. What is it about old maps that intrigues you?
What I'm really looking for in the old transportation maps that I digitally restore is a combination of aesthetics and history. If the map looks great and tells a story about the transportation networks of the past, then I'm sold. They're like a snapshot in time, showing how people got around before the automobile became so dominant. I do have a particular weakness for maps that feature the Pacific Northwest, as it's my adopted home after moving to the States from Australia over ten years ago.
What's your favorite map ever? What's your favorite map that you created?
In terms of transit mapping, it's hard to not acknowledge H.C. Beck's work with the London Underground Tube Diagram, without which the modern transit map might not exist as we know it. It was pretty revolutionary at the time – predating Massimo Vignelli's New York subway diagram by some forty years. I also have an incredible soft spot for this isometric diagram of Stuttgart's U- and S-Bahn network from c. 2000. The illusion of dimensional space is quite convincing.
As far as vintage transit maps go, this 1898 map of Chicago that shows the then newly-built "L" Loop is pretty darn gorgeous.
As for maps I've made, that's really hard. I have a soft spot for them all! If I had to choose, I'd probably say that it would be my Highways of the USA project – a massive map that shows EVERY Interstate and U.S. Numbered Highway in the contiguous United States in a simplified "subway map" style, with over 4,300 place names. I still try to keep it updated twice a year as new highways open or get rerouted.
My Amtrak Passenger Rail Network as Subway Map comes a very close second.
Lastly, are you planning on combining Spokane's interurban map with the streetcar map? And will it be for sale?!
So long as I can work out the actual routes of the streetcar lines c. 1920, then combining the two maps is definitely the plan. Prints will be dependent on getting that information!
Local journalism is essential.
Give directly to The Spokesman-Review's Northwest Passages community forums series -- which helps to offset the costs of several reporter and editor positions at the newspaper -- by using the easy options below. Gifts processed in this system are not tax deductible, but are predominately used to help meet the local financial requirements needed to receive national matching-grant funds.
Subscribe now to get breaking news alerts in your email inbox
Get breaking news delivered to your inbox as it happens.
---