News > Spokane
Getting There: Washington's loneliest road – from Dusty to Dodge – was one of the state's first highways
Mon., April 2, 2018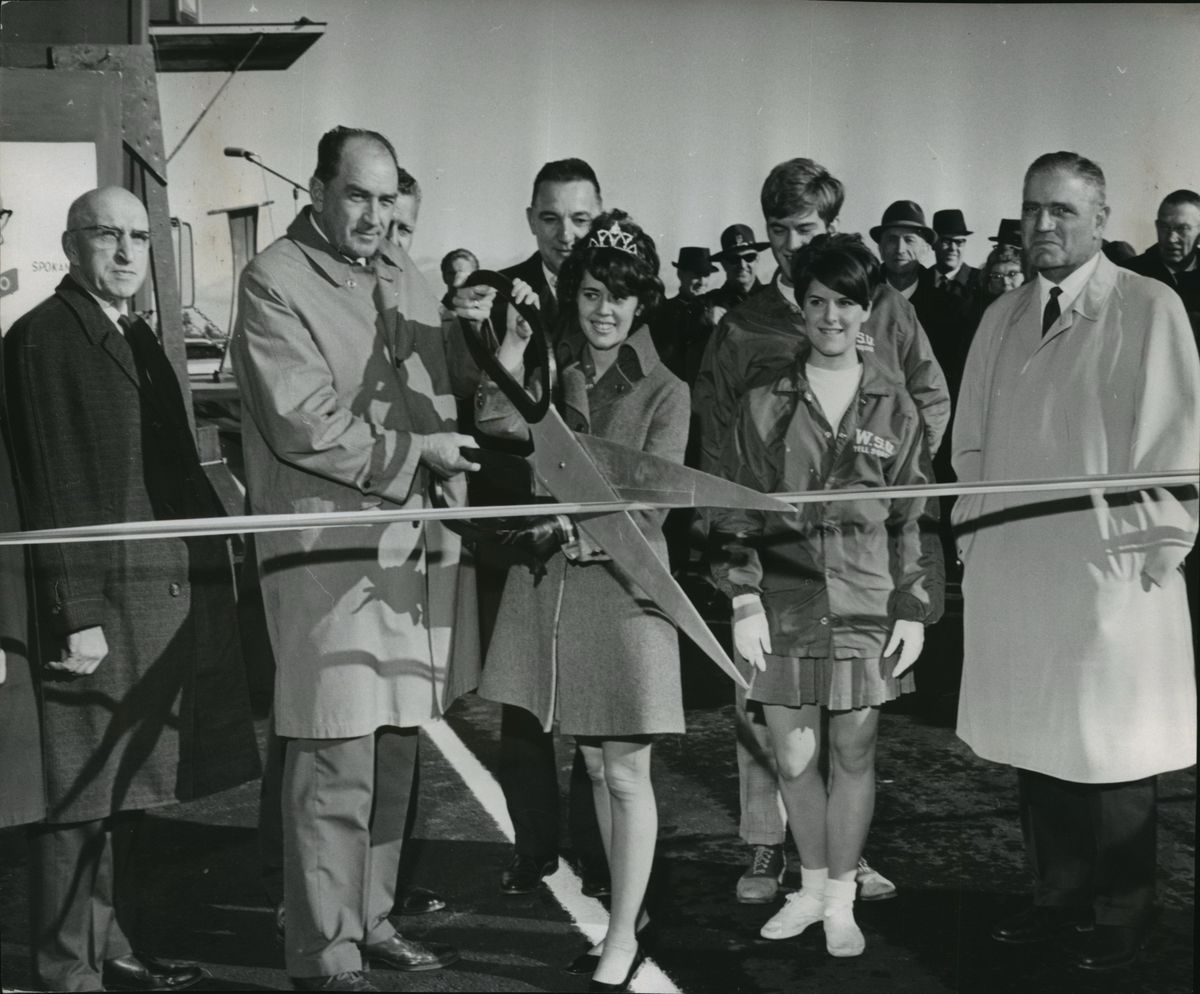 Participating in a ribbon-cutting ceremony in 1968 are, from left, State Sen. Elmer C. Huntley, Charles G. Prahl, state highway director; Miss Washington Highways, Jeannine Gill; WSU cheerleaders Bruce Buskirk, Priss O'Banion; and Carl Carbon, Spokane contractor. (Spokesman-Review archives)
To get to Dusty, go north from Dodge, and take the loneliest, quietest stretch of road in Washington.
On state Highway 127, between those two Palouse towns – if you can call them that – a handful of silos punctuate a whole lot of rolling wheat fields. That's about it. A car may show itself on the 27 miles of pavement, but the odds are low.
Lower than any other road in the state, because science.
Geotab, a Canadian company specializing in fleet management and vehicle tracking using satellite mapping tools, says as much. The company identified the least trafficked roads in each state, and 127 is Washington's.
To find these routes, it used 2015 traffic counts gathered by the federal Highway Performance Monitoring System, the latest available data. Interstates, U.S. routes and state routes longer than 10 miles with the lowest average daily traffic were deemed the quietest.
Thus the spit of road we call 127.
Sure, sometimes you just want to drive and not see a soul. Roll the windows down, turn the radio up and just go.
You can do that on 127, and people have been doing it for a long time.
Before it had a numeral affixed to it, 127 was part of the Inland Empire Highway, a wandering, circuitous highway that wiggled through central and Eastern Washington. As one of the original state highways in the state, authorized and named in 1913, the road connected Virden, near Cle Elum, to Laurier, way up north on the Canadian border in Ferry County. Very indirectly, on its way from here to there, the highway went through Ellensburg, Yakima, Pasco, Walla Walla and Colville.
It also passed through Spokane, and still does. Head to downtown from Vinegar Flats on South Inland Empire Way, you're on it. Go up the South Hill on Seventh Avenue from the west and you're on it.
For its first couple of decades, the loosely termed "highway" was largely graveled. In 1931, an official state map of the highway shows half of the highway was "oil macadam," something of a bridge between pavement and gravel.
In 1924, the Central Ferry Bridge opened crossing the Snake River between Dodge and Dusty. It was replaced in 1968 with the Elmer Huntley Bridge, which still stands and is easily the most exciting part of that quiet road.
Huntley was a Republican legislator from Whitman County, who was born not far from the bridge and served in both the House and Senate. Not coincidentally to his namesake bridge, Huntley also served as chair of the state Highway Commission in 1966 and 1967, during the heady days of freeway building in America.
The same year the bridge opened Huntley was in Spokane, tempering the anger of East Central neighborhood residents who lamented the loss of Liberty Park after the state transportation department blazed Interstate 90 through it.
The department paid the city $630,000 for a 15-acre swath through the park, for the new freeway that would open in the early '70s.
"It is our intention to leave the city with as good a park facility as what we interrupted," Huntley said at the time. Grant Park in the South Perry District was expanded, as was what remained of Liberty, to the east.
Surely, 127 never interrupted a park, or probably even a conversation. It's that quiet. But quiet doesn't mean boring, and if you look hard enough at any road, even 127, there's plenty to see.
North Spokane freeway
Work to build the North Spokane Corridor starts again this week for the construction season with crews building two mainline freeway bridges over Freya Street.
Traffic won't be diverted for the work, but motorists should be alert for occasional traffic control.
North Monroe project starts
The work to renovate Monroe Street begins this week, with closures from Montgomery to Chelan avenues and Euclid to Kiernan avenues.
Motorists used to traveling on the street will be rerouted to Post Street during the $8.75 million construction project, which will take place in two phases with two separate contractors to speed the work. Just over 1 mile of Monroe, between Northwest Boulevard and the base of the North Hill, is being rebuilt.
The city anticipates the work will be done this fall.
In the Valley
Utility work on Sprague Avenue between Vista and Argonne roads continues to restrict lanes and is expected through April.
Work on the Appleway Trail from Sullivan to Corbin roads will lead to possible lane closures in both directions on Conklin Road. Other possible closures include Steen, Flora and Tschirley roads between Sprague and Third avenues.
Mileage tax pilot begins
A pilot project to tax motorists by miles driven, rather than through fuel purchases, has begun.
The Washington State Transportation Commission has enrolled 2,000 participants who closely match the populations of the different regions of the state. About 60 percent of participants are from the central Puget Sound area, and 13 percent from Eastern Washington. The participant pool also tried to reflect the demographic diversity of the state, including vehicle type and self-identified race, income, age and gender information.
Almost 5,000 drivers showed interest in participating. During enrollment, people were offered five ways to report miles during the yearlong pilot project. Nearly 30 percent opted for odometer readings, and they'll submit quarterly or monthly photos of their odometer using a mobile device or in person at vehicle licensing offices. About 34 percent chose to use a GPS tracker, which will automatically report mileage and deduct miles driven on private roads or out of state. The rest chose other ways to track miles without GPS tracking.
Local journalism is essential.
Give directly to The Spokesman-Review's Northwest Passages community forums series -- which helps to offset the costs of several reporter and editor positions at the newspaper -- by using the easy options below. Gifts processed in this system are not tax deductible, but are predominately used to help meet the local financial requirements needed to receive national matching-grant funds.
Subscribe now to get breaking news alerts in your email inbox
Get breaking news delivered to your inbox as it happens.
---