News > Nation
GOP legislative leaders call on Missouri governor to resign
April 17, 2018 Updated Tue., April 17, 2018 at 7:22 p.m.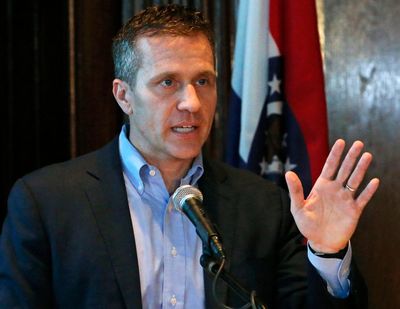 JEFFERSON CITY, Mo. – Missouri's top Republican legislative leaders abandoned fellow GOP Gov. Eric Greitens on Tuesday, calling on him to resign instead of continuing to fight allegations that he illegally took advantage of both a charity he founded and a woman with whom he had an affair.
Greitens quickly replied that he won't quit and hopes to be vindicated at an upcoming criminal trial. Legislators could seek to force him from office regardless through impeachment proceedings.
Greitens already is facing a May 14 trial in St. Louis on a felony invasion-of-privacy charge related to an extramarital affair that occurred as he was preparing to run for governor in 2015. Earlier Tuesday, Republican Attorney General Josh Hawley suggested the St. Louis prosecutor could bring another felony charge against Greitens for allegedly taking the donor list from a veterans' charity he founded and using it to raise money for his gubernatorial campaign.
Legislative leaders said the potential of a second felony charge was too much for the state to bear.
"When leaders lose the ability to effectively lead our state, the right thing to do is step aside. In our view, the time has come for the governor to resign," House Speaker Todd Richardson said in a joint statement with House Speaker Pro Tem Elijah Haahr and House Majority Floor Leader Rob Vescovo.
Greitens said he plans to remain in office as his trial date approaches on the invasion of privacy charge.
"I will not be resigning the governor's office," he said. "In three weeks, this matter will go to a court of law, where it belongs and where the facts will prove my innocence. Until then, I will do what the people of Missouri sent me here to do: to serve them and work hard on their behalf."
If Greitens doesn't quit, Senate President Pro Tem Ron Richard said the House should immediately begin impeachment proceedings to try to remove him from office. Republican leaders had previously said they would wait until after the May 18 end of the legislative session to decide on impeachment.
"We are past the point of concerning and alarming. Since his time in office, the governor has caused tension, conflict and hostility. The weight of his actions are being felt throughout the state," Richard said.
The invasion-of-privacy charge in St. Louis alleges Greitens took and transmitted a nonconsensual photo of a partially nude woman with whom he had an affair in 2015. A separate House investigatory panel released a report last week that contained testimony from the woman alleging that Greitens restrained, slapped, grabbed, shoved and threatened her during a series of sexual encounters that at times left her crying and afraid.
The Associated Press first reported in October 2016 that Greitens' campaign obtained a list of top donors to The Mission Continues, based in St. Louis, and raised nearly $2 million from donors who were on it.
On Tuesday, Hawley said an investigation by his office shows that Greitens took computer data listing the top donors without the charity's consent and used it for political fundraising. Hawley said he referred the matter to St. Louis Circuit Attorney Kim Gardner, who has jurisdiction to decide whether to charge Greitens with a crime. He also referred his findings to the special House investigatory committee that is considering whether to recommend impeachment proceedings.
"We believe that the evidence we have will support a finding of probable cause that the governor obtained the list, used the list (and) transmitted the list without the permission of The Mission Continues and he did so for political fundraising purposes," Hawley said at a news conference.
Greitens issued a rebuttal statement questioning the legal skills of Hawley and lambasting him for working with Gardner, a Democrat. Greitens and Hawley both won election in 2016 as maverick political outsiders. Hawley now is challenging Democratic U.S. Sen. Claire McCaskill and has faced an onslaught of Democratic ads trying to link him to Greitens.
"Anyone who has set foot in a Missouri courtroom knows these allegations are ridiculous," Greitens said. He added: "We will dispense with these false allegations."
A spokeswoman for Gardner said St. Louis prosecutors met with officials from the attorney general's office Monday and are "reviewing the evidence" related to The Mission Continues donor list.
Greitens initially denied to the AP in 2016 that he had used the donor list for his campaign. But in April 2017, he agreed to pay a small fine to the Missouri Ethics Commission for failing to report that his gubernatorial campaign had, in fact, received the charity's donor list. Greitens' campaign filed amended finance reports referring to the list as an in-kind contribution valued at $600 and received March 1, 2015, from Danny Laub, who was listed as Greitens' campaign manager at the time.
Hawley indicated that the legal deadline is fast approaching to charge Greitens with a crime of tampering with computer data. He said Greitens could be charged with a felony because the donor list produced a gain to Greitens' campaign of more than $500.
McCaskill campaign spokeswoman Meira Bernstein in a statement criticized Hawley for not acting sooner against Greitens and said the timing shows "gross incompetence on the part of the attorney general."
Hawley denied that his Senate candidacy influenced his handling of the case. His spokeswoman Mary Compton said in a statement that Hawley became involved after the St. Louis Post-Dispatch reported in February 2018 that it had obtained a copy of an email indicating that a Greitens employee who previously worked at The Mission Continues had shared the donor list with Laub and Michael Hafner, who had been working for Greitens' gubernatorial exploratory committee, in January 2015. She said that while the attorney general's office doesn't have criminal jurisdiction, it does have authority to investigate charitable activities.
Local journalism is essential.
Give directly to The Spokesman-Review's Northwest Passages community forums series -- which helps to offset the costs of several reporter and editor positions at the newspaper -- by using the easy options below. Gifts processed in this system are not tax deductible, but are predominately used to help meet the local financial requirements needed to receive national matching-grant funds.
Subscribe now to get breaking news alerts in your email inbox
Get breaking news delivered to your inbox as it happens.
---