News > Nation
Suspect in deputy's killing held in maximum-security prison
Sun., April 29, 2018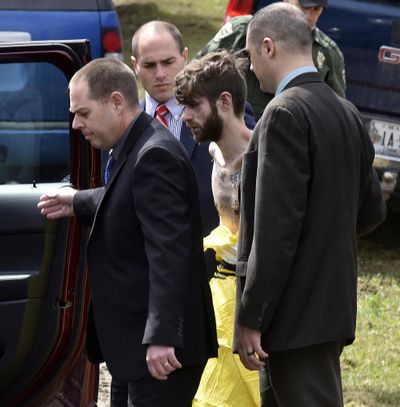 NORRIDGEWOCK, Maine – A man accused of killing a sheriff's deputy was held in the state's maximum-security prison on Sunday pending his initial court appearance.
John Williams was transferred to the Maine State Prison in Warren after his arrest on Saturday, the fourth day of a massive manhunt in the central part of the state.
Williams, who's expected in court on Monday or Tuesday, is accused of killing Somerset County Cpl. Eugene Cole, 61, early Wednesday after the two had an encounter on a darkened road in Norridgewock.
Helicopters, tactical vehicles and rifle-toting law enforcement officers poured into the region, putting residents on edge, but that gave way to relief when Williams was taken into custody outside a remote cabin.
Shirtless and shoeless when captured, Williams, 29, appeared to be exhausted when he was led out of the woods.
Cole's brother, Tom Cole, said that people were honking their car horns as they drove by his house on Saturday.
"The whole town was celebrating with me," he told WMTW-TV.
During the manhunt, area residents were discouraged from holding any sort of public memorial because law enforcement didn't want any mass gatherings.
Tom Cole said the grieving for his brother can start now that Williams is in custody. Eugene Cole's funeral will be May 7 at the Cross Insurance Center in Bangor.
Williams couldn't be reached for comment while in custody, and it was unknown if he had a lawyer who could comment for him. A lawyer likely will be appointed for him at his initial court appearance.
Williams' family members also couldn't be reached for comment.
Local journalism is essential.
Give directly to The Spokesman-Review's Northwest Passages community forums series -- which helps to offset the costs of several reporter and editor positions at the newspaper -- by using the easy options below. Gifts processed in this system are not tax deductible, but are predominately used to help meet the local financial requirements needed to receive national matching-grant funds.
Subscribe to the Coronavirus newsletter
Get the day's latest Coronavirus news delivered to your inbox by subscribing to our newsletter.
---