Republicans distance themselves from Allsup; Knezovich says he warned the party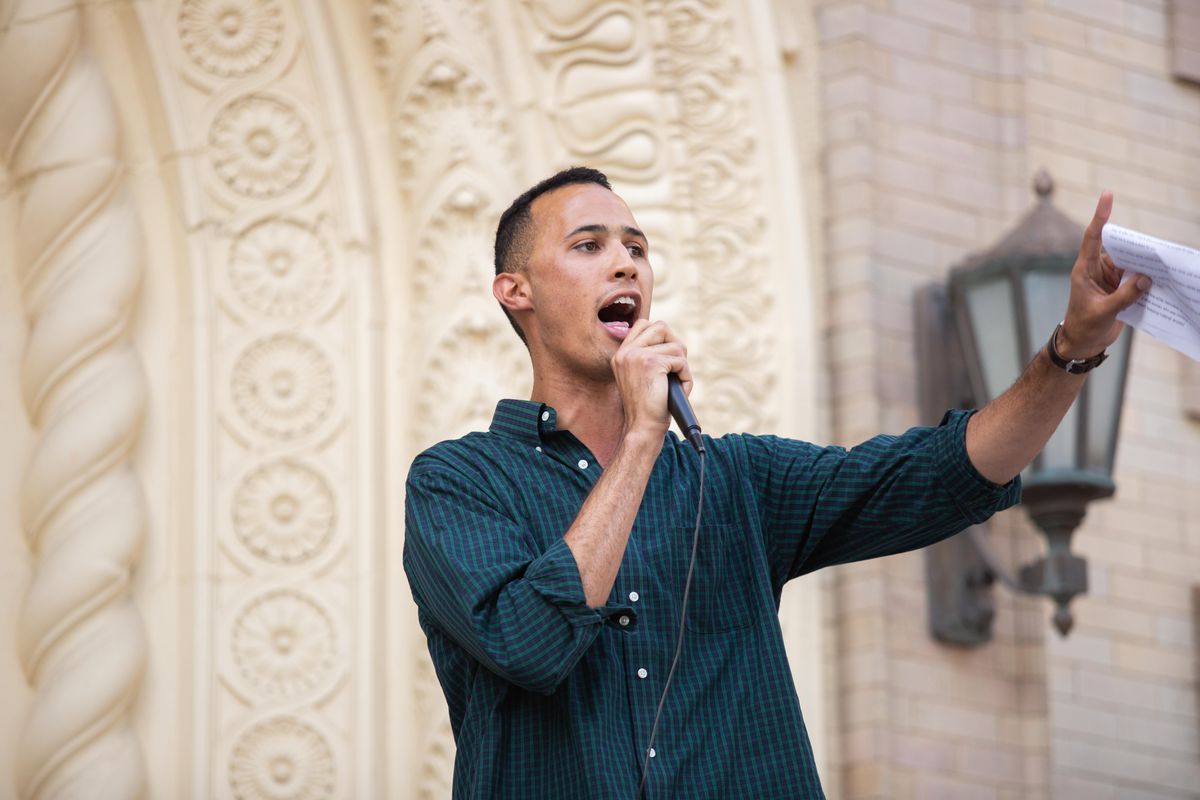 Republican leaders continued to distance themselves from white nationalist James Allsup on Thursday, saying the Spokane County GOP chairwoman made an error in judgment when she introduced Allsup during a meeting of local conservatives last month.
"James Allsup is not wanted in the Republican Party," state Sen. Michael Baumgartner said during a morning news conference outside the county courthouse. "And our party is not going to be defined by an immature, attention-seeking 22-year-old who is exploiting the openness of the Republican Party in the state of Washington."
Sheriff Ozzie Knezovich, meanwhile, said he had been sounding the alarm about Allsup for weeks, telling fellow conservatives it would be "a bad, bad idea" to give him a platform to speak. Knezovich also said that party officials knew about Allsup's appearance after it happened on July 11 and before it made headlines on Tuesday.
"It was fairly common knowledge that (Allsup) had been there," Knezovich said.
Cecily Wright was elected chairwoman of the Spokane County GOP in April, and the party announced her resignation on Wednesday evening. On Tuesday, Wright had come under fire after a video surfaced showing her defending Allsup at a Northwest Grassroots meeting.
Northwest Grassroots is not formally affiliated with the Republican party, though its meetings attract a significant number of locally elected conservatives, including Spokane County Treasurer Rob Chase, Spokane Valley Mayor Rod Higgins, state Rep. Matt Shea, Spokane Valley City Councilman Arne Woodard and former Spokane Valley Councilman Ed Pace.
Wright used to lead Northwest Grassroots, and now the job belongs to her husband, John Charleston, though Wright is the one who introduced Allsup at the July 11 meeting as a victim of "label lynching."
John Weaver was a guest speaker for Northwest Grassroots in 2015. The pastor from Georgia already was known for idolizing the Confederacy, defending slavery and preaching against interracial marriage.
"Northwest Grassroots is not a Republican group. It's a libertarian, John Birch group, and they don't like me very much," said Knezovich, who has long accused the group of fostering dangerous ideologies. He added, "Rob Chase and Matt Shea are basically the creators and controllers of this group."
While the rift in the Spokane County GOP has at times manifested as a war of words between Shea and Knezovich, the sheriff said it's more than that. The Northwest Grassroots crowd, he said, is like a "petri dish" for hate and extremism. He noted that Allsup is a member of Identity Evropa, a white supremacist group that seeks to gain political power by infiltrating old establishments like the GOP.
"How is it that these groups feel comfortable trying to infiltrate the Republican Party? Well, it's the same reason that antifa feels comfortable trying to infiltrate liberal groups and siding with the Democrats," Knezovich said, making a comparison that has been routinely disputed.
As for the GOP, he said, "There's no bringing the party together when one side refuses to acknowledge there's radical elements out there."
Knezovich said it was Brian Standow, a state committeeman for the Spokane County Republican Central Committee, who passed along the message that Allsup had been scheduled to speak. Asked if party officials other than Wright had been aware of the planned appearance, Standow initially shook his head. When a reporter relayed Knezovich's account, Standow indicated Allsup had been a topic of discussion at a party meeting in June.
"I didn't know who James Allsup was," Standow said.
On Thursday, Chase, who attended the Northwest Grassroots meeting, again said he didn't know much about Allsup and wasn't in a position to pass judgment.
"My parents always told me, before condemning somebody, you've got to know some things about them," said Chase, who is wrapping up his second term as treasurer and challenging Republican Mary Kuney for a seat on the Spokane County Commission.
Pace said he has attended Northwest Grassroots meetings on and off since his first Spokane Valley City Council run in 2013. "Most of the people there are Republicans, and my sense is most of the Republicans that are there are ones that lean on the so-called ultra-right, constitutionalist, liberty side," Pace said. "People like me, in other words."
Pace said that before the July 11 meeting he had "heard something about a guy that used to be the president of the young Republicans at WSU," but he didn't realize who it was until Allsup stood up to speak. What followed was arguably one of Allsup's more reserved speeches, though he did speak disparagingly of gay people, transgender people and detained immigrant children.
"I didn't pick up on any of that kind of language, or philosophy, or attitude, or whatever," Pace said. "I mean, there wasn't much content to what he said. It was a lot of gushing and gooing and enthusing. I mean, he's a 22-year-old kid."
At one point, Allsup praised President Donald Trump's former campaign manager, Corey Lewandowski, for saying "womp, womp" on live television to mock a 10-year-old girl with Down syndrome who had been taken away from her mother at the border in South Texas.
"I don't remember him saying that. That was an inappropriate comment no matter what," Pace said. "If I would have heard that kind of language at the Northwest Grassroots meeting, I would have pushed back right there and I would have responded to that."
"I applauded when he was done, but it was like how you applaud for anybody that speaks," Pace said. "That's what groups do."
Pace said he wholeheartedly rejects racism, white nationalism and the like, and he thinks most of his peers at Northwest Grassroots do too. But he acknowledged that the group may sometimes attract more extreme views.
"I have the perception that maybe they're there – they're on that far, extreme end of the spectrum," Pace said.
The Rev. Walter Kendricks, of Morning Star Baptist Church, was the emcee at a demonstration outside the county courthouse that drew several hundred people Thursday evening. Police taped off a parking lot across the street for any counterprotesters who might have showed up, though none did. Some protesters called for the resignations of several Spokane Valley politicians.
"I don't know about you, but I believe that we need to have a frank, open, honest, community – that's all of us – community conversation about the rise of white nationalism in our area and in our country," Kendricks told the crowd. "There's something wrong with America right now. This toxic, toxic ideology threatens each of us."
In an impassioned speech, Joan Braune, a community activist and Gonzaga University philosophy professor, said people should not be fooled by the rhetoric and clean image of the alt-right.
"Today's fascists and white supremacists may look a little different from racist skinheads or the Aryan Nations of the past," she said. "They have fewer tattoos and different hair styles. They shout fewer racial slurs, when in public, and they make more memes. But you cannot repackage hate for long. … We know this is the same hate in new clothing."
The courthouse demonstration brought together people of many political stripes, including state Rep. Jeff Holy, R-Cheney.
"There's a lot of things that the different parties don't agree on," Holy said. "This is something we absolutely agree on. They're doing the right thing for the rights reasons here."
Allsup did not respond to messages seeking comment.
Editor's note: This story was changed on Friday, Aug. 3, 2018. A previous version incorrectly stated Ed Pace's status on the Spokane Valley City Council. Pace is a former member of the council.
---