Bear captured after reportedly raiding chicken coops in North Idaho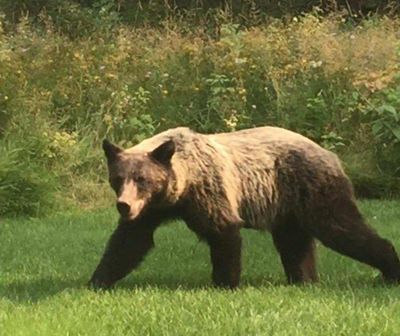 A young grizzly bear suspected of raiding a number of chicken coops in North Idaho was successfully captured Wednesday night.
Wayne Wakkinen, regional wildlife manager for the Panhandle office of Idaho Fish and Game, said the bear was captured in a culvert trap – a large cylinder with a hatch that can be closed once the bear has been lured inside.
The bear will be released into the Cabinet Mountains, the area from which the agency believes it originally came, said Wakkinen.
He said the bear – a 2 1/2-year-old male weighing 176 pounds – was first spotted Saturday near Garwood, Chilco and Athol. He said it didn't cause serious damage besides going through chicken coops and digging up a dead animal on private property.
The bear's appearance was observed by several area neighbors, who reported him breaking into coops, chasing sheep and playing with a sprinkler. Video of him trying to climb a fence spread quickly on the internet.
Wakkinen said it's not uncommon for young bears, especially males, to wander into populated areas and cause trouble when they separate from their mothers, but this bear was caught quickly and didn't behave aggressively toward humans.
"It came out of the woods in the wrong place and made some poor decisions," Wakkinen said. "So we decided we needed to get it out of there."
The bear has been outfitted with a radio collar and will be returned to the mountains soon, he said.
The U.S. Fish and Wildlife Service estimates that about 60 bears inhabit the Cabinet-Yaak grizzly recovery zone, while another 30 or so live in the Selkirk range south of the U.S.-Canadian border.
---