Sports > EWU football
Deep receiving corps has come up big during Eastern Washington's run to FCS title game
Dec. 29, 2018 Updated Sat., Dec. 29, 2018 at 10:04 p.m.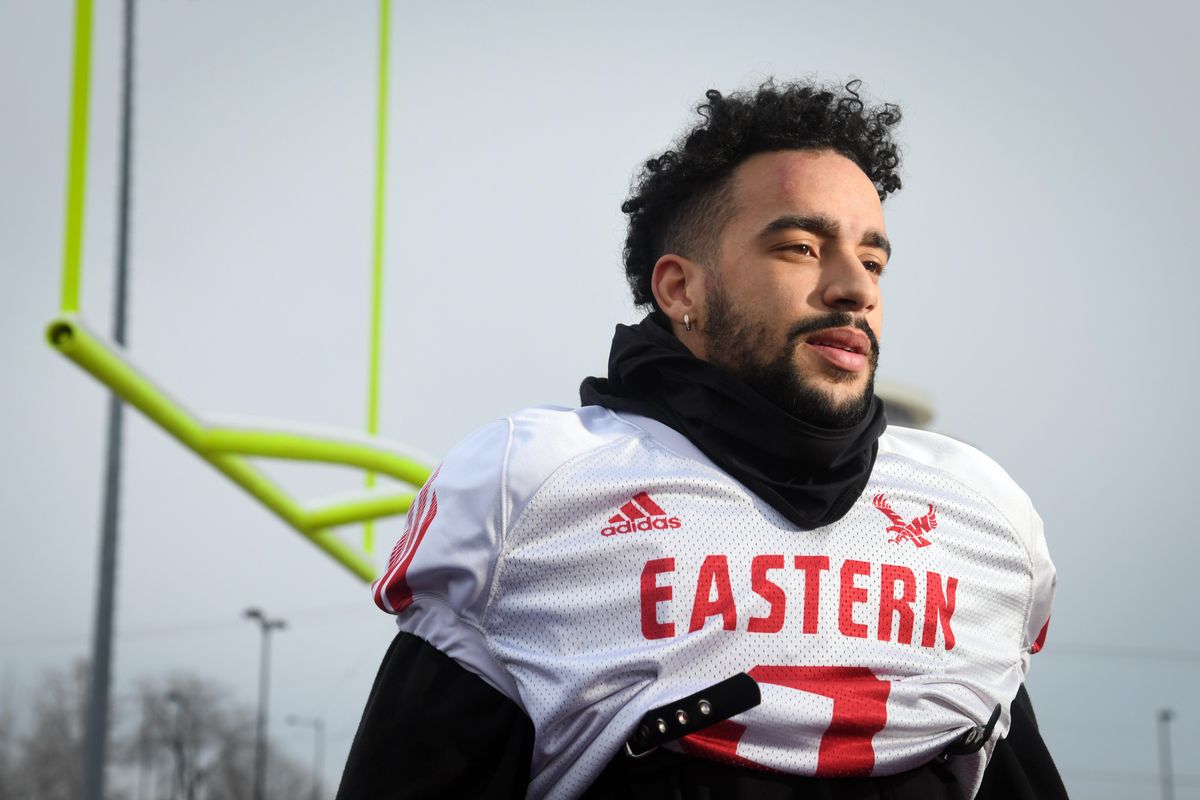 Eastern Washington University receiver Andrew Boston. (Dan Pelle / The Spokesman-Review)
If Eastern Washington receiver Jayson Williams is dropping anything, it's a defender.
Before the 6-foot-1, 220-pound Williams stepped foot in Cheney, he kept a tally of his punishing blocks at Tacoma's Lincoln High, the kind of that often left unsuspecting linebackers and defensive ends in a daze.
His numbers (24 receptions for 308 yards) aren't lofty, but the redshirt junior likes getting his hands dirty.
"I'm more of a safety blanket," said Williams, who is built like an outside linebacker. "They know they can count on me for that good block on that linebacker or safety on a screen play, a tough ball across the middle."
Williams has come up with chain-moving catches in his career, but a play that garnered the most attention was when he nearly upended a Southern Utah linebacker in October.
Williams' crunching block – one that generated thousands of views online – helped Eric Barriere scamper 86 yards, the longest rushing touchdown for a quarterback in program history.
Eastern Washington (12-2), which faces top-ranked North Dakota State (14-0) in the FCS national title game next Saturday in Frisco, Texas, is stocked with capable receivers, each hoping to be the school's next 1,000-plus yard commodity when they were recruited.
With this much depth, though, and a relatively new EWU offensive approach that values physical play and running the football, they're each bringing something different to the table.
Two years ago, when EWU featured three All-American receivers, two of whom started on NFL teams this season in Cooper Kupp (Los Angeles Rams) and Kendrick Bourne (San Francisco 49ers), the Eagles had their most talented receiving corps under pass-happy head coach Beau Baldwin, whose team led the nation in passing (5,614 yards).
In a more balanced attack under head coach Aaron Best – 3,884 yards through the air, 3,682 on the ground – Williams believes this group of pass catchers has more pieces.
Burners. Bruisers. Big targets. EWU has them all.
"This is the most depth we've had (at receiver)," Williams said. "We all do different things, and it's helped us get this far."
Eight receivers have caught 10 or more passes this season, led by fleet-footed senior Nsimba Webster (1,287 yards, 11 TDs).
There's a substantial drop after Webster to redshirt freshman Andrew Boston (531 yards, four TDs); Williams; Terence Grady (285 yards, two TDs); and tight ends Henderson Belk (288 yards, three TDs) and Jayce Gilder (200 yards, six TDs).
Speedsters Johnny Edwards (190 yards, four TDs) and Dre Dorton (49 yards, two TDs) have also made contributions. Zach Eagle (186 yards, touchdown) and Talolo Limu-Jones (82 yards) were expected to have big seasons before suffering injuries.
Running backs Sam McPherson, Antoine Custer, Dennis Merritt and Tamarick Pierce have also combined for nearly 500 yards receiving.
Boston, a 6-5 target like Grady, has beaten secondaries over the top and underneath. He came up big in the FCS playoffs with an athletic touchdown grab against Nicholls State in a pivotal third quarter and a 55-yard snag late in the fourth quarter that set up a go-ahead touchdown against UC Davis in the quarterfinals.
"I feel like this group is pretty selfless. It doesn't matter who is making plays," Boston said.
"None of us really lean on guys to make plays, so it's not really surprising when someone who hasn't shown up in a couple games has a big game."
Many of the receivers go multiple games before catching their next pass, but often come up big when they end their drought.
Gilder didn't catch a pass in the second round or quarterfinals before hauling in two touchdown passes in a 50-19 semifinal rout of Maine, in the first and fourth quarters.
"Everyone's a playmaker just waiting for an opportunity. We got seven of those guys, easily" Gilder said.
Before Belk caught passes on three straight plays in a 34-29 win over UC Davis, he had just two receptions the previous month.
Belk thinks that's an advantage.
"Any week, you don't know if you're going to catch five passes or you're going to catch one," Belk said. "It makes it hard on defenses."
Local journalism is essential.
Give directly to The Spokesman-Review's Northwest Passages community forums series -- which helps to offset the costs of several reporter and editor positions at the newspaper -- by using the easy options below. Gifts processed in this system are not tax deductible, but are predominately used to help meet the local financial requirements needed to receive national matching-grant funds.
Subscribe to the sports newsletter
Get the day's top sports headlines and breaking news delivered to your inbox by subscribing here.
---