Shorthanded Washington State falls to Santa Clara in nonconference finale Ernie Kent will be heading into the new year in search of answers.
Washington State remained winless away from home Saturday, struggling without its leading scorer and rebounder in a 79-71 men's basketball loss to Santa Clara at the Arena.
The Cougars, who have lost three straight games, wrapped up the nonconference portion of their schedule with a 7-6 record. WSU, 0-6 outside of Pullman, begins Pac-12 Conference play next Saturday at Washington.
"We'll take a couple of days off to get our legs back and take a deep breath," said Kent, the Cougars' head coach.
WSU played without senior forward Robert Franks, who is leading the team with 22 points and eight rebounds per game.
Kent described Franks as day-to-day with soreness in his hip, a result of two hard falls against New Mexico State in Las Vegas last weekend.
Franks' absence was felt in the second half, in particular, as Santa Clara took control of the contest.
The Broncos (8-6) carried a 40-36 lead into halftime, withstanding a 14-point half by WSU freshman CJ Elleby. Santa Clara displayed a potent inside-outside punch early in the second half to seize command, and Tahj Eaddy's 3-pointer gave the Broncos a 52-40 lead with 17 minutes left.
The Cougs pulled within 59-56 with an Elleby layup midway through the second half, but WSU couldn't erase the deficit.
"Defensive slippages throughout the game really hurt us," Kent said.
Elleby and Marvin Cannon scored 19 points apiece to lead the Cougars, and Ahmed Ali chipped in with 11.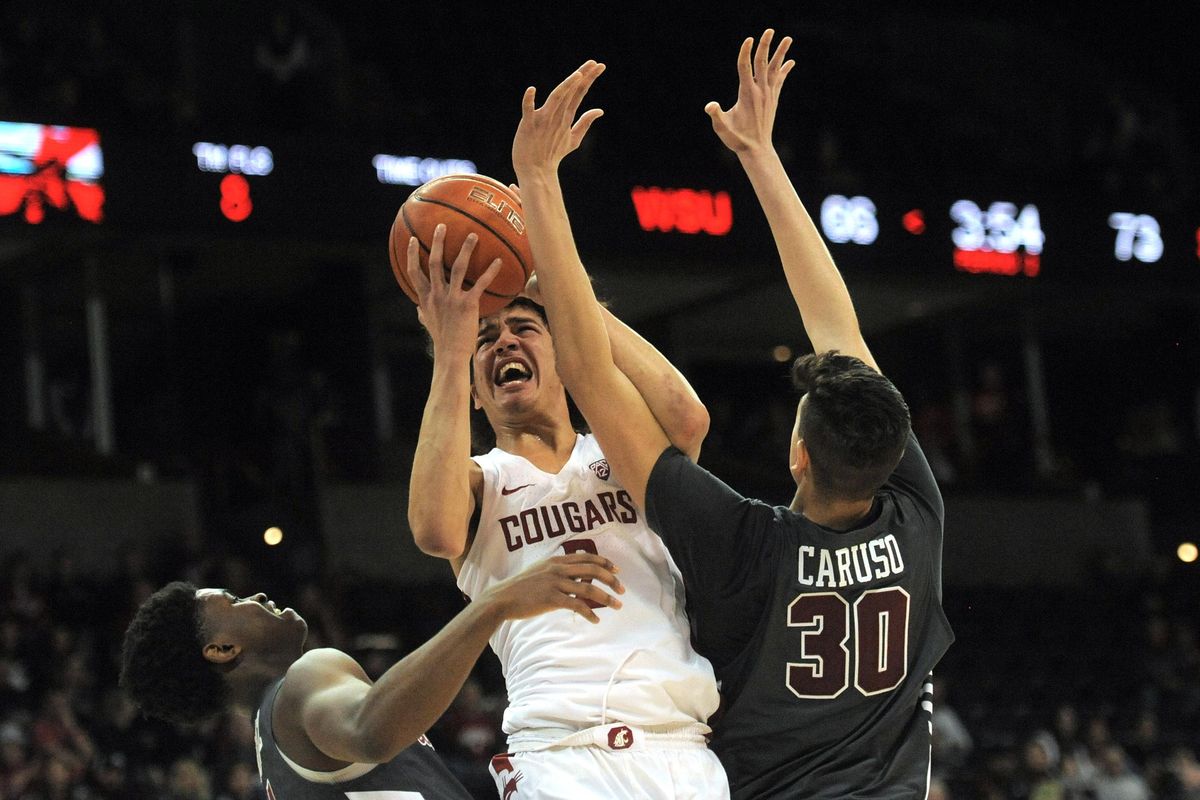 Elleby started the game aggressively and scored eight points in the first 6 minutes. He made 5 of 10 field goals before halftime, but the Broncos denied him similar looks in the second half, when he missed 6 of 8 shots.
Cannon heated up as Elleby cooled off. WSU didn't have the firepower to overcome a defensive effort that allowed Santa Clara to make 58 percent (31 of 53) of its shots from the floor.
WSU senior Viont'E Daniels returned to the court after missing the past four games following a concussion. He finished with three points and two assists in 13 minutes.
"I'd say I'm 100 percent, but I'm not in shape yet like I was two weeks ago," Daniels said.
Five players scored in double figures for Santa Clara. Eaddy and Josip Vrankic scored 16 apiece. Guglielmo Caruso added 14 points for the Broncos.
---