Democrats push Reproductive Parity Act through state Senate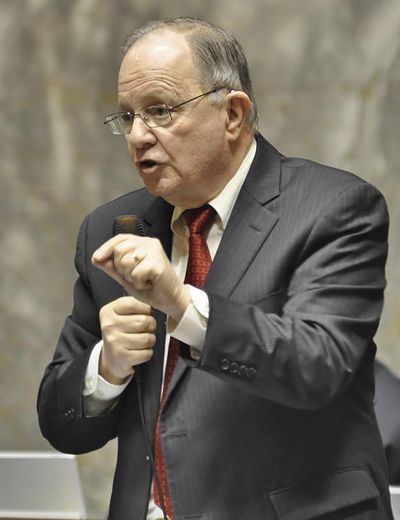 OLYMPIA – Medical insurance plans in Washington that offer maternity coverage would also have to cover abortions and contraception under a bill that passed the Senate on Wednesday.
Democrats had tried for several years, when they were in the minority, to get a vote on what they have labeled the Reproductive Parity Act. In the majority this year, they had the votes to bring it to the floor.
"The decision to have an abortion is a difficult, painful decision," said Sen. Steve Hobbs, D-Lake Stevens, who has sponsored the bill for six years. "It's her decision. This places trust where it belongs."
Republicans, who at one point argued it should be called the Abortion Insurance Mandate Law, offered several amendments, including allowing exemptions for employers with objections based on religion or conscience.
Sen. Mike Baumgartner, R-Spokane, offered amendments to ban abortions for sex selection, sexual orientation and Down syndrome. "Those of us who believe abortion involves two people believe all God's children should be protected," he said.
Sen. Mike Padden, R-Spokane Valley, said a ban on sex selection abortions was necessary to protect girls.
"Little girls have every right to life, liberty and the pursuit of happiness," he said. "This amendment is necessary so we don't have pre-natal sex discrimination."
All failed.
Sen. Annette Cleveland, D-Vancouver, countered all proposed amendments by saying the bill had been carefully crafted over years and thanking their sponsors – all of whom were men – "for offering his opinion in regards to this important women's health policy."
At a celebratory news conference after the bill passed, Cleveland said she was surprised that all the attempts to revise the bill were proposed by men.
"It tells me that even today, there are those (men) who feel they know better than we women," she said.
During final debate on the bill's passage, Republican women did argue against it. Sen. Ann Rivers, R-La Center, said it was an unnecessary mandate the state was placing on insurance companies, which all cover abortion in Washington.
"Abortion is a lot cheaper than a baby," Rivers said.
Sen. Shelly Short, R-Addy, said the bill does not represent people like her who oppose abortion. "It's a sad day for individualism," she said.
Cleveland said the bill would make life safer and healthier for women in Washington and "shield" them from possible actions by the Trump administration to limit coverage for contraception or abortion.
In the end, one Republican, Sen. Joe Fain, of Auburn, voted for the bill, and one Democrat who caucuses with Republicans, Sen. Tim Sheldon, of Potlatch, voted against it.
The Senate also passed, by large margins, bills that require insurance companies to cover 3-D mammography and notification of patients of their breast density after a mammogram.
---