News > Special Section
Former Gonzaga Prep, Washington State standout Travis Long hasn't forgotten his time with the Philadelphia Eagles
Feb. 2, 2018 Updated Fri., Feb. 2, 2018 at 8:24 p.m.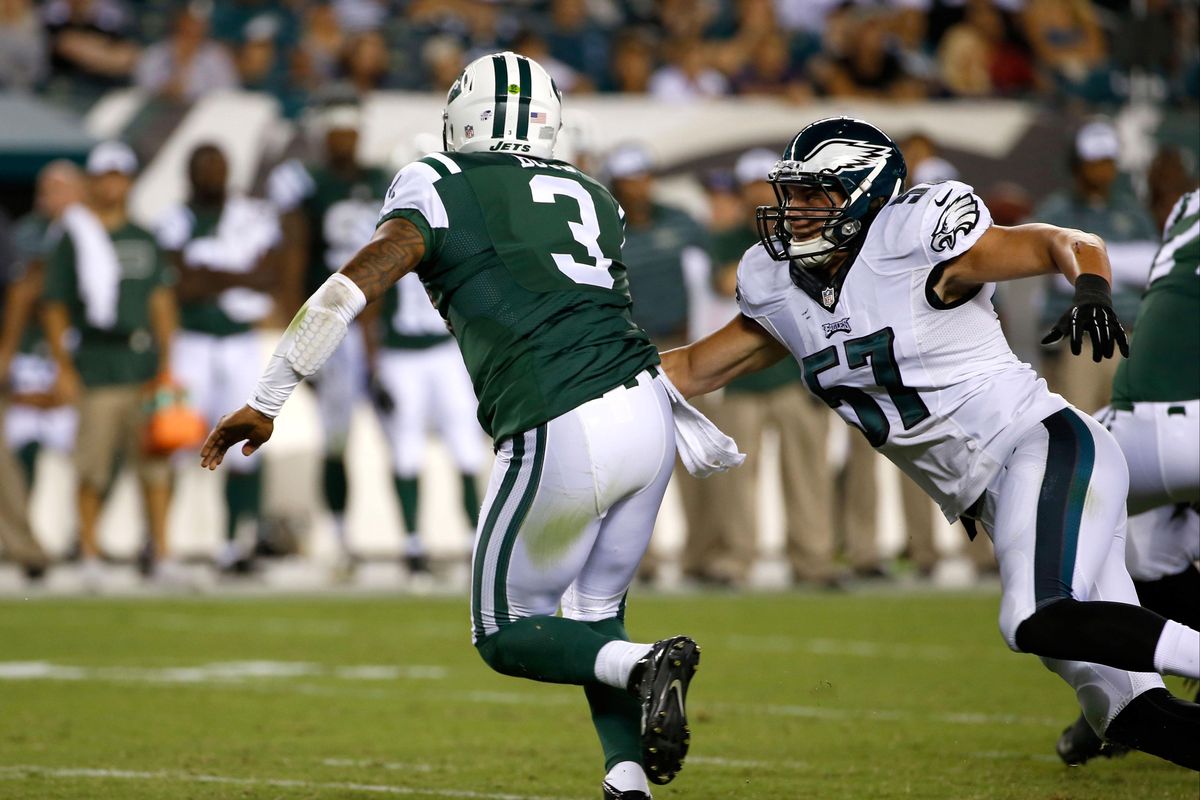 Philadelphia Eagles' Travis Long, right, runs to sack New York Jets' Tajh Boyd during the second half of an NFL preseason football game, Thursday, Aug. 28, 2014, in Philadelphia. (Michael Perez / Associated Press)
When Travis Long talks about the Philadelphia Eagles, he still uses the first-person plural.
As in, "We had some good people."
One of them was Long, a Gonzaga Prep kid who went on to a stellar career at Washington State before signing as an undrafted free agent with the Eagles in the summer of 2013.
Long won't be joining them Sunday. Those dreams and his NFL career were ended by a series of unkind cuts inflicted by the Eagles and his own body.
No hard feelings, but Long has a nagging sense of "what if?"
"I felt like I earned my spot in the NFL, but I didn't get to have the career I thought I would have," Long said this week.
But even as he opens a new door to his future, Long hasn't closed the book on his old teammates, some of whom will be on the field Sunday against the New England Patriots for Super Bowl 52.
"I met some good people there … I'll be cheering for them," Long said.
Among them are defensive lineman Beau Allen and former Shadle Park star Bryan Braman, who played with Long during the latter's first stint in Philly.
Although Long misses the locker-room camaraderie, he's thankful for his health.
"I don't miss the way your body would feel, even when you're healthy," Long said.
Recently returned to Spokane, Long is married to his high school sweetheart, Sarah Manix. They're ready to close on their first house, and he's one month into his first "real job," at a local start-up.
And football? Long said, "That was a real job too – something to put on your resumé."
It's impressive. Long was all-state at Gonzaga Prep and at least an honorable mention four consecutive years as a defensive end at WSU. He had 201 tackles and 20 sacks for the Cougars – enough to register interest from several NFL teams.
Signed by Philadelphia as an undrafted free agent in the summer of 2013, Long was cut a month later and added to the Eagles' practice squad as an outside linebacker.
That winter, Long signed a reserve contract with the Eagles, was building relationships and bidding for playing time. Then he tore his ACL in the final preseason game.
Almost a year later, Long's ACL tore again, costing him a second consecutive season and eventually his career after the Eagles released him in the summer of 2016.
He stuck around Philly for another year as Manix earned her master's at Villanova.
Now he works for StayAlfred, a Spokane-based company, which offers extended-stay or vacation-stay lodging around the country.
Long, 26, is putting his WSU business degree to use in the operations department, "working behind the scenes to make sure all the units are ready to go."
Long hasn't forgotten about football. Last fall, he came full circle, helping coach defensive linemen at G-Prep.
He has no aspirations about coaching professionally, but discovered that "it's really fun to coach at the high school level. … I look at it as giving back the knowledge I gained."
Local journalism is essential.
Give directly to The Spokesman-Review's Northwest Passages community forums series -- which helps to offset the costs of several reporter and editor positions at the newspaper -- by using the easy options below. Gifts processed in this system are not tax deductible, but are predominately used to help meet the local financial requirements needed to receive national matching-grant funds.
Subscribe now to get breaking news alerts in your email inbox
Get breaking news delivered to your inbox as it happens.
---