News > Spokane
Getting There: Don't sweat the Spokane traffic
Mon., Feb. 12, 2018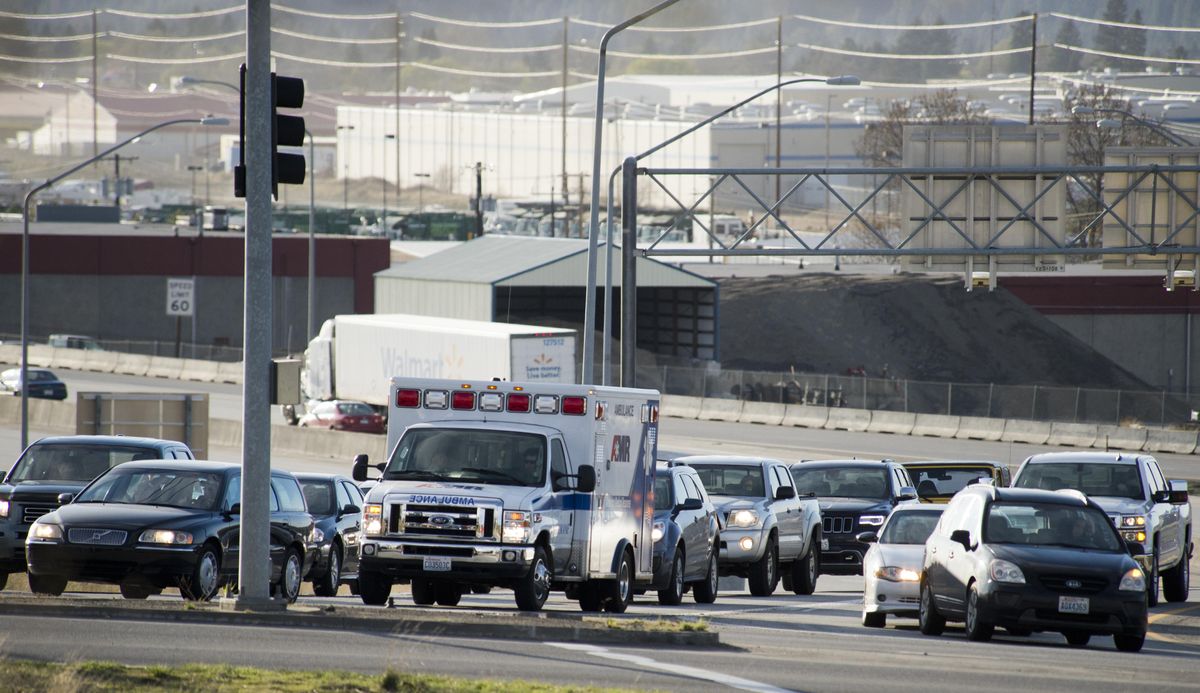 Traffic waits for signal lights to allow them off the Pines offramp from I-90 during afternoon rush hour Tuesday, Mar. 31, 2015. Spokane commuters spend about 15 hours in traffic a year, much better than many other comparably sized cities. (Jesse Tinsley / The Spokesman-Review)
China's got us beat.
The worst traffic jam ever recorded began on Aug. 14, 2010. Twelve days later, the snarled cars on 62 miles of China National Highway 110 and the Beijing-Tibet Expressway finally cleared up.
The culprit was booming traffic, which grew 40 percent year after year before the incredible congestion of 2010.
Looking at that – more than 288 hours of congestion during one traffic jam – 15 hours doesn't sound so bad. That's how long Spokane motorists spent in congestion, on average, last year during peak hours on roads into and out of the city, according to the INRIX Global Traffic Scorecard, which was released last week.
Fifteen hours. That's about how long most of us spend upright and out of bed in a day. But 15 hours over 240 commuting days equates to less than four minutes a day in traffic.
Frankly, it's not that bad.
Kirkland-based INRIX, a transportation analytics company, looked at traffic in 1,360 cities in 38 countries. It's a far from perfect list that excludes Chinese cities. Still, it includes Spokane, which is nearly smack-dab in the middle, coming in at 662nd in the city ranking.
Worldwide, we're just a bit better than Ferrol, Spain, which has a metro population of 203,000. Nationally, that standing places us just ahead of Greenville, North Carolina, which has a metro population of 175,000.
Considering we count two or three times that many people in our metro area, at more than 550,000 people, this ranking is great.
Just think about it. Spokane motorists live in a midsize city where traffic competes with what are basically oversized towns.
The rest of the urban commuters in the Pacific Northwest aren't so lucky. Seattle motorists spent 55 hours in traffic last year and ranked 20th in worst traffic worldwide, just worse than St. Petersburg, Russia. Portland came in at 28th, between Montreal and Cape Town, with 50 hours spent in traffic jams.
Which brings us to another point, one which prognosticators wring their hands about every now and again: How will Spokane avoid the traffic woes of Seattle and Portland?
First off, the traffic in these two cities is bad, as anyone who has ever been to them can attest. There's nothing quite like being at a complete standstill on Interstate 5. In either city. Or between them, because does the I-5 traffic ever really end?
But, in context, other places have it much worse.
The worldwide leader of the worst commute is Los Angeles. What a shock. The city that invented road rage during the summer of 1987 ranks the worst, with its drivers having spent 102 hours in congestion last year.
Behind Los Angeles, just barely, is Moscow – Russia, not Idaho. Where the ultra-rich hire fake ambulances to convey them through stopped traffic, lights flashing.
In third place is New York City, which is considering charging drivers who enter the city a "congestion fee" to reduce traffic and raise money to fix its decrepit subway system, one of the world's largest.
But back to the relatively not-so-bad traffic problems of Seattle and Portland.
Seattle was first to see its traffic go from merely inconvenient to incredibly unbearable. The Emerald City is now in the middle of a massive transit investment funded, in part, by a vehicle license fee and sales tax approved by voters in 2014 that generates about $45 million a year. A light rail has been built, bus riding has gone way up, solo car commuting is way down and Seattle's transit solution is one that other cities should both "envy and emulate," according to the urbanist blog Planetizen.
Portland, wary of going the way of its imprudent northern sister, plowed vast investments into light rail, streetcar and bikeways. Just look at Tilikum Crossing. But the Rose City was just too popular for its own good. Between 2010 and 2016, about 56,000 people moved to Portland. In the next 20 years, another 260,000 are predicted to flow into the city. The roads are completely packed, with old-schoolers and newcomers alike. And so are the light rail cars, bike lanes and buses.
How does Spokane avoid the traffic woes of our West Side friends? And do we even want to?
Though it causes untold rage in many commuter hearts, traffic is a sign that things are going well for a city. A sign of success, really. The cities topping the INRIX list are economic powerhouses, continental capitals and the largest and most popular cities in the world.
Just look at China. Last year, the number of vehicles registered with the state surpassed 300 million. The surging, spiking car ownership mirrors China's growing wealth and power. Though INRIX's ranking very notably excludes Chinese cities from its index, the TomTom traffic index has ten of them in the top 25.
In other words, as China became one of the most powerful countries in the world, it got a bunch of traffic jams.
If Spokane experiences the economic and population growth that Seattle and Portland have in recent decades – and most local policymakers very much want that to happen – it will be impossible to avoid traffic. It's the nature of the thing.
That bright future is years away, probably decades, but the city is already en route to ready itself. The 2014 street levy continues to repair the major roads within city limits. In 2016, voters agreed to raise local sales tax to fund Spokane Transit Authority's 10-year Moving Forward plan to extend and increase service and frequency of its lines. And the state transportation department is still building a new north-south freeway.
But if you don't like growth, or are scared of the inevitable traffic, there is a solution. Move to Boise. The Idaho capital ranked 777th on INRIX's list. Motorists there only sat in traffic for 12 hours last year.
But whatever you do, don't move to China.
Local journalism is essential.
Give directly to The Spokesman-Review's Northwest Passages community forums series -- which helps to offset the costs of several reporter and editor positions at the newspaper -- by using the easy options below. Gifts processed in this system are not tax deductible, but are predominately used to help meet the local financial requirements needed to receive national matching-grant funds.
Subscribe now to get breaking news alerts in your email inbox
Get breaking news delivered to your inbox as it happens.
---