News > Spokane
Snake River ranchers lock horns with federal government over public land use
Tue., Feb. 13, 2018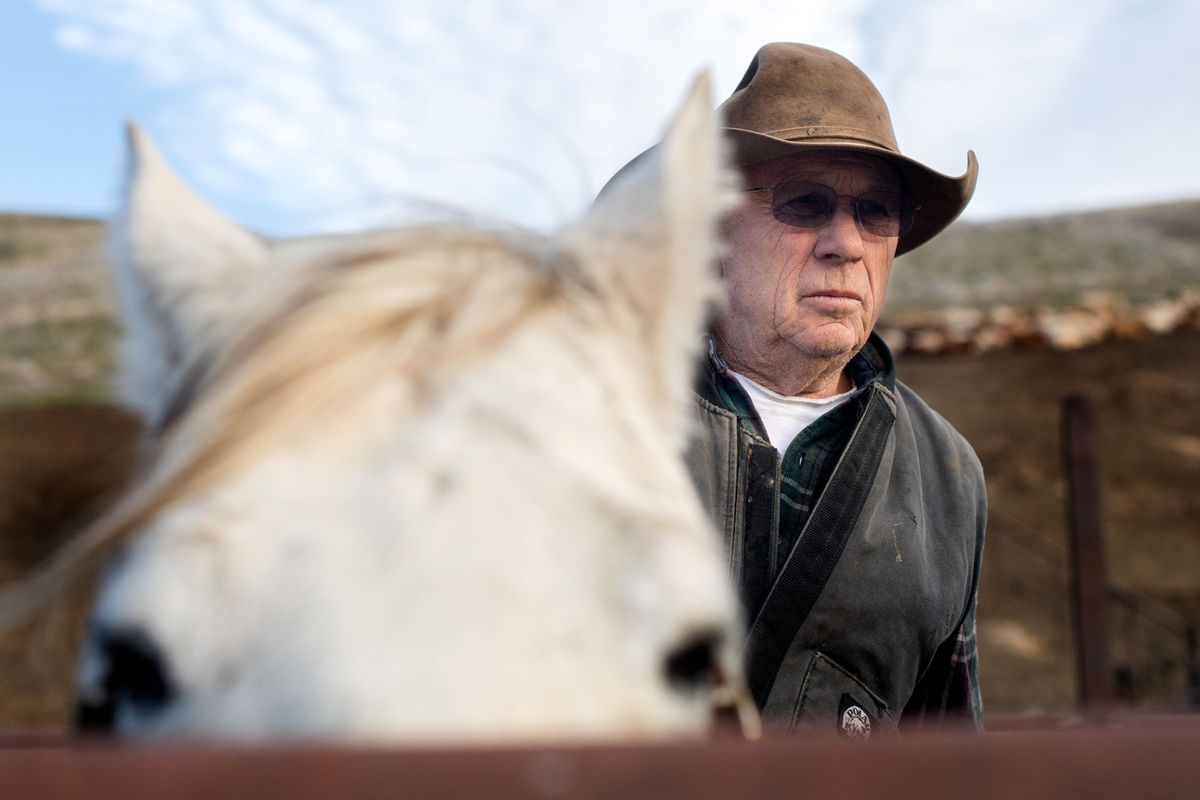 Rancher, Walter "Sonny" Riley sits atop his horse "Oly" on Thursday , February 8, 2018, on his ranch in southeastern Washington. Riley is caught in a land dispute with the U.S. Army Corps of Engineers. (Tyler Tjomsland / The Spokesman-Review)
POMEROY, Wash. – Walter "Sonny" Riley sat in the saddle Thursday as his 12-year-old gelding, Oly, shifted his weight in a pliable combination of hay, mud and cow droppings.
After pushing a herd of last year's calves inside a waiting trailer, Riley readily shared his views of allegations brought by the federal government that his ranch has trespassed and profited from an odd-shaped piece of publicly-owned ground sandwiched between railroad tracks and his ranch, located just north of the Snake River and the closed Central Ferry State Park.
"If they'd come in and fence that … it would be over," Riley said. "But I'm not going to roll over. I guess we are going to court."
The 71-year-old rancher has become the focus of a legal effort by the U.S. Attorney's Office in Spokane, which is asking a federal judge to sanction Riley for "trespass, encroachment, damages" and make him pay the legal costs incurred by forcing Riley to abide by the rules on ground purchased by the U.S. Army Corps of Engineers some 53 years ago.
This battle of Carhartt versus dress suits pits the opinions of ranchers who make a living out of the mud, grass and barbed wire against government employees armed with legal descriptions, surveys and GPS devices.
"The government just has too many employees and too much money," said Riley's nephew, Chad Lindgren, who works Riley's River Ranch. "They are not going to back down. They are not going to give in unless we make them give in."
And, he noted, the yearslong dispute is being funded by taxpayers: "We are basically paying those people to be a pain in our ass."
John Gordon, who works for the Clarkston office of the Army Corps, is listed in court documents as working on the case. Gordon declined to comment on the brewing controversy other than to confirm its existence.
Questions about possible solutions put forth by the ranchers to solve the dispute, which include purchasing the land, fencing it off or a proposed-land exchange, were referred to Assistant U.S. Attorney Vanessa Waldref, who did not return a phone call Friday or Monday.
The dispute
The government's case, including multiple interactions with Riley's River Ranch employees dating back to 2011, is spelled out in a 19-page court document written by Waldref and filed last month in U.S. District Court.
It alleges that Riley and his employees "unlawfully" grazed, operated a "winter feedlot operation" and built unauthorized structures on federal land. It also alleges the ranch placed hay bales, feeders, machinery, debris, tires, manure piles, and "a pile of over fifty animal carcasses" on the disputed land.
A walking tour of the property Thursday found the odd tire and dozens of scattered bleached bones in a canyon that the government marked in court documents as a "backfilled carcass pit." Except for a large stack of fence posts that had rotted too short for effective use, the disputed ground was largely indistinguishable and less cluttered than the neighboring ranch land.
One cow was seen within the boundaries of the disputed land, which also was rutted with deer trails. A large herd of grazing mule deer later ran from the exact spot that allegedly contained the remnants of the 50-plus carcasses.
Lindgren acknowledged that the ranch has traditionally used the land in dispute as a calving area for heifers. The flat land, and its accessibility, made it easier for the ranchers to monitor the young cows, he said.
But at no time, he said, did the ranch use the land as a feedlot operation, which are fenced enclosures where the ranch keeps about 500 cows and another 500 calves during winter months.
Lindgren, 42, grew up on the ranch and spent virtually every summer working it.
"I didn't even know that was Corps property until 2014 when they surveyed it," he said. "We don't even know how much land we are fighting for."
The dam purchase
Most of the 7,500 acres that Riley grazes was purchased in 1945 by his father, Lester Riley.
Then, as part of the construction of the four Lower Snake River Dams, the Army Corps purchased large swaths of land along the river to accommodate higher water levels.
The higher water also forced officials to move existing railroad tracks to higher ground. Both issues affected land owned by Lester Riley. In 1965, the disputed land was purchased by the Army Corps.
The railroad put a fence along its right-of-way, and the Army Corps laid miles of barbed wire fence along its new border. But for some reason, the fence was never built marking the new boundary across Riley's River Ranch.
"That's where they put the fence in 1965. We kept using it and they never say anything about it," Riley said, "until John Gordon came along."
The new surveys show that a corner of one of Riley's buildings, built in 1975, is encroaching just over the disputed border, and the government is demanding that Riley relocate the building. Riley said the foundation was poured prior to the 1965 deal to sell the land.
What's more, the federal government built a tall cyclone fence, topped with barbed wire, around 15 acres of the disputed land. That ground contains the sewage ponds from the adjacent Central Ferry State Park, which closed several years ago.
For the most part, the cyclone fence separates the ranch from the disputed land. But the northeast corner does not follow the property line shown from the new survey in court records.
"We have maps of the old surveys and they are way off," Riley said, referring to new surveys.
According to the court records, which he says incorrectly claim that Riley owns 11,120 acres, the issues started cropping up in 2011 when government employees learned that Riley "allowed livestock and other personal property to enter or be on the public lands."
Over the years, government employees have issued "cease and desist" letters, which have led to dozens of sit-downs and conversations about how to solve the dispute for Riley and several other landowners who face similar disputes over property lines and public lands.
Dick McNeilly, 66, said he's known Sonny Riley for almost 50 years. McNeilly ranches land three miles away from Central Ferry and another piece some 30 miles upriver.
"They built a fence on the railroad line and said everybody was free to graze that," McNeilly said. "It's such a narrow strip. Now all the sudden they've come along and made a lot of threats against us."
Over the years, Riley has offered to purchase the small strip of land, which requires the public to trespass over railroad tracks to access it. Other proposed options include leasing it or having the Army Corps build a fence along its boundary. But those discussions stalled over who would pay for the fence.
Then four years ago, Riley and Lindgren purchased 1,000 acres along the Tucannon River with the idea that they could trade it to the Army Corps to settle all the disputes with ranchers who face the same problem along the Snake River.
"But they wanted $5,600 just to start the paperwork and it would cost us $100,000 to process the study," Lindgren said, "And, it wasn't even a sure thing that we would get it.
"Maybe they will take cows on trade," he quipped, "but then we'd be out of business."
McNeilly said he believes the government is picking on Riley because he's an easy target located so close to State Route 127.
"They are just so difficult to work with," McNeilly said of the government officials. "We've definitely tried. It's a struggle. We are still going to raise beef one way or other."
Local journalism is essential.
Give directly to The Spokesman-Review's Northwest Passages community forums series -- which helps to offset the costs of several reporter and editor positions at the newspaper -- by using the easy options below. Gifts processed in this system are not tax deductible, but are predominately used to help meet the local financial requirements needed to receive national matching-grant funds.
Subscribe now to get breaking news alerts in your email inbox
Get breaking news delivered to your inbox as it happens.
---