Where they stand: Cathy McMorris Rodgers, Lisa Brown split on the wall, refugees and family migration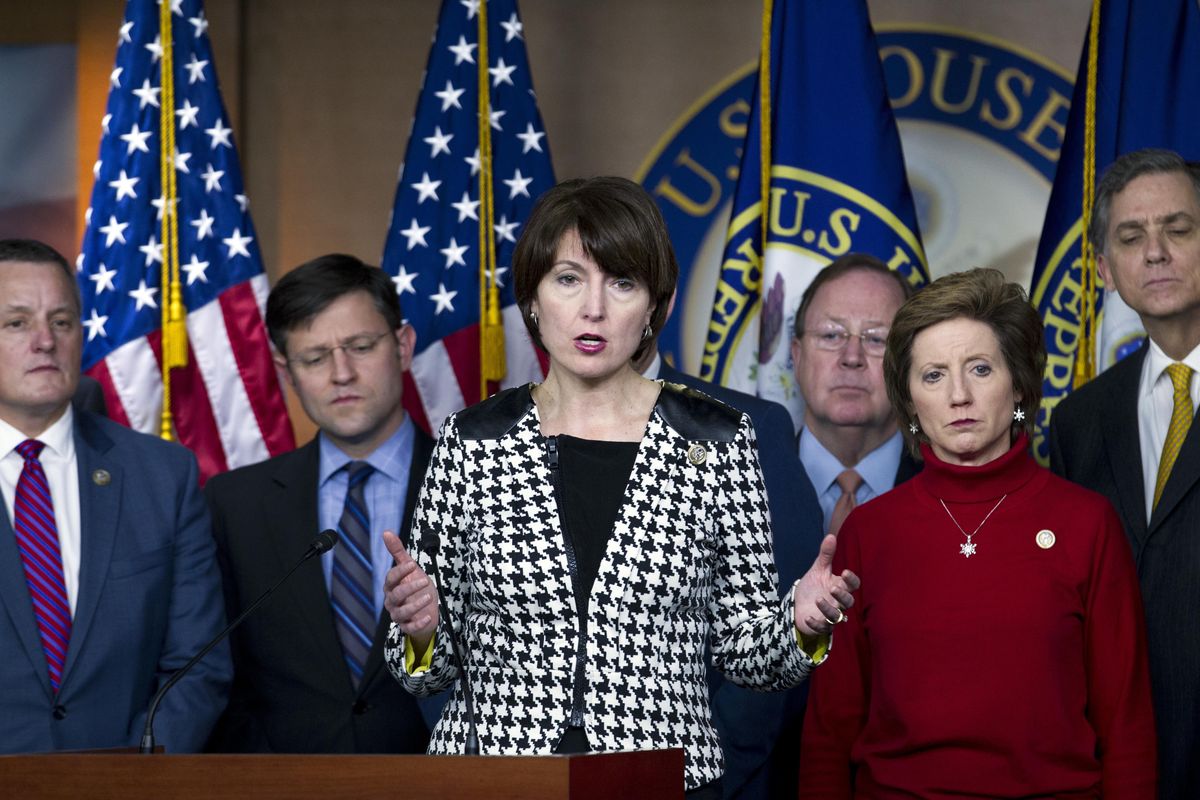 The dispute in Washington, D.C., that shuttered the federal government for three days last month centered on the fate of roughly 700,000 people living in America who've received a reprieve from deportation.
Both women vying this November to represent Eastern Washington in Congress said immigration reforms are needed. Republican Rep. Cathy McMorris Rodgers said she agreed with many of the actions President Donald Trump has taken on the issue. Her Democratic opponent, Lisa Brown, attacked many of those policies and blamed House Republican leadership, which includes McMorris Rodgers, for the lack of legislation addressing immigration issues.
The Senate was scheduled to begin discussion of large-scale immigration policy Monday, pursuant to a deal Republicans brokered with Democrats to end the January shutdown.
Trump's announcement late last year that he would end the Deferred Action for Childhood Arrivals program, first enacted by his predecessor President Barack Obama, has hastened talks in Congress about reforms to the nation's immigration policies. That has included demands from Senate Democrats that the issue be taken up before a March 5 deadline the president imposed, and the record-setting speech last week from House Minority Leader Nancy Pelosi calling for permanent assurances that those children of immigrants who came to America illegally would continue to have protections as part of a spending deal.
McMorris Rodgers said she supports "a fix" for the program that would incorporate principles agreed to by a bipartisan group of senators. Trump rejected a proposed agreement in January, prompting an outcry over his use of a vulgar term to refer to certain countries whose immigrants were eligible for protected status in the United States.
"There's been some encouraging bipartisan, bicameral negotiations underway, where they have agreed now to four principles," the congresswoman said in an interview late last month. Those include addressing the Obama-era policy for children of undocumented immigrants, the green card program, border security and "chain migration," which allows the family members of legal residents to bring over certain family members.
Brown said she supported Congress passing a law making permanent Obama's policy deferring deportation for children of undocumented immigrants. As for a future path to citizenship, a sticking point in talks on Capitol Hill, the Democrat said that should be negotiated as part of a larger immigration package.
"I think the rest of it is subject to a negotiation, and that makes sense to me," Brown said.
The congresswoman has sided with Trump on funding a border wall proposal, though McMorris Rodgers said advancing technology likely wouldn't mean a physical span stretching across the nearly 2,000-mile stretch between the United States and Mexico. McMorris Rodgers was one of 235 lawmakers, all but five of them Republicans, who voted in favor of a July spending bill that authorized $1.6 billion for construction of a border wall.
She also said she supports Trump's order calling for a halt to immigration from certain countries while the administration reviews its policies.
"I think it's important for us ensure that this program is protecting the people that are here, and that we know who's coming into this country," McMorris Rodgers said.
Brown rejected what she said amounted to a ban on an entire country's population from entering the U.S., and that the wall had the potential to alienate an important trade partner.
"Pulling it into this framework of, we're building a wall, and Mexico's going to pay for it, is really unfortunate for the state of Washington," Brown said.
In 2016, Washington exported nearly $2 billion worth of goods to Mexico, according to U.S. census data. But that number has fallen in recent years, down from $3.2 billion in 2013.
Both women said the federal government needed to address the guest worker program for migrants toiling in the state's agricultural fields. McMorris Rodgers said the federal government should look at easing the costs for farmers.
"The current program includes cost of transportation, housing and paying a modified prevailing wage. I think all of that needs to be looked at," she said.
Brown didn't provide specifics but said that the visa program needed to be reworked and that, if elected, she would seek assignment to the House Agriculture Committee to work on the issue.
---