News > Spokane
Matt and Cara Hoag
Wed., Feb. 14, 2018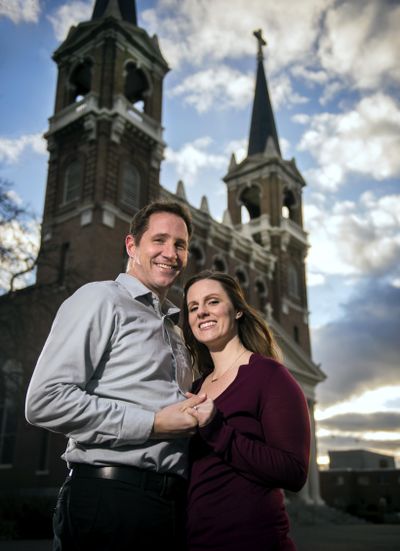 Matt and I met after a Gonzaga basketball game in Seattle several years after college. We attended GU at the same time and shared many common friends, but somehow our paths hadn't crossed until that night.
We knew immediately that we had something special and were engaged four months after our first date. Our short courtship is a little crazy, but there was never any doubt that we were meant to be. We attribute part of that to Gonzaga. The time we spent learning, growing and establishing our faith and values as young adults was done separately but on parallel paths.
When we got engaged, we were living in Knoxville, Tennesse, while Matt worked on his doctorate at the University of Tennessee. We didn't want to get married in the South since most our friends and family were in the Pacific Northwest. So despite never spending time together in Spokane, we felt called to get married on campus because the chapel was the church that had the most significance for us both.
Flash forward three years, we were living in Sacramento, California, and Matt applied for and got a job teaching accounting at Gonzaga. Then as fate would have it, we were camping along the California coast as a last hurrah before leaving the state for good and I found myself doing a phone interview for a job at Gonzaga as well.
Now we've been married for eight years, employed by Gonzaga for more than five years, and have three kids who have all been baptized on campus. Our youngest is 7 months old and is recovering from two recent hospital stays totaling more than a month for respiratory syncytial virus, pneumonia and the flu.
Our love helped us get past a very trying time and once again, Gonzaga was there. Our community is full of friends, fellow alumni, and our staff and faculty peers. They all lifted us up, prayed for us, fed us, caffeinated us; they kept us going. So while you can't credit a university for our love and the work that marriage requires, it's definitely a central theme in our love story.
Local journalism is essential.
Give directly to The Spokesman-Review's Northwest Passages community forums series -- which helps to offset the costs of several reporter and editor positions at the newspaper -- by using the easy options below. Gifts processed in this system are not tax deductible, but are predominately used to help meet the local financial requirements needed to receive national matching-grant funds.
Subscribe to the Coronavirus newsletter
Get the day's latest Coronavirus news delivered to your inbox by subscribing to our newsletter.
---