News > Spokane
Spokane County property taxes to rise significantly in 2018
Sun., Feb. 18, 2018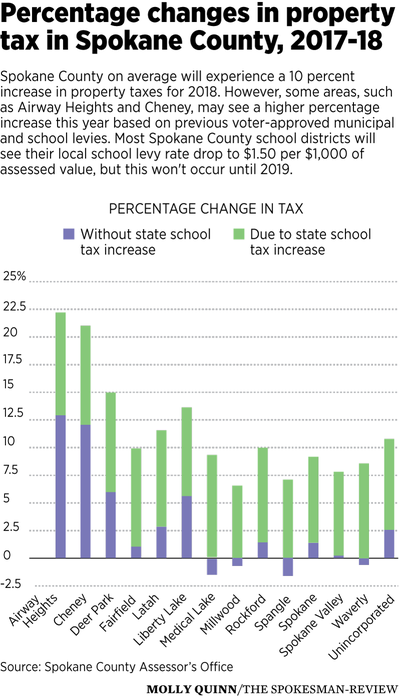 Spokane County homeowners will see a substantial increase in their property tax bill this year as a result of a higher state school levy.
Spokane County property tax bills for 2018 will be on average 10 percent higher because of the measure, known as the second state school levy, approved by the state Legislature and Gov. Jay Inslee last year. The levy is meant to address the Washington Supreme Court's McCleary decision, which ordered the state to fully fund public schools.
The levy raises the state property tax levy rate to $2.70 per $1,000 of assessed home value – an 81 cent increase over last year's rate of $1.89.
An individual's property tax increase will vary based on their home's assessed value and various local voter-approved measures in their taxing district. Many areas are experiencing even higher increases because of other taxes that were approved by voters.
The increase is particularly pronounced this year because the new state school levy rate overlaps with current local school levy rates, some of which are as high as $3.
Relief is on the way, however, in 2019, as most local school district levies will fall – as required by law since the higher state property tax is meant to ensure that schools don't fund basic education needs with local taxes.
Many school districts approved levies on Tuesday, including Spokane Public Schools. School districts are capped at $1.50 per $1,000 of assessed value starting next year under the school funding deal state leaders passed last year.
The new legislation changes the state levy temporarily from a budget-based system to a rate-based system, alterations that will be in effect from 2018 to 2021. It also divides the state levy into two parts: one that functions much like the current state levy, and the new school state levy rate, according to the Washington state Department of Revenue.
Under most property taxes in Washington, when a property increases in value, taxes on the parcel don't necessarily increase. But the new state levy is frozen at $2.70 per $1,000 assessed value for four years, meaning any property value increase will result in higher taxes.
"I don't think this is going away anytime soon," said Airway Heights Kevin Richey. "We all kind of knew this was coming, but there are people upset the state is raising property taxes."
Chief Deputy Spokane County Treasurer Mike Volz said county officials are bracing for a backlash when homeowners get their bills. He said the county is working educate property owners about what led to the higher bills.
Volz, who also is a Republican state representative, voted against the plan that led to the higher taxes. He said legislators should provide tax relief, especially with a rosier-than-expected economic forecast that was released this month.
Sen. Andy Billig, D-Spokane, said Democrats are planning a proposal in the state budget to be introduced on Feb. 19 by Sen. Christine Rolfes, D-Bainbridge Island, chairwoman of the Senate Ways and Means Committee, that will reduce property taxes to help counteract the one-year property tax increase.
Billig said the state is investing $5 billion through 2021 to comply with the Supreme Court ruling for education funding. To meet the court's deadline for the McCleary decision, the state needed to secure an additional one-time investment of $950 million to fund school staff salaries and basic education.
"The goal of the budget is to make that investment comply with the McCleary decision and have a plan to do that and reduce property taxes at the same time," Billig said.
If you are in a Spokane-area school district, even without the proposed relief plan, property taxes should still come down in 2019 because of the local school levy reduction, Billig said.
Local journalism is essential.
Give directly to The Spokesman-Review's Northwest Passages community forums series -- which helps to offset the costs of several reporter and editor positions at the newspaper -- by using the easy options below. Gifts processed in this system are not tax deductible, but are predominately used to help meet the local financial requirements needed to receive national matching-grant funds.
Subscribe now to get breaking news alerts in your email inbox
Get breaking news delivered to your inbox as it happens.
---