News > Special Section
For Meyers Taylor, bobsled silver is sweeter this time
Wed., Feb. 21, 2018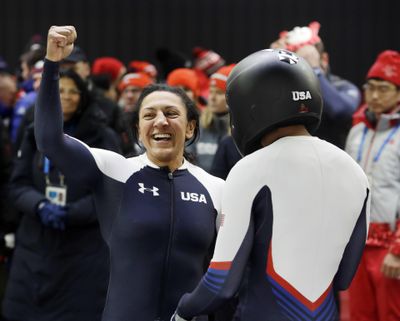 PYEONGCHANG, South Korea – Silver is sweeter this time for U.S. bobsledder Elana Meyers Taylor.
Her perspective has changed so much, and in so many ways, over the last four years. The silver medal she got at the Sochi Games in 2014 represented failure. It was nothing more than a shiny reminder of a loss, a bauble that she wanted to put away almost from the very second it was slipped around her neck.
And now, another silver – except one that she'll savor.
Meyers Taylor, with brakeman Lauren Gibbs, was second in the women's bobsled event that concluded Wednesday night at the Pyeongchang Olympics. She lost by 0.07 seconds over four runs at the Alpensia Sliding Center to surprise winner Mariama Jamanka of Germany and didn't stop smiling for what seemed like hours afterward.
She felt like she gave away gold four years ago, losing the lead in the fourth and final heat. This time, she said, she gave her all, and that was enough.
"I am going to enjoy this. We're going to go on vacation and we're going to enjoy this," Meyers Taylor said as husband Nic Taylor – accidentally, he said – sprayed her with a bottle of shaken-up sparkling water. "Part of it is just about the journey, and this has been one heck of a journey. I thought it would be easier after Sochi. I thought it would be a breeze after that. And things have only gotten more difficult. The things I've had to overcome have been crazy."
She's not talking about things like a strained Achilles that affected her pushing abilities in Pyeongchang, or drama while trying to find the right brakeman for these games, or this World Cup season when she won only once. All that is significant but doesn't seem that way compared with matters like a concussion that nearly ended her career in 2015 or how difficult it was for her to deal with the death of longtime teammate Steven Holcomb .
The concussion issue left her feeling fragile.
Holcomb's death in May left her feeling broken.
"At that point, I didn't want to think about bobsled," Meyers Taylor said. "I didn't want to be in a sled. And I love driving a bobsled more than anything in the world – except Nic of course. But to be at such a low point earlier this year and not be sure that I wanted to slide anymore and not have any joy in it … to come back and win a silver medal, I am through the roof."
Holcomb's death was a constant challenge for the team this season. He was essentially a driving coach for Meyers Taylor, someone to talk to about lines and strategy and equipment and just about anything else related to the sport. With him gone, Meyers Taylor spent countless nights grieving with teammates and coaches.
Fittingly, she's now linked to Holcomb again.
It's her third medal in all, which means that no one in the history of USA Bobsled has placed more often at the Olympics than Meyers Taylor. Pat Martin won three, a gold in 1948 and two silvers in 1952. Holcomb also has three, a gold in 2010 and two silvers in 2014. Meyers Taylor won bronze as a push athlete in 2010, silver as a pilot in 2014 and now silver again.
"His legacy lives on," Meyers Taylor said. "It's the least I could do."
Local journalism is essential.
Give directly to The Spokesman-Review's Northwest Passages community forums series -- which helps to offset the costs of several reporter and editor positions at the newspaper -- by using the easy options below. Gifts processed in this system are not tax deductible, but are predominately used to help meet the local financial requirements needed to receive national matching-grant funds.
Subscribe now to get breaking news alerts in your email inbox
Get breaking news delivered to your inbox as it happens.
---