News > Spokane
This Senior Class may throw the best Zags viewing party in town
Feb. 24, 2018 Updated Sat., Feb. 24, 2018 at 11:38 a.m.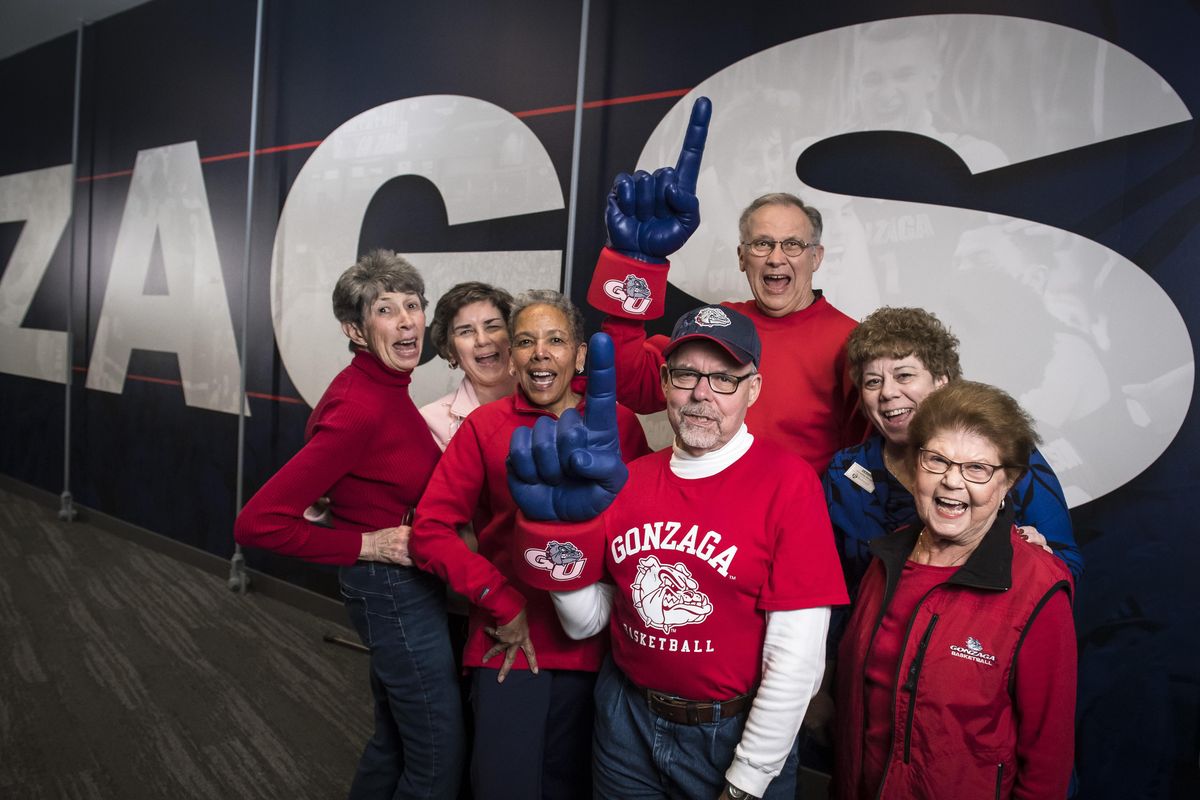 Rockwood Retirement South Hill residents take a break at halftime from the women's game with San Diego to have a Zags fan photo taken in the McCarthey Athletic Center, Thurs., Feb 22, 2018. From the left: Margaret Patterson, Marilyn Carpenter, Tonya Rice, Mike Rice, Warren Carpenter, Debbie Long and Carole Swensen. (Colin Mulvany / The Spokesman-Review)Buy a print of this photo
The Zags were on TV and it was a party.
Well, TV probably isn't the most accurate description. It was really a couple of huge projectors with screen sizes more in line with what you get in some small movie theaters. The volume also was just a little too loud.
But that didn't matter because the crowd in room was substantially louder – cheering with each Gonzaga bucket and loudly second-guessing the referee's questionable calls against our local boys.
Of course, there was a lot of beer and pizza.
And it was the good stuff. Neither the cheap brews you get on sale at the end-cap display nor the $10 delivery pizzas. Plus there was a whole bunch of other fun junk foods and adult beverages that always seem to taste better when watching your favorite basketball team with your buddies.
At halftime, there was a basketball shooting contest and all sorts of other contests where the winners got cool prizes … which was essentially even better beer and tastier food.
The evening's festivities easily rival the coolest Bulldog watch parties at any of Spokane's sports bars. The crowds are just as enthusiastic – and likely a little more knowledgeable about the nuances of James Naismith's great game – as a place loaded with actual Gonzaga students.
Surprisingly, it's a bit of a rowdy crowd. Think Kennel Club, only with a little less choreography and a vastly different set of iPhone playlists.
At this moment, you have to be asking yourself where is this little piece of Hoops Heaven?
Is there some new bar district that none of us know about?
Not exactly.
This was all at the Rockwood's South Hill retirement community. Basically the same thing happens over at Touchmark.
The atmospheres are great. The conversations are even better. Especially when they get a little heated – though most of the anger is aimed at the officiating.
That's what makes watching a game with these fans so much fun.
On any given Gonzaga game night, if you can't be at the McCarthey Athletic Center, these might be the next best places to watch the Zags.
If it makes you feel any better, it's not this elaborate for every game. That wouldn't be fair for the rest of us.
For Rockwood, the full-blown basketball bash happens once a season. For other games, it's typically a bit more laid back with groups heading to the pub.
Touchmark hosts its larger game nights once a month.
Then again, all the schedules are basically thrown out once March Madness makes its way here.
So, as you watch today's regular-season finale against Brigham Young, know that you're not the only one yelling at the TV, because the Zags are clearly not getting the same calls that the Cougars are getting.
And hoist one in the air for the other members of Zag Nation who represent a completely different definition of Senior Class here in Spokane.
Local journalism is essential.
Give directly to The Spokesman-Review's Northwest Passages community forums series -- which helps to offset the costs of several reporter and editor positions at the newspaper -- by using the easy options below. Gifts processed in this system are not tax deductible, but are predominately used to help meet the local financial requirements needed to receive national matching-grant funds.
Subscribe now to get breaking news alerts in your email inbox
Get breaking news delivered to your inbox as it happens.
---