News > Nation
Immigrants suing over revoked DACA work permits face court
Mon., Feb. 26, 2018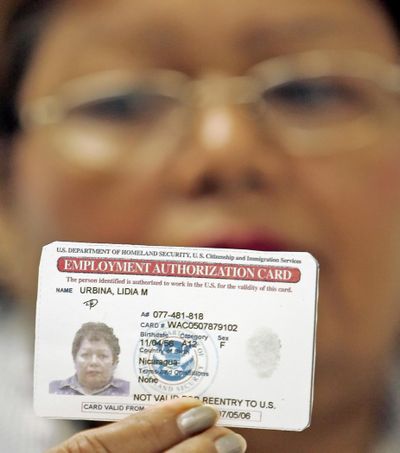 LOS ANGELES – Young immigrants who say their work permits were unfairly revoked by the Trump administration planned to make their case in a California courtroom Monday for a chance to have them restored.
A hearing was scheduled in a lawsuit by the American Civil Liberties Union alleging the U.S. government arbitrarily canceled immigrants' work permits without giving them notice or a chance to defend themselves.
They got the permits and protection from deportation under the Obama-era program known as Deferred Action for Childhood Arrivals. The suit alleges that immigrants, known as "dreamers," had their participation in DACA revoked in many cases after run-ins with law enforcement, though they were not convicted of serious crimes.
"What we're seeking is really just basic due process," said David Hausman, an attorney for the plaintiffs.
He said at least 22 people had their permits revoked and hundreds may be affected based on the government's estimates of revocations under the Trump administration.
The hearing comes the same day the U.S. Supreme Court refused to take up the administration's appeal of a court order requiring it to keep accepting DACA renewal applications during legal challenges over the program's fate.
The Trump administration decided last year to phase out the program for hundreds of thousands of immigrants who were brought to the United States illegally as children or overstayed their visas.
The ACLU lawsuit filed in federal court in Los Angeles seeks to stop U.S. Citizenship and Immigration Services from revoking immigrants' work permits without giving them notice and a chance to respond.
For example, plaintiffs allege that Jesus Arreola had his work permit revoked after he was arrested on suspicion of immigrant smuggling, even though an immigration judge discredited the allegations when he testified he was a driver transporting passengers for a fare.
But Justice Department lawyers contend that government officials have discretion in these cases and that the immigrants whose permits were revoked were put into deportation proceedings after they were arrested.
"Though it may be a harsh reality, neither Congress nor the Constitution has provided these plaintiffs a protected interest in remaining or working in the United States," government attorneys wrote in court filings.
U.S. Citizenship and Immigration Services didn't immediately return a message seeking comment on the lawsuit.
Local journalism is essential.
Give directly to The Spokesman-Review's Northwest Passages community forums series -- which helps to offset the costs of several reporter and editor positions at the newspaper -- by using the easy options below. Gifts processed in this system are not tax deductible, but are predominately used to help meet the local financial requirements needed to receive national matching-grant funds.
Subscribe now to get breaking news alerts in your email inbox
Get breaking news delivered to your inbox as it happens.
---